Today is
Wednesday, May 31, 2023
Bl. Francisco Solís Pedraja Biography
Bl. Francisco Solís Pedrajas Profile. Born: July 9 1877 in Spain, Europe. Worked in Spain. Died: April 3 1937 in Jaén, Spain. Feast Day is celebrated on April 3.
The Memorial of Bl. Francisco Solís Pedrajas – Saint of the Day

Bl. Francisco Solís Pedrajas Biography, Feast Day, Date of Birth, Country of Birth, Profession, Place of Work, Date of Death, Place of Death, Beatification Date, Canonization Date

Date of Birth
July 9 1877
Country of Birth
Spain of Europe
Matrimony/Holy Orders
Blesseds who were Priests
Profession
Priests
Place of Work
Spain
Date of Death
April 3 1937
Place of Death
Jaén, Spain
Feast Day
April 3
Beatification
Beatified by Pope Francis on October 27 2013
Canonization
Canonized by Pre-Congregation
Patron Saint of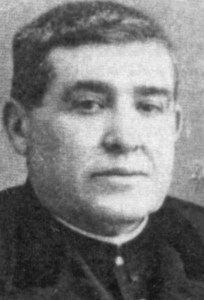 Blessed's Biography
Blessed Francisco Solís Pedrajas was born in a humble and hard-working family. He was ordered a priest in Jaén province, Spain, on 22 December 1900. He served six years in Santiago Apollos parish in Valdepeñas de Jaén, Spain, as he got a degree in theology.
In the year 1906, he was appointed Cura Propio de Baños de la Encina after defeating Curatos in a competition. He was credited as a great pastor. He established Catholic Action in its two branches, men and women, with sections according to age and family status.
Arrest and Death
Francisco arrested with other priests in the Spanish Civil War. Father Francesco would minister to prisoners. Francisco Shot at dawn on April 3, 1937, in the parish cemetery of Mancha Real, Jaén, Spain.
Follow @ReadingCatholic