Today is
Tuesday, June 6, 2023
This Prayer for God's Protection is extracted from Psalm 91 in the Bible. It is a very powerful prayer for our soldiers, police and disciplined forces who are always in harm's way defending us from our enemies.
Psalm 91 is a psalm of trust in God's protection and care, and it can be a source of comfort and encouragement to anyone who is feeling vulnerable or in need of protection.
It is often prayed by people who are facing difficult or dangerous situations, or by those who are seeking God's guidance and protection in their lives.
The psalm can also be a source of hope and inspiration for those who are feeling anxious or worried, as it speaks of God's faithfulness and the promise of his protection and care.
It can be a reminder that, no matter what challenges we may face, God is always with us and will be our refuge and strength.
Here is the Prayer
1 He who dwells in the shelter of the Most High, who abide in the shade of the Almighty,
2 Say to the Lord, "My refuge and fortress, my God in whom I trust."
3 He will rescue you from the fowler's snare, from the destroying plague,
4 He will shelter you with his pinions, and under his wings, you may take refuge; his faithfulness is a protecting shield.
5 You shall not fear the terror of the night nor the arrow that flies by day,
6 Nor the pestilence that roams in darkness, nor the plague that ravages at noon.
7 Though a thousand fall at your side, ten thousand at your right hand, near you it shall not come.
8 You need simply watch; the punishment of the wicked you will see.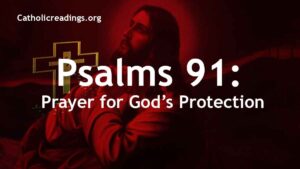 9 Because you have the Lord for your refuge and have made the Most High your stronghold,
10 No evil shall befall you, no affliction come near your tent.
11 For he commands his angels with regard to you, to guard you wherever you go.
12 With their hands, they shall support you, lest you strike your foot against a stone.
13 You can tread upon the asp and the viper, trample the lion and the dragon.
14 Because he clings to me I will deliver him; because he knows my name I will set him on high.
15 He will call upon me and I will answer; I will be with him in distress; I will deliver him and give him honour.
16 With length of days, I will satisfy him, and fill him with my saving power.
Psalm 91 is often referred to as the "Psalm of Protection" or the "Soldier's Prayer" due to its themes of divine protection and safety.
This prayer teaches us to Trust in God's Protection, believe in God's promise of Divine Deliverance and Safety from Harm.
It also assures us that God assigns angels to watch over and protect His people and therefore we are assured of Angelic Guardianship.
The prayer still encourages believers to have courage and not succumb to fear, for God is with them.
The Psalm 91 prayer emphasizes God's faithfulness and His commitment to those who love and trust Him.
It conveys the message that God responds to the cries of His people and affirms that those who call upon Him will be heard and answered.
Related Links
Powered By SEO Experts
Follow @ReadingCatholic