Thanksgiving Prayer can be recited on Thanksgiving day, an American holiday that occurs on Thursday of the last week of November.
There are also a couple of other countries that observe this holiday but on varying dates. It is a time when family and friends come together to give thanks for their blessings during the course of that year.
Though there is a common holiday named Thanksgiving Day, that is not the only time we say a Thanksgiving prayer.
As Christians Thanksgiving prayers should be said whenever you have anything to be thankful to God for, which is often.
Some of the Prayers to give thanks in both situations include:
Thanksgiving Day Prayer
O Glorious Father, we give you thanks for your infinite generosity and providence to us. Dear Lord, thank You for the blessings of the food we are about to eat and especially for this Thanksgiving feast today.
Dear Lord, on this Thanksgiving Day, we bow our hearts to You in prayer. We give You thanks for all You have done, mostly for the gift of Jesus Christ, Your Son. Open our hearts to Your love.
Thank You for our home and family and friends, especially for the presence of those present here. Thank you for our health, our work, and our play.
Heavenly Father, please send help to those who are hungry, alone, sick, and suffering war and violence in war-torn countries.
So today we offer this response of praise with a promise to follow You for the rest of our days. We ask for Your blessings through Jesus Christ your son. Amen.
Today's Thanksgiving Prayer
God our Father, I come before you today with my thanksgiving prayer. I thank you for the gift of my life, the life of my family members and that of my friends.
Thank you, Lord, for directing, protecting, guiding, guarding, governing and taking care of me throughout the night. I have woken up because of your abundant Mercies and Grace.
Merciful God, this morning, I submit myself into your mighty hands, may you fill me with your wisdom and grant me good health as I undertake my every deed today.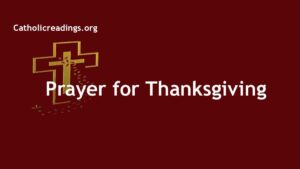 Lord, Bless the work of my hands so that all that I do today may be fulfilling to me, helpful to humanity and may I do it according to your Holy Will and for the greater glory of your name.
Angel of the Lord, appointed by the Divine Mercy to be my guardian, enlighten, protect, direct and govern me this day. Amen.
Short Thanksgiving Prayer
"Lord, sometimes situations in life gets me down and I find it hard to find things to be thankful for. Open my eyes to see the gifts you have bestowed in my life. Lord Jesus Christ, I am going to start by thanking you for loving me enough to come to earth and die so we can live together forever. Amen."
Thanksgiving Prayer Catholic
"Holy Father in Heaven, Creator of everything and source of all goodness and love, please look favorably upon us and receive our heartfelt gratitude in this period of thanksgiving.
Lord thank you for all Your graces and blessings. Father, You have bestowed upon us, spiritual and temporal: our faith and religious beliefs. Our food and shelter, our health, the affection we have for one another, our family and friends.
Dear Father, in Your boundless generosity, please grant us continued graces and blessings throughout the coming year. This we ask in the Name of Jesus, Your Son and our Savior. Amen. "
Thanksgiving Prayer for Family
Lord Father, I give to you all the members of my family. You know them all so well and love them all too. Lord, I ask that you would cover us with a shower of hope.
Father, a hope that draws us together to work out our differences, and that helps us to celebrate together and care for one another. Also, hope that rides like a banner in our lives and watches over us wherever we may go. A Hope that overcomes adversity and gathers strength to overcome, one that guides us and gives us a vision for our future alone and together.
Lord give us hope filled with love, and which fuels faith. Hope that breathes peace. May our family live in you underneath your promises. Amen."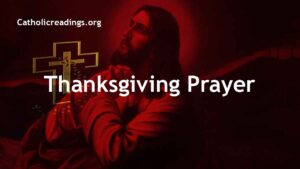 Thanksgiving Dinner prayer
Father, bless this food and grant that we may thankful for Your Graces. Teach us to know by whose will we are fed, bless us with Christ, the living bread.
Lord, we are thankful for our food, bless us with faith in Jesus' blood, with the bread of life our souls supply, that we may live with Christ on high. Amen."
Thanksgiving Birthday Prayer
"Father, thank you for this day, for all the cards and gifts, all the symbols of love that remind me of how I am loved and appreciated. Today I remember that you are my creator and sustainer. In You Lord, I live and move and have my being. God, I thank you for your kindnesses and care throughout the years I commit this birthday to You.

May I honor You as You have given to me this special day and each day of my life I want to know You more. Take 'time out' to be with You more and love You more. Amen. "
Thanksgiving Grace Prayer
"Lord our prayers of thanksgiving clear the way for the unknown to unfold as we embrace and express our divine capabilities.
We as caring compassionate beings, seek to be always present for ourselves and our loved ones. We are perceptive beings, standing on the edge of divine mystery while holding a sacred space for the world.
Father may we always find peace in our hearts, love to share, wonder in everyday things, peace in our lives, and gratitude for blessings not yet received. Amen."
Simple Thanksgiving Prayer
"Father, we are thankful for the food on our plates this holiday. When so many of our brothers and sisters are suffering, you provided for us a bounty. We are appreciative of the fact that you have connected each of our lives in ways that honor you and show how much you love all of us. God thank you for the love you provide to us through one another.
Heavenly Father, we praise you for all you have sacrificed for us through your son, Jesus Christ. You made the ultimate sacrifice for our sins. Lord, we are thankful for your forgiveness when we lose our way. We are grateful for your kindness when we make mistakes. We are thankful for your strength when we need help getting back on our feet. You are there to provide a helping hand, warmth, and so much more love than we deserve.
Father, let us never forget how much we owe to you and let us always be humble before your eyes. Thank you for giving to us, keeping us safe. Thank you for providing and protecting. In Your holy Name. Amen."
Prayer of Thanksgiving to God
"Lord of all the blessings you have bestowed, source of all life, giver of all grace: We thank you for the gift of life: for the breath that keeps us alive, the food of this earth that sustains life, for the love of family and friends without which there would be no life.
Father, we thank you for the mystery of creation: for the beauty that the eye can see, the melody that the ear may hear,
also for the unknown that we cannot behold filling the universe with wonder, for the reaches of space that draws us beyond the definitions of ourselves.
We thank you for setting us in communities: for families who foster our becoming, the friends who love us by choice, for companions at work, who share our burdens and daily responsibilities, also for the strangers who welcome us into their hearts, for people from other lands who call us to expand in understanding, the children who brighten our moments with delight, and for the unborn, who offer us hope for the future.
Lord, we thank you for this day: for life and an extra day to love, the opportunities and one more day to work for justice and peace, for the neighbors and one more person to love and by whom be loved, also for your grace and one more opportunity to experience your presence, for your promise: to be with us, to be our God, and to give salvation.
For these, and all blessings, we give you thanks, eternal, loving God, through Jesus Christ, we pray. Amen."
Christian Thanksgiving Prayer
"Father, ever so often, as in any other day when we sit down to our meal and pray, we hurry along and make fast the blessing Thanks, amen. Now please pass the dressing We're slaves to the olfactory overload, hence we must rush our prayer before the food gets cold But Lord, I'd like to take a few minutes more to really give thanks for what I'm thankful. For my family, my health, a nice soft bed My friends, my freedom and a roof over my head.
I'm thankful right now to be around those Whose lives touch me more than they can ever possibly know. I am thankful Lord, that You've blessed me beyond all measure, thankful that in my heart lives life's greatest treasure. That You, dear Jesus, reside inside my heart and I'm ever so grateful for Your unending grace. So please, heavenly Father, bless this food You've provided And bless each and every person invited. Amen!"
Thanksgiving Prayer for Kids
"Heavenly Father, I pray that the message of Jesus Christ and his sacrifice is the root of gratitude within my heart. That His amazing gifts lead me to a grateful living, setting an example for my children. So that they will have their own relationship with Jesus one day, and that You would inspire gratitude in their hearts out of the acceptance of Jesus as their Savior. Lead us to do everything in the Name of Jesus and give thanks to You through Him. Amen."
Thanksgiving Prayer for Healing
"Lord, you did not create our bodies to be broken. When we are sick it is because we are out of synch with your glorious purpose. You promise that one of the benefits of a relationship with you is being able to ask for and access your healing power.
Healing is a benefit, we thank you now for this power of healing, and for this specific task, we thank you for applying your healing to the point of need. We will look for tangible impact, and however, you choose to respond we will continue to believe in your goodness and your power. In Jesus' Name, we pray. Amen."
Morning Thanksgiving Prayer
"Good morning Father I am so thankful to be Yours. Your child, O loving Lord Your sibling and friend, O my Jesus, Your dwelling place, O mighty, yet gentle Holy Spirit, Thank you for the people You have given me.
You love me, care for me, challenge me, encourage me through them. You also refine me through them, especially if and when I look to them instead of You to meet my most important needs.
Live, love, lead, serve, speak, teach, write in and through me as You and me are in union together. You are my King always and forever. I am Your faithful servant. It's an honor to worship You, my Lord. Amen."
Thanksgiving Prayer for Friends
"Thank You, Father, for the blessing of friendship and for the circle of love that surrounds all those who that trust in Your name. Lord thank You for the gift of fellowship and for the friendship of all those who have trusted in the Lord Jesus as their Saviour.
Thank You, Lord, for the blessings we enjoy and for the love and blessings that flow like a river between us when our hearts have been cleansed before the Lord and we look to Jesus Christ, the author, and finisher of our faith. Help us to laugh with those who are laughing, to weep with those that are sad, to celebrate with those who are joyful and to comfort those that need us to soothe their pain.
Father, build us up in a bond of love and friendship. Please protect and provide for those friends of ours that are in need. Nourish and enrich all our lives with the Word of truth and the Gospel of grace and may we grow ever closer to each other and to You, in Jesus' name we pray. Amen."
Thanksgiving Prayer to Jesus
"God our Father, we praise and thank You for loving us so much that You gave Your one and only Son, Jesus Christ so that anyone who believes in Him will not perish but attain eternal life. We love and adore You. Lord Jesus, thank You for giving Your life on the cross for our sins. Because of You, we can now stand before our Heavenly Father as pure, holy, and justified. We also appreciate You for sending us the Holy Spirit, our Comforter. Holy Spirit, we thank You for filling us with love, fruit, gifts, and power. We glorify You, our God and King. We praise Your Name forever and ever.
Lord Jesus, our Bread of Life, we are thankful that You have given us peace with God. Because of Your love and sacrifice, there is no longer a void between us and our Heavenly Father. Lord, You were wounded for our sins. You were bruised for our imperfections. The purification of our peace was upon You, and by Your stripes, we are healed. Your Name, Jesus, is above all other names. At the mention of Your Name, every knee will bow, in heaven and on earth and under the earth, and every tongue will confess that You are indeed Lord. Thank You for redeeming us and placing the Kingdom of God within us. Amen."
Happy Thanksgiving Prayer
"Father of inclusive love, kindness, and compassion, we thank You for the gift of life and pray for a happy Thanksgiving.
We thank You for the wonder of the universe from which we have all evolved, and for the plants and animals of Earth that provide nourishment and sustenance for us, also for the love of our parents and grandparents without which there would be no life.
Lord, we thank you for the gift of relationships: for families who love us and journey with us in all stages of our life, the friends who love us by choice, and for companions at work who share our loads and daily tasks, also for the strangers who welcome us into their company, for people from other lands who call us to expand our understanding and children who lighten our moments with innocence, for the unborn who offer us hope for the future, and for our country and its women and men of different cultures whose lives, service, work and inspiration have contributed to the betterment of our land.
Faithful and loving Father, help us to share your graciousness, your abundant generosity and your hospitality with all, especially those who need a touch of tender and generous love. Amen."
Funny Thanksgiving Prayer
Father, my soul is torn with riot Incited by my wicked diet.

"We are what we eat," said a wise old man, Lord, if that's true, I'm a trash can.
To rise on Judgment Day, it's plain, With my weight as it is, I'll need a crane.

So grant me strength Lord that I may not fall Into the grasp of cholesterol.
May my flesh with carrot-curls be dated, That my soul may be cleansed
And show me the light that I may bear witness, To the President's Council on Physical Fitness.
And at fats I'll never mutter, For the road to Hell is paved with butter.

And cream is cursed; cake is awful, And Satan is hiding in every waffle.
Satan lurks in pepperoni, The Devil himself in each slice of bologna.

Beelzebub is a bar of chocolate, And Lucifer is a lollipop.
Give me this day my daily slice, Cut it thin and toast it twice.

I beg upon my chubby knees, Deliver me from jujubes.
And when my days of trial are over, And my war with malted milk won.

Father, Let me stand with Heavenly throng, In a shining robe size 30 long.
I can do it, Lord, if you'll show to me, The virtues of lettuce and celery.

Lord, Teach me the evil of mayonnaise, And of pasta a la Milanese.
And crisp fried chicken from the South, Lord, if you love me, shut my mouth! Amen."
Thanksgiving Meal Prayer
"Lord, as we bow our heads to pray, we give thanks to You, for this Thanksgiving Day. Father, we thank you, for our families, friends, and for all the blessings, both big and small, that you dish out on us each day.
God, we give thanks to you for this food and for the hands that have cooked it. Lord, we ask for your blessings upon this meal: that it will nourish our bodies and refresh our souls.
Also, we give thanks to you for this wonderful time together, and for each one present here on this day. Father, we ask you, dear Lord, let each one of us feel your love, comfort, and presence in our lives today and every day.
Let us not forget those who can't be here with us today. For we give thanks to you for them, too. We miss our loved ones, Lord, but we are thankful for all the good times that we shared with them.
Lord, we know, that this life is not all there is; that the best part is yet to come if we live for you. So, help us each day to live our lives in ways that honor and please You. Also, we'll not forget to give you all the praise and glory. In the name of Jesus, we pray. Amen."
Powered By SEO Experts
Follow @ReadingCatholic