In times of poor health, we turn to God with a Prayer for Healing in order to gain the strength to go on, He is not only a physician but also a doctor of the mind and soul. Moreover, it is only through His grace that we can feel better.
The Bible says,
14 Is anyone among you sick? He should summon the presbyters of the church, and they should pray over him and anoint [him] with oil in the name of the Lord,
15 and the prayer of faith will save the sick person, and the Lord will raise him up. If he has committed any sins, he will be forgiven.

James 5:14-15
Although all things are possible in God, he only asks that we have faith in Him.
The Bible also tells us,
23 Amen, I say to you, whoever says to this mountain, 'Be lifted up and thrown into the sea,' and does not doubt in his heart but believes that what he says will happen, it shall be done for him.

Mark 11:23
From this, we can see that prayer is the surest way we can communicate with God in faith and hope that He will answer our prayers.
A Prayer for Healing and Grace
Dear Lord, We confess our need for you on this day, for your healing and your grace, to restore our hope. Let us remember that you work on behalf of those you love, constantly, powerfully, completely.
Forgive us for trying to fix our situations all by ourselves and for running all different directions and spinning our wheels to find help, when true help and healing must be found in you first.
Forgive us for forgetting how much we need you, above everyone and everything else. We come to you and bring you the places we are hurting. You see where no one else is able to fully see or understand. You know the pain we've carried.
The burdens. The cares. You know where we need to be set free. We ask for your healing and grace to cover every broken place. Every wound. Every heartache.
Thank you that you are able to do far more than we could ever imagine. Thank you for your Mighty Power that acts on behalf of your children.
We reach out to you and know that you are restoring and redeeming every place of difficulty, every battle, for your greater glory.
Thank you that you will never waste our pain and suffering. We love you. We need you today. In Jesus' Name, Amen.
Healing Prayer for the Sick Family Members
👉 Lord Jesus Christ, thank you for loving [name of the [person who needs healing]. I know that you hate what their illness is doing to them/me. I ask that you would heal this disease, that you would have compassion and bring healing from all sickness.
Your word says that when we call out to you the Eternal one, you will give the order, heal and rescue us from certain death.
In the Bible, I have read of miraculous healing and I believe that you still heal the same way to this day.
I believe that there is no illness you cannot heal after all the bible tells of you raising people from the dead so I ask for your healing in this predicament.
I also know from my experience of life on earth that not everyone can be healed.
If that happens here then keep my heart soft towards you, help me to understand your plan and help me to be excited about heaven.
Lord, I thank you that [name of the person who needs healing] belongs to you and that you are in control of everything that happens from our first breath to our last sigh. Amen.
Healing Prayer for a Sick Friend
👉 Dear Lord, You have given us the promise of healing and restoration to whoever believes, knows, serves, and praises You.
I thank you for You have never gone against Your Word. We know many miracles that You continue to perform to our fellow faithful brothers and sisters.
I humbly come to You today in utmost reverence to beg for a favour, that You heal my friend [mention name].
Lord God, I believe in Your healing power through faith and prayer and, therefore, I beg You to start your mighty healing work in the life of my friend.
Please Lord, reach out to my friend and surround him/her with divine peace and strength and give him/her the faith to believe that with You all things are possible.
Protect my friend from the snares of satan's lies and discouragement, and let his/her miraculous healing begin. Amen.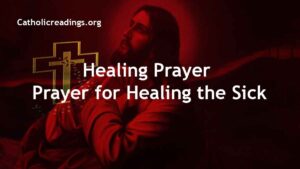 Prayer in Times of Sickness
👉 Oh Jesus Christ, Divine Physician and Healer of the Sick, I come to You at this time when I am very sick. Dear Lord, You who is our dearest Comforter when we are troubled, please, reduce our sorrows and worries with Your gentle love.
Grant us Dear sweet Jesus the grace and strength to bear this burden of illness. We place all our worries in Your mighty hands.
We ask that You restore Your servant [mention name] back to good health again, and above all, grant us the grace to acknowledge Your Holy will. Help us to know that whatever You do, You do for the love of us. Amen.
Personal Healing Prayer
👉 O Lord my God, You created me, you know me so well and You can count the hairs on my head. You always know the thoughts of my mind and the wishes of my heart before I even say them.
Dear Lord, You always tell us to come to You whenever we are in need of a necessity in life. You are Jehovah-Jireh, the God who provides and heals.
You are the Alpha and Omega of my life. You have the final say about whatever happens in my life. You already know for how many years I'll live to serve you.
Today, Dear Lord, I come to You as your child, begging You for divine healing. There's so much in life that I don't understand but what I do know is that with one word and one touch, You can make me whole again.
Please, my saviour, forgive me for all the sins I have committed, cleanse my transgressions and start healing me from the inside out.
Lord, I do not always know Your will, especially like now when I am sick and in desperate need of Your grace. I may not afford to offer You any promises, bargains, or deals in exchange for my health.
The only thing I can do right now is to simply bow my heart before Thee and let You know the desire of my heart; which is that I spend as many years as I can here on earth, loving You and serving, as well as loving others, and wanting to become more like you.
Lord, I have no say in determining how You will accomplish my will. It is all up to you and okay with me. If You use doctors to provide healing, I pray that You give them the wisdom to know what to do.
No matter how you accomplish it, the healing You will give me will be miraculous. And you deserve all the praise.
Dear Lord, I absolutely believe that You have the power to heal for You already demonstrated that when You dwelt with us here on earth and You still are a miraculous healer even today.
Lord, thank You for loving me even when my faith is weak, and my hope is dwindling. I already know that You hold my heart and life in your mighty hands.
If I can bring you more glory through healing, then that's what I ask for. That's what I desire. But if your answer is no, or not now, I know that your grace is sufficient for me.
Ultimately, I want Your will to be my will and I look forward to living a life of eternity with you.
But Lord, if you have more work still planned for me here on this earth, I will need Your physical healing, together with a thorough, deep-down strengthening and cleansing.
Because all that I am and what I have is yours, kindly use this healing to strengthen me from a "what-if" faith to a "no-matter-what" faith.
No matter what happens to me, I choose to honor You and give You praise and glory. In Jesus's mighty name, I pray and believe. Amen.
Prayer for Soul Healing
👉 Loving Father, I am very grateful for You have loved me from when I was born until now, in times of joy and sorrows, in times of wholeness, and also in times of brokenness.
Dear Lord, thank You for not being too hard on me when I knowingly or unknowingly do little blunders and mistakes. You do not belittle me in times of my weakness, but You are always there with me to give me love and strength.
Lord God, give my heart a good rest so that it can become strong again. Do not abandon me You who are Most High. Do a miracle and heal my soul. May I be a living testimony of Your soul healing. Make me whole again so that I can get the favour of coming to Your Kingdom.
Mighty God, help me to live a new life that is of total service to You, and may all that You have done to me be visible to others so that Your Holy name be glorified forever. I pray all these in Jesus' name. Amen.
Prayer for What Healing Looks Like for You
👉 Lord Jesus Christ, You are a miracle worker. I beg You to give me a vision of what freedom looks like for me. Always give me faith to believe in You for the many miracles You have done for me.
Jesus Christ, point out for me what makes me tired, what matters most to me, and what drags me down. Help me to love doing what strengthens me and drop doing what weakens me.
Lord, start healing me from the inside of my heart, mind, and body, then help me to adjust to the necessary changes.
Dear Lord, always give me the strength to take part alongside You in my healing process and arouse in me fresh life. Amen.
A Prayer to Heal a Friend
👉 Dear God, I pray for my dear friend who is ill and in need of Your healing. We commend him/her to Your warm, loving, and compassionate embrace.
Please, comfort him/her while on the sickbed, and ease his/her suffering. O Lord, if it is Your will, deliver him/her from that hardship and suffering he/she is undergoing because You can heal anybody and everybody.
I, therefore, beg that You bless my friend and increase Your loving care on him/her, renew his/her vigor, and heal what troubles him/her in Your loving name O Lord. Amen.
Healing Prayer for a Loved One
👉 Oh Lord our God, You've got all our times and the whole world in Your mighty hands. All diseases and ailments come and go at Your command.
It is You O Lord who salvages our lives from utter destruction and shields us under Your tender wings with Your mercies, love, and loving-kindness.
We pray with utmost humility for our dear friend [name] who is agonizing under sickness. Kindly hear our prayers and deliver him from sickness back to his normal self.
We pray that when he is healed and gets back to Your service, he will proclaim Your miraculous healing works to the whole world.
Because You have wiped out tears from his eyes and saved him from the jaws of death, may he always inquire, "What shall I render unto the LORD for all His benefits toward me?" May he always offer You sacrifices of thanksgiving and always invoke Your name at all times.
Dear Lord, help us to always remember that recovery from sickness is only temporary and it takes believing, trusting, loving, and serving You to sustain our good health.
We also know that after were are done serving You hear on earth, we shall come to Your heavenly Kingdom to get our well-deserved rest.
We pray all these trusting and believing in the Name of Jesus. Amen.
Prayer to Jesus for Healing
👉 Our Lord Jesus Christ, You are the true, Holy, and Just judge. You are the giver of life and Most High God.
You've got the whole world and all the power in it in your mighty hands. You are the giver of life and rule over all creatures and features in heaven, earth, and the sea.
All good things come from You and it is only in You that all good things are found. You are full of mercy and love and all nations come to You for cure, healing, freedom of pain and worry.
Embrace us as a close-knit family, bind us with your soft and tender hands and draw us near to you, O Lord, for You are the true vine and we are the branches. We entirely depend on You for our life supplies.
You are our physician, our medicine, our cure, our strength, our consolation, our rest, and our life. You care, protect, heal, and love us. Thank You, dear Lord. Heal us, If it is Your will, O Lord, heal us. Amen.
Healing Prayer Against Disease
👉 Dear Lord, Your Holy scripture tells us that You heal all diseases and whoever believes in You shall not perish but have everlasting life.
I beg You Oh Lord to strengthen me now in this time of sickness. Provide me with everything I need while I lay sick in my bed.
Lord, You have always healed all kinds of sickness to those who come to You in faith. I believe in my heart that You are here with us today and that Your most Holy power will remove all sicknesses and evils that roam the earth.
But Let Your Will be done and may it be done for Your glory, Lord. We praise and glorify Your name. Amen.
Prayer for Doctor's Wisdom
👉 Dear God, Guide my doctor's hands and give him wisdom. Show him the way and help him to heal me. I put my faith in you and the medical professionals that you have brought to me. Amen.
Healing Prayer to Ease Pain
👉 Almighty Father, Thank You for Your love, grace, and mercy. I pray that You turn;
my discomforts to comforts,
my pains to gains,
my deprivation to more blessings,
my losses to profits,
my dreams to realities.
my debts to credits
my sorrow to pleasure,
my tears to smiles,
and my illness to wellness,
I feel comforted by this scripture which says, "The Lord is near to the brokenhearted and saves the crushed in spirit." and also, "He heals the brokenhearted and binds their wounds.
Dear Lord, I trust in You alone to heal me from any form of doubt about the blessings that You will be showering upon me.
Lord, I trust that this agony and suffering that is subduing me will end and happiness and good health will shine upon me as I read, hear, study, and preach the truth in the Bible. Amen.
A Prayer for Good Health
👉 Lord, You invite all who are burdened to come to you.
👉 Allow Your healing Hand to heal me.
👉 Touch my soul with Your compassion for others;
👉 touch my heart with Your courage and infinite Love for all;
👉 touch my mind with Your Wisdom, and
👉 may my mouth always proclaim Your praise.
👉 Teach me to reach out to You in all my needs, and help me to lead others to You by my example.
👉 Most loving Heart of Jesus, bring me health in body and spirit that I may serve You with all my strength.
👉 Touch gently this life which you have created, now and forever. Amen.
Healing Prayer from sickness
👉 Dear Jesus, Divine Physician and Healer of the Sick, I turn to You in this time of illness.
👉 Dearest Comforter of the troubled, alleviate our worry and sorrow with Your gentle love, and grant us the grace and strength to accept this burden.
👉 We place our worries in Your hands.
👉 We ask that You restore Your servant to health again.
👉 Above all, grant us the grace to acknowledge Your Holy will and know that whatever You do, You do for the love of us. Amen.
Healing Prayer to Renew My Mind, Body and Soul
👉 God, I come before you today in need of your healing touch.
👉 In you all things are possible.
👉 Hold my heart within yours, and renew my mind, body, and soul.
👉 You gave us life, and you also give us the gift of infinite joy.
👉 Give me the strength to move forward on the path you've laid out before me.
👉Guide me towards better health, and give me the wisdom to identify those you've placed around me to help me get better. In your name, I pray, Amen.
Prayer for Faith to Believe
👉 Precious Lord, I know You want this for me.
👉 Help me to retrain my thoughts and reframe my perspective.
👉 I marvel at how often my thoughts take me downward.
👉 But like an eagle that soars in the sky, You call me to set my sights on things above.
👉 I need divine help with this!
👉 Fill me afresh with a strong sense of Your presence and Your peace.
👉 Help me to remember the great things You have done.
👉 May I one day marvel at how my thoughts reflect a heart and mind that are healed and whole, just like You always intended them to be.
👉 Do a miracle in me, Lord and in Your mighty name, O Jesus I pray. Amen.
Prayer for a Breakthrough
👉 Heavenly Father, I ask You for a fresh vision for what a breakthrough will look like in my life.
👉 Help me to pursue healing while I wait for my miracle.
👉 Show me how to rest right in the middle of the storm.
👉 Help me to enjoy the feast You prepare for me, right in the middle of the battlefield.
👉 I want my whole life to testify that there is a God in heaven who knows my name and who will get me safely home. 👉 Fill me afresh with the wonder of Your love and power.
👉 I am determined to win this battle with anxiety.
👉 Help me to understand when to rest, when to feast, and how to actively engage my faith as I wait for You to breakthrough.
👉 May my life display Your power.
👉 Do the impossible in and through me, I pray. Amen.
Prayer for Miracle Healing
👉 Lord, Jesus Christ, here I am again, asking You to do what only You can do in my life.
👉 Scripture tells me that You are the same yesterday, today, and forever.
👉 You are the Lord who performs miracles!
👉 So please do a miracle in me!
👉 Heal me through and through!
👉 Deliver me from my tendency toward anxiety and worry.
👉 Show me how You fight for me.
👉 Give me a vision for what a healthy-healed-me looks like, and help me to go after that goal with tenacity and purpose.
👉 Take my efforts and multiply them, Lord.
👉 My soul waits for You to do what only You can do.
I love You, Jesus Christ my Lord. Amen.
Powered By SEO Experts
Follow @ReadingCatholic