👉 Dear Lord Jesus Christ, I pray for world peace, You said, " when I am lifted up on the earth, I will draw all men to myself."
👉 As I lift my thoughts and prayers to the high consciousness of peace, I help lift the thoughts of all people across the entire world to peace.
👉 Father, what a blessing it is to know that I can add to the peace of this world through prayer.
👉 God, my prayers reach out to untangle all nations and people of the earth.
👉 I know that the same feeling of peace that is within me resides in people everywhere no matter who they are, or where they live.
👉 No matter the religion we profess, each person has been created with the peace of God at the core of his or her being.
👉 God's peace resolves all seeming disagreements and dissolves all differences.
👉 God's peace brings great freedom to all.
👉 My prayer and my vision of the world is of a peaceful world and I remember that peace begins with me. 
👉 I pray, all these in the mighty name of Jesus Christ. Amen.
Prayer for Peace
👉 Lord we pray for the ability to be gentle; the power to be forgiving; the patience to be understanding; and the perseverance to accept the consequences of holding on to what we believe to be right.
👉 Father may we place our trust in the power of goodness to overcome evil and the power of love to overcome hatred.
👉 Lord we pray for clear vision so as to see and the faith to believe in a world free from violence, a new world in which fear shall no longer lead men or women to commit injustice, nor a world where selfishness makes them bring suffering upon others.
👉 Help us to offer our whole life and thought and energy to the task of making peace, praying always for the inspiration and the power to fulfill the destiny for which we and all men and women were created. Amen.
Prayer for Inner Peace
👉 Lord Jesus, I come before You this morning, I ask You to accept my prayer for Inner Peace.
👉Wash my mind with your Blood.
👉 Cleanse out all the darkness and negativity.
👉 I believe and declare that from this day forward, my mind is clear and my body is relaxed. So, Be it. Amen"
—————————–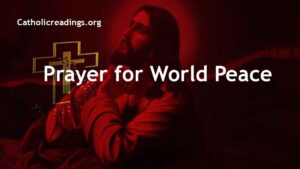 👉 Dear Father, Your love in me is like a flame that burns inside of my heart, shedding light to all I do and everything that I am.
👉 Sometimes it dances within my soul as I praise your name.
👉 At times it diminishes or flickers low when hard times come my way.
👉 Even in the darkest of hours I sense your light afresh, Reminding me to put my trust in you.
👉 Be still and quiet and rest my soul!
👉 For every flame needs essential fuel.
👉 Your love is the key, For keeping this little candle burning bright in me.
👉 It guides my life, thoughts, dreams, And shines for all to see.
👉 Thank you for the happiness and peace you give to me. Amen.
Prayer for Peace in the Family
👉 Lord Jesus Christ, be with my family.
👉 Grant us Your peace and harmony, an end to fighting and division.
👉 Gift us with compassion to better understand one another, wisdom and love to assist each other, and trust and patience to live peacefully with each other.
👉 Grant that through the intercession of your mother, Mary, and St. Joseph, our family may become a holy family accepting one another, working together in unity, selflessly dedicated to one other and to You. Amen.
Prayer for Peace and Comfort
👉 Dear Father, God, Above all Gods, You are our Lord, and I know that you watch over your creation.
👉 This is your world. Earth is your domain. We on earth are people you created.
👉 Lord, when we feel depressed and confused by all that is happening around us, help us to remember that You are there.
👉 You comfort us and fill us with your peace.
👉 Help us know that you are there in the storms and the storms of our lives. Calm our fears, and give us peace.
👉 When we are hurting, and are sick, and we don't know what to do, please be with us, and give us the patience to get through the pain that we are dealing with.
👉 Let us remember that Jesus suffered on the cross for us, and our suffering is only a portion of what He went through, let us remember to think of you when we suffer, and think of Jesus, the Son Father You care for us because I know that you are loving, kind, and good.
👉 You are amazing, our teacher, our hope, and our lives depend on You.
👉 You give us breath, life, and truth.
👉 Thank you, Jesus, and the Father, for taking care of your children.
👉 Save us from the evil one. Amen.
Prayer for Strength and Peace
👉 God, I come to you for help.
👉 Life is full of trials and tribulations.
👉 Sometimes it gets the best of even the strongest of Your flock.
👉 You, Father, are the one we turn to.
👉 I am in need of your counsel through this time.
👉 Father, show me the way to attain strength to combat the trials of life.
👉 I know your love is unending
👉 Because of your infinite love, peace can be obtained.
👉 With strength and peace, I can face any situation.
👉 God, with all that life has to offer
👉 Allow me to see your will in all that I do.
👉 Help me with your peace to help others.
👉 Father help me to see the good in everything around me.
👉 Help me to find and keep the peace that can be gotten from your love.
👉 With Jesus, I know I will grow in strength.
👉 His life had trials and turmoil.
👉 Help me to learn from his sufferings. Amen.
Prayer for Peace of Mind
👉 Almighty Lord, We praise and thank You for our lives, we give you praise for your infinite mercy and grace we receive.
👉 Father, We thank you for your faithfulness even though we are not as faithful to You.
👉 Lord Jesus, we ask you to give us all-around peace in our mind, body, soul, and spirit.
👉 We ask you to heal and remove everything that is causing stress, grief, and sorrow in our lives.
👉 Lord, please guide our path through life and make our enemies be at peace with us.
👉 Let your peace shower our family, our place of work, businesses, and everything we lay our hands on.
👉 Let your angels of peace go ahead of us when we go out and stay by our side when we return. In Jesus' Name. Amen.
Short Prayer for Peace
👉 Father, Thank You for loving me and giving me guidance when I fall short.
👉 Thank You for what You did for us on the cross and for dying for my sins.
👉 Father, despite my current scenario and circumstance, I give You control of what is happening in my life and ask You to shower Your peace over me.
👉 Lord, I know nothing I am experiencing is a surprise to You and I can trust You with this because You love me enough to send Your only son, Jesus, to die for me.
👉 Lord, I ask that You use this situation to increase my faith and dependence on You and that through this experience my faith will be bigger and stronger. In Jesus' name, Amen!
Prayer for Peace and Healing
👉 Dear Lord, please grant me peace of mind and calm my ailing heart. My soul is like a turbulent Ocean.
👉 I can't seem to find my balance so I fall and worry constantly.
👉 Give me the strength and clarity of mind to find my role and walk the path you've laid out before me.
👉 I trust your Love God and know that you will heal my stress.
👉 Just as the sun rises each day against the dark of night.
👉 Please bring me clarity with the light of God. In your Name, I pray. Amen.
Catholic Prayer for Peace
👉 Allow, O Lord, that I may face all that this new day has to bring with peace of mind.
👉 Give that I may give myself completely to Your holy will.
👉 In every hour of this day, instruct and support me in all that I do.
👉 Whatever I may receive during the day, teach me to accept them calmly, with the firm belief that everything comes by Your holy will.
👉 Lord, govern my thoughts and feelings in all I do and say.
👉 When unforeseen circumstances occur, do not let me forget that everything comes from You.
👉 Father, teach me to behave honestly and wisely toward every member of my family, not embittering or embarrassing others.
👉 Give me strength, my Lord, to bear the fatigue of the coming day and all that it shall bring with it. Guide my will and teach me to pray, to believe, to hope, to suffer, to forgive, and to love, and pray Yourself in me. Amen.
Prayer for Peace at Work
👉 My Holy Father, as I enter this workplace I bring your presence in with me.
👉 I spread your peace, your grace, your mercy, and your perfect order in this office.
👉 I accept your power over all that will be spoken, thought, decided, and done within these walls.
👉 Father, I thank you for the gifts you have bestowed on me.
👉 I commit to using them responsibly in your Name.
👉 Give me a fresh supply of strength to do my job.
👉 Bless my projects, ideas, and energy so that even my smallest accomplishment may bring you glory.
👉 Lord, when I am confused show me the way.
👉 When I am burned out shower me with the light of the Holy Spirit.
👉 May the work that I do and the way I do it bring faith, joy, and a smile to all that I come in contact with today. Amen.
Prayer for Peace and Unity
👉 Dear Lord, We are in need of you.
👉 We're aware, now more than ever, of our own weaknesses, and of the struggle with the darkness that tries hard to divide us and gain more foothold.
👉 Lord, we say "No more." We stand our ground.
👉 Father, we ask that you would fill us with your Spirit of love and unity among believers all across the world.
👉 Also, we ask that you would help us to set aside our differences and look to the greater picture, the work of Christ.
👉 We ask that you would help us to truly live a life of love.
👉 We know that this can only be possible through the power of Your Spirit, so we ask that you would move across our land in new ways.
👉 With fresh filling and awareness, turning your people back to your ways, drawing others to come to know you, we thank you that you are always with us, and give us great purpose and hope. In Jesus' Name, Amen.
Prayer for Peace and Love
👉 Lord, May men and women from around the world, rise up together and pray for peace everywhere every day.
👉 May God gives us the wisdom to see past race and creed
👉 May we acknowledge that we are one That our differences make us stronger
👉 May we welcome our brothers and sisters With an open heart and a caring spirit
👉 May our hearts be filled with love, joy and peace. May we look at each other and see our beauty, our truth and our holine.
👉 May we all show compassion to those who are suffering, sending them love, light and healing.
👉 Father, May men and women around the world rise up together and pray for peace everywhere every day. Amen.
Child's Prayer for Peace
👉 Lord, I thank you for the reassurance of your Word that proclaims that you are teaching my children.
👉 Because they are taught by You, they are experiencing peace in every aspect of their lives.
👉 I declare that their peace is greatly established, expansive, extensive, and extraordinary!
👉 I thank You that their peace is strong in every form.
👉 Thank you that you are aiding them financially so that all their needs are fully met by Your riches.
👉 I thank you that they are experiencing good health in their bodies, from the supernatural healing and strength that comes from You Lord.
👉 Father, I appreciate your protection over every aspect of their lives, giving them safety from storms both physical and spiritual.
👉 I thank you for they are experiencing the satisfaction in every area of their lives.
👉 I praise you that they are able to walk in peace with me, with our family, and in every human relationship including with their enemies.
👉 Thank you for peace of mind is theirs and that you have given them the mind of Christ, a mind that is speedy to learn, quick to remember to follow You, quick to obey you, quick to forgive others, and free of all fear.
👉 Thank you for guiding my children and for watching over their welfare today and every day!
👉 I thank you that you are transforming them into whole, complete, mature individuals that are truly alive. In Jesus' Name. Amen!

Morning Prayer for Peace
👉 Dear heavenly Father, thank You that I am Your child and thank You for sending the Lord Jesus into the world to be our Saviour and thank You that by His crucifixion He has brought me into Your family.
👉 Lord I know that in Your scriptures it tells us not to worry about anything, but rather to cast all of my struggles upon You and our Heavenly Father.
👉 I truly want to do this but at times I find it so hard to put this into action Lord, at times the circumstances that I am facing are very hard to face and too often I find myself in an a state of worry and anxiety.
👉 Lord, Help me to develop peace of mind, one that only comes from casting all my struggles upon You.
👉 Help me I pray to take my eyes off the situations of life that seem so hard to me and to learn how to keep my eyes fixed on Jesus.
👉 I know that this is what You have told us to do, for which we are to enjoy the perfect peace that only comes from You.
👉 Father You have promised to keep in perfect peace, all those whose minds stay on You
👉 Help me, I pray, to keep the eyes of my heart firmly fixed on Jesus every moment of the day and flood my life with Your perfect peace of mind that passes our human comprehension, in Jesus name I pray. Amen.
Prayer for Peace in the Home
👉 Lord, we pray for the peace that only you can provide.
👉 Forgive us for every bit of conflict, spiteful and every hurtful thing we've said or done to anyone especially to those who live under our roof.
👉 Father, our families deserve so much more. Help us to avail ourselves to your plan for our lives, as shown by your love through our Lord Jesus.
👉 We accept that we cannot fix the problems in our homes by ourselves.
👉 However, with your help, not only can it be fixed but totally cured.
👉 Help us to reflect on ourselves and to do the things to make the necessary corrections in our lives.
👉 Let this be the beginning of our homes being a true reflection of you to the world.
👉 Lord, we pray for peace, love, and understanding within the walls of our homes and the relationships within them.
👉 For this, we say thank you! In Jesus' Name…Amen!
Prayer for Peace of Heart
👉 Almighty and Eternal Father, Give me, I beg You, the great gift of internal peace.
👉 Command the winds and storms of my unruly heart.
👉 Calm, by Your grace, my habit of loving created things too much.
👉 Give me a love for suffering for Your sake, make me patient and kind to others, that I may avoid quarrels and fights.
👉 Lord teach me constantly to seek after and to acquire that perfect acceptance to Your Holy Will which alone brings interior peace. Amen.
Prayer for Justice and Peace
👉 Dear Father in heaven, hallowed be your name, your kingdom come, your will be done, on earth as it is in heaven.
👉 We come before you, Father, crying out in a violent location, begging for peace.
👉 Fighting is tearing people apart. Our brothers and sisters are suffering around the world. We share in their pain.
👉 Father, as refugees in search of a home in foreign lands, guide them.
👉 As world leaders try to discuss peacefully, give them wisdom.
👉 As strangers knock on our doors, help us to answer them.
Powered By SEO Experts
Follow @ReadingCatholic