Daily Catholic good evening and simple night prayer before sleep with Nunc Dimittis, prayer for strength and protection.
Oh God come to our aid, Oh Lord make haste to help us.
Glory be to the Father and to the Son and to the Holy Spirit, as it was, in the beginning, is now and ever shall be world without end. Amen
Nunc Dimittis
Save us Lord while we are awake, protect us while we sleep, that we may keep watch with Christ and rest tonight with Him in Peace.
(At last, all-powerful Master,
You give leave to your servant
to go in peace, according to your promise.
For my eyes have seen your salvation,
Which you have prepared for all nations,
The light to enlighten the Gentiles,
And give glory to Israel, your people.)
Glory be to the Father and to the Son and to the Holy Spirit, as it was, in the beginning, is now and ever shall be world without end. Amen
Prayer
Into your hands Oh Lord I commend my Spirit. Lord Jesus receive my soul, may the Blessed Saint Mary, Saint Joseph and all the Saints, pray for us to God that we may be preserved this night from sins and all evil. Amen.
Lord bless us and keep us from all evil and bring us to everlasting life, may the souls of the faithful departed, through the mercy of God rest in peace. Amen.
Jesus, Mary and Joseph, I give you my heart and my soul.
Jesus, Mary and Joseph, Assist me in my last agony.
Jesus, Mary and Joseph, may I breath out my soul in peace with you. Amen
Scripture Reading for Night Prayers
Ephesians 4:25-28
No more lying, then! Each of you must tell the truth to one another because we are all members together in the body of Christ. If you become angry, do not let your anger lead you into sin, and do not stay angry all day. Don't give the Devil a chance. Those who used to rob must stop robbing and start working, in order to earn an honest living for themselves and to be able to help the poor.
1 Peter 5:8-9
Be calm but vigilant, because your enemy the devil is prowling round like a roaring lion, looking for someone to eat. Stand up to him, strong in faith.
…………………………
Come to visit us, Lord, this night, So that by your strength we may rise at daybreak, to rejoice in the resurrection of Christ your Son, Who lives and reigns for ever and ever. Amen
V./ May the Lord grant us a quiet night and a perfect end.
R./ Amen.
In your mercy, Lord, dispel the darkness of this night. Let my household sleep in peace that at the dawn of a new day we may, with joy, waken in your name. Through Christ our Lord, Amen.
Be blessed during tonight's night prayers with this song – Holy God We Praise Thy Name
Night Prayer for Strength
Lord God, thank You for being with me the whole of this day. Thank You for letting me serve You today. I know, dear Lord, that I have failed You in many ways today and I ask for forgiveness.
Dear Lord, give me the strength to forget the bad experiences, the frustrations, and the disappointments I have encountered today. Also, rejuvenate my strength tonight so that I may wake up with overflowing energy to serve You tomorrow. I pray this in Jesus' Name. Amen.
Night Prayer to Give Thanks
Lord Jesus Christ, Thank you for taking good care of me throughout the day and letting me dwell in your goodness. My life has been sustained the whole of this day by Your Divine Providence.
Dear Lord, You have remained with me and rejuvenated my spirit and strength every time I felt like giving up. Whenever I fell, You lifted me up. Whenever I erred, You corrected me. Whenever I strayed away from Your will today, You brought me back on track. For this, I say thank you Jesus for this gift to me.
Lord Jesus, thank you for my good health, my job, and a loving family to which I have come back. Guide us, guard us, protect us, and govern us tonight so that we stay away from evil, sin, and attacks. May we rest, have a good night and wake up tomorrow safe and sound. Amen.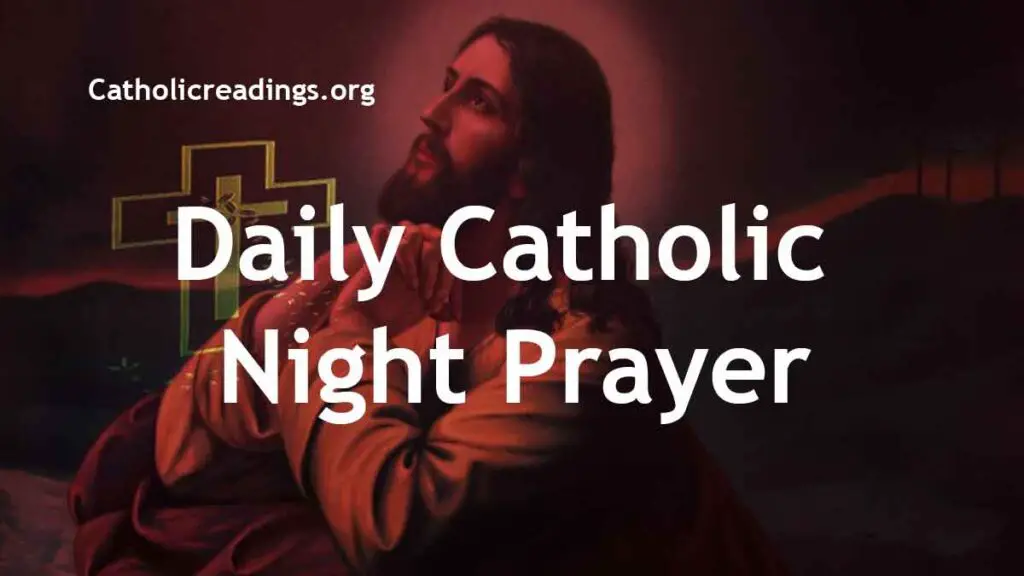 Powered By SEO Experts