Today is
Saturday, September 30, 2023
Daily Catholic good night and evening prayers. Now I lay myself down to sleep bedtime prayer with Nunc Dimittis, prayer for strength and protection.
V./ Oh God come to our aid,
R./ Oh Lord make haste to help us.
V./ Glory be to the Father and to the Son and to the Holy Spirit,
R./ as it was, in the beginning, is now and ever shall be world without end. Amen.
Nunc Dimittis
Save us Lord while we are awake, protect us while we sleep, that we may keep watch with Christ and rest tonight with Him in Peace.
(At last, all-powerful Master, You give leave to your servant to go in peace, according to your promise.
For my eyes have seen your salvation, Which you have prepared for all nations, The light to enlighten the Gentiles, And give glory to Israel, your people.)
Glory be to the Father and to the Son and to the Holy Spirit, as it was, in the beginning, is now and ever shall be world without end. Amen.
Prayer
Into your hands Oh Lord I commend my Spirit. Lord Jesus receive my soul, may the Blessed Saint Mary, Saint Joseph and all the Saints, pray for us to God that we may be preserved this night from sins and all evil. Amen.
Lord bless us and keep us from all evil and bring us to everlasting life, may the souls of the faithful departed, through the mercy of God rest in peace. Amen.
Jesus, Mary and Joseph, I give you my heart and my soul.
Jesus, Mary and Joseph, Assist me in my last agony.
Jesus, Mary and Joseph, may I breathe out my soul in peace with you. Amen
Scripture Reading
Ephesians 4:25-28
No more lying, then! Each of you must tell the truth to one another because we are all members together in the body of Christ.

If you become angry, do not let your anger lead you into sin, and do not stay angry all day. Don't give the Devil a chance.

Those who used to rob must stop robbing and start working, in order to earn an honest living for themselves and to be able to help the poor.

Ephesians 4:25-28
1 Peter 5:8-9
Be calm but vigilant, because your enemy the devil is prowling round like a roaring lion, looking for someone to eat. Stand up to him, strong in faith.

1 Peter 5:8-9
…………………………
Come to visit us, Lord, this night, So that by your strength we may rise at daybreak, to rejoice in the resurrection of Christ your Son, Who lives and reigns forever and ever. Amen
V./ May the Lord grant us a quiet night and a perfect end.
R./ Amen.
In your mercy, Lord, dispel the darkness of this night. Let my household sleep in peace that at the dawn of a new day we may, with joy, waken in your name. Through Christ our Lord, Amen.
Be blessed during tonight's night prayers with this song – Holy God We Praise Thy Name
Catholic Night Prayers for Strength
Lord God, thank You for being with me the whole of this day. Thank You for letting me serve You today. I know, dear Lord, that I have failed You in many ways today and I ask for forgiveness.
Dear Lord, give me the strength to forget the bad experiences, frustrations, and disappointments I have encountered today.
Also, rejuvenate my strength tonight so that I may wake up with overflowing energy to serve You tomorrow. I pray this in Jesus' Name. Amen.
Night Prayer to Give Thanks
Lord Jesus Christ, Thank you for taking good care of me throughout the day and letting me dwell in your goodness. My life has been sustained the whole of this day by Your Divine Providence.
Dear Lord, You have remained with me and rejuvenated my spirit and strength every time I felt like giving up. Whenever I fell, You lifted me up.
Whenever I erred, You corrected me. Whenever I strayed away from Your will today, You brought me back on track. For this, I say thank you Jesus for this gift to me.
Lord Jesus, thank you for my good health, my job, and a loving family to which I have come back. Guide us, guard us, protect us, and govern us tonight so that we stay away from evil, sin, and attacks. May we rest, have a good night and wake up tomorrow safe and sound. Amen.
Thanksgiving Catholic Night Prayers
Dear God, on this Thanksgiving night, I am filled with gratitude for all the blessings you have given me. Thank you for my family, friends, health, and all the good things in my life.
Thank you for your love and grace that surrounds me every day. I am so grateful for your provision and protection, and for the many ways you have shown yourself to be faithful.
Please continue to bless me and those I love, and help me to use the gifts you have given me to serve others.
I pray that you would be glorified in all things and that your kingdom would come on earth as it is in heaven. Thank you for all that you are and all that you do. Amen.
Catholic Night Prayer for Loved Ones
Lord Jesus Christ, I pray to You this evening for my loved ones. May You bless, care, guide, guard and govern my children, family members, friends, neighbours, and church members, so that they may stay away from sin and all evil.
Send forth their guardian angels to watch over them tonight and may they wake up tomorrow safe and sound to serve You in their respective workstations.
May Your Divine providence always supply their needs and may they never lack what they need to serve You.
Heal and protect my dear ones who are sick [say their names]. Grant them a yoke that is good to bear and a burden that is light.
Thank You for the wonderful people that surround my life, bless and guide them along Your path to everlasting life so that they may never be influenced by the evil one. Amen.
Inspirational Catholic Night Prayers
Dear Father, I retreat back home from serving You with a very sleepy head and a foggy mind. Please Lord, as I retire for the night, help my mind to clear throughout the night and my body to rest.
My Lord and my God, I hope I have served You to the best of my ability but where I have erred, please forgive me.
Tonight, dear Lord, give me the inspiration so that I can correct the mistakes I have made today and also to improve on whatever or wherever I have fallen short of Your expectations.
Almighty Father, tonight, fill my heart with compassion, mercy, humility, and love so that when I wake up tomorrow, I treat and serve people the way they deserve.
Let Your presence in me beam out to others and may they recognize Your presence in me. Send forth Your guardian Angel to protect me throughout this night.
Lord, I am thankful because every sleeping time is always full of a promising tomorrow because of Your abounding love and mercy. Amen.
A Prayer for a Good Night
Dear Lord, I trust fully in Your unfailing and unending love. I know that You always fulfill the promises that You make to those who serve and trust in You.
Tonight, I surrender to You as I sleep. Guard, guide, govern and grant me a good night.
Enable me to sleep in Your goodness, and may Your warmth cover me as I slip away to slumberland. May I have good and sweet dreams.
Keep the evil one away from me and salvage me when I wander away through the valley of the shadow of death. Amen.
Catholic Night Prayers for Those in Need
Heavenly Father, I bring to you all those who are in need tonight: those who are sick, struggling, or facing challenges.
Please be with them and bring them your comfort, healing, and hope. I pray for your protection and provision for them, and for all those who are working to help and serve them.
Lord, I ask that you would touch their lives in a special way and bring them peace and joy. I pray that they would experience your love and grace in a deep and meaningful way.
Please be with them and all those who are hurting, and bring them your hope and healing. In your precious name, Amen.
Simple Catholic Night Prayer
Dear Heavenly Father, Thank You for this day and for all the ways in which You have manifested Your love, care, protection, and providence to me.
Lord, You were there with me from sunrise, midday until now when the sun has set. Thank You for my loving home and family, my job, my special friends, and most important for being with me through every moment.
Give me sweet dreams tonight and may I wake up tomorrow safe and sound to serve You once more. Amen.
Catholic Night Prayer for Reflection
Lord, as I look back on this day, I am grateful for your presence in my life and the blessings you have given me.
I also confess any mistakes I have made and ask for your forgiveness. Please help me to let go of any worries or regrets and to trust in your love and grace. Thank you for the gift of sleep and for watching over me as I rest. Amen.
Catholic Night Prayers for Protection
Dear Father, continue this night, I beg You, to spread out Your protective cover over me, my family, friends, and loved ones.
Guard and protect all of us against all dangers and snares of the evil one so that we may enjoy and relax tonight in sleep and wake up tomorrow to continue serving You.
Please watch over me and keep me safe from any harm. I pray that you would surround me with your angels and give me peace and rest. Thank you for your love and faithfulness.
Dear Lord, give me the grace to never be afraid of death because the reason I living and dying is entirely Yours. I pray this in the mighty name of Jesus. Amen.
Night Time Prayer
👉 Lord Jesus, I humbly ask for your gracious blessings upon my sleep tonight, granting me a peaceful and rejuvenating rest.
I seek your forgiveness for any actions or choices that have brought displeasure today. Despite my flaws and shortcomings, I am deeply grateful for the immeasurable love you bestow upon me. Thank you for your boundless compassion and mercy.
Dear Lord, you possess complete knowledge of who I am, inside and out, and I rely on your assistance each day of my existence.
I express my heartfelt gratitude and offer you praise and honor for the incredible resilience you grant me to navigate through each day.
You have taught me that with your presence, all things are achievable, even in the face of the most arduous challenges.
My Lord, my God, may you bestow your blessings upon my family, my household, and the community I belong to.
I earnestly pray that you send your angels to diligently watch over and protect us throughout the night, ensuring our safety and well-being.
Dear Father, You have taught us that we resemble sheep and that You guide and protect us like a shepherd.
You are familiar with each of our names, and you make us feel cherished and valued. In times of distress, you alleviate our suffering.
We are grateful, Jesus, for your loving care and for providing assistance through our parents and priests. We express gratitude for the Bible, which teaches us valuable lessons that foster our personal growth.
Lord, please bless the people in our world and help them recognize your love for them as well. We are appreciative of all the individuals who offer us immense support, such as teachers, doctors, policemen, firefighters, and many others.
Lord, we thank you for your wonderful plan for our lives. Grant us the ability to follow your commands and to love you increasingly.
As we awaken in the morning, may a smile grace our faces and may your purpose be instilled in our hearts, preparing us for a new day.
Jesus, we love you dearly. Good night, and we offer this prayer in your precious name. Amen.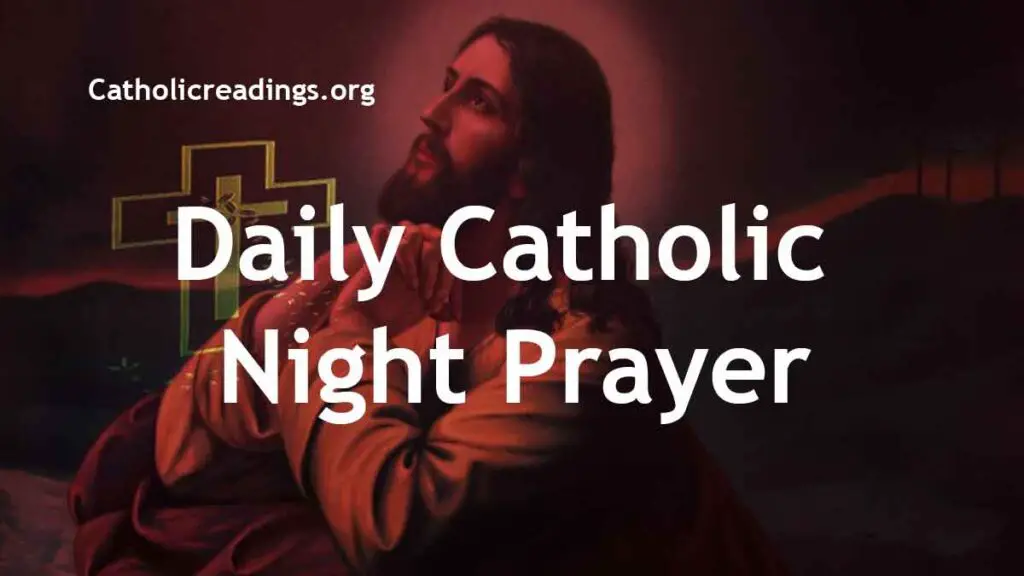 Related Links
Powered By SEO Experts
Follow @ReadingCatholic