Today is
Thursday, June 8, 2023
Every day, we will give you the Saint of the Day's Biography, Feast Day, Patronage, Date and Place of Birth, Date and place of Death, Beatification, or Canonization Date.
Saints and Blesseds are allocated specific days to celebrate their Memorials, Feasts, or Solemnities.
With new saints featured every day, this feature provides a daily dose of wisdom and insight from the remarkable individuals who have shaped the Catholic faith.
It showcases the lives and achievements of Catholic saints, both well-known and lesser-known.
Saint of the Day for June 8 2023

This is the Saint of the Day list of Saints and Blesseds whose feast day is June 8 2023. Saint Medard of Noyon Blessed Maria Droste zu Vischering Saint William of York Our Lady of

[Read More …]
Saint of the Day for December 1 to December 31
December 31
Other Sts whose feast day is December 31
December 30
December 29
Other Sts whose feast day is December 29
December 28
Feast of Holy Innocents, Martyrs
Other Sts whose feast day is December 28
December 27
Other Sts whose feast day is December 27
December 26
Other Sts whose feast day is December 26
Christmas Day – December 25
Other Sts whose feast day is December 25
December 24
December 23
Other Sts whose feast day is December 23
December 22
Other Sts whose feast day is December 22
December 21
Other Sts whose feast day is December 21
December 20
December 19
December 18
December 17
December 16
December 15
December 14
Other Sts whose feast day is December 14
December 13
Other Sts whose feast day is December 13
December 12
Other Sts whose feast day is December 12
December 11
Other Sts whose feast day is December 11
December 10
Other Sts whose feast day is December 10
December 9
Other Sts whose feast day is December 9
December 8
The Solemnity of Immaculate Conception of the Blessed Virgin Mary
Other Sts whose feast day is December 8
December 7
Other Sts whose feast day is December 7
December 6
Other Sts whose feast day is December 6
December 5
December 4
Other Sts whose feast day is December 4
December 3
Other Sts whose feast day is December 3
December 2
December 1
Saint of the Day for November 1 to November 30
November 30
Other Sts whose feast day is November 30
November 29
November 28
November 27
November 26
November 25
Other Sts whose feast day is November 25
November 24
St Andrew Dung Lac, Priest and Companions. Martyrs of Vietnam
Other Sts whose feast day is November 24
November 23
Other Sts whose feast day is November 23
November 22
Other Sts whose feast day is November 22
November 21
Presentation of the Blessed Virgin Mary
Other Sts whose feast day is November 21
November 20
Feast of Christ the King – The Solemnity of Our Lord Jesus Christ, King of the Universe
Other Sts whose feast day is November 20
November 19
Sts whose feast day is November 19
November 18
Dedication of the Basilicas of Sts Peter and Paul, Apostles
Other Sts whose feast day is November 18
November 17
Other Sts whose feast day is November 17
November 16
Other Sts whose feast day is November 16
November 15
Other Sts whose feast day is November 15
November 14
November 13
Other Sts whose feast day is November 13
November 12
Other Sts whose feast day is November 12
November 11
Other Sts whose feast day is November 11
November 10
Other Sts whose feast day is November 10
November 9
Dedication of St John Lateran Basilica in Rome
November 8
November 7
November 6
November 5
November 4
Other Sts whose feast day is November 4
November 3
Other Sts whose feast day is November 3
All Souls Day – November 2
All Souls Day – The Commemoration of all the Faithful Departed
Other Sts whose feast day is November 2
All Saints Day – November 1
All Saints Day (Solemnity of All Saints)
Saints whose feast day is November 1
Saint of the Day for October 1 to October 31
October 31
October 30
October 29
October 28
Other Sts whose feast day is October 28
October 27
October 26
October 25
October 24
St Anthony Mary Claret, Bishop
Other Sts whose feast day is October 24
October 23
Other Sts whose feast day is October 23
October 22
Other Sts whose feast day is October 22
October 21
October 20
Other Sts whose feast day is October 20
October 19
Other Sts whose feast day is October 19
October 18
Other Sts whose feast day is October 18
October 17
Other Saints whose feast day is October 17
October 16
Other Sts whose feast day is October 16
October 15
Other Sts whose feast day is October 15
October 14
Other Sts whose feast day is October 14
October 13
October 12
October 11
Other Sts whose feast day is October 11
October 10
October 9
Other Sts whose feast day is October 9
October 8
October 7
Other Sts whose feast day is October 7
October 6
Other Sts whose feast day is October 6
October 5
Other Sts whose feast day is October 5
October 4
Other Sts whose feast day is October 4
October 3
October 2
Memorial of the Holy Guardian Angels
Other Sts whose feast day is October 2
October 1
St Therese of the Child Jesus (Thérèse of Lisieux)
Other Sts whose feast day is October 1
Saint of the Day for September 1 to September 30
September 30
Other Sts whose feast day is September 30
September 29
Sts Michael Gabriel and Raphael, Archangels
Other Sts whose feast day is September 29
September 28
Sts Lawrence Ruiz and Companions, Martyrs
Other Sts whose feast day is September 28
September 27
Other Sts whose feast day is September 27
September 26
Other Saints whose feast day is September 26
September 25
September 24
September 23
Other Sts whose feast day is September 23
September 22
September 21
Other Sts whose feast day is September 21
September 20
Sts Andrew Kim Taegon, Paul Chong Hasang and Companions, Martyrs
Other Sts whose feast day is September 20
September 19
St Januarius bishop and Martyr
Other Sts whose feast day is September 19
September 18
September 17
Other Sts whose feast day is September 17
September 16
Other Sts whose feast day is September 16
September 15
Other Sts whose feast day is September 15
September 14
Feast of the Exaltation of the Holy Cross
Other Sts whose feast day is September 14
September 13
St John Chrysostom, Bishop and Doctor
Other Sts whose feast day is September 13
September 12
Holy Name of the Blessed Virgin Mary
Other Sts whose feast day is September 12
September 11
September 10
September 9
Other Sts whose feast day is September 9
September 8
Birth of the Blessed Virgin Mary
Other Sts whose feast day is September 8
September 7
September 6
September 5
Other Sts whose feast day is September 5
September 4
September 3
St Gregory the Great, Pope and Doctor
Other Sts whose feast day is September 3
September 2
September 1
Saint of the Day for August 1 to August 31
August 31
August 30
August 29
The Beheading of St John the Baptist, Martyr
Other Sts whose feast day is August 29
August 28
St Augustine of Hippo, Bishop and Doctor of the Church
Other Sts whose feast day is August 28
August 27
St Monica, Mother of St Augustine
Other Sts whose feast day is August 27
August 26
August 25
Other Sts whose feast day is August 25
August 24
Other Sts whose feast day is August 24
August 23
Other Sts whose feast day is August 23
August 22
Queenship of Blessed Virgin Mary
Other Sts whose feast day is August 22
August 21
Other Sts whose feast day is August 21
August 20
St Bernard of Clairvaux, Abbot and Doctor of the Church
Other Sts whose feast day is August 20
August 19
Other Sts whose feast day is August 19
August 18
Sts whose feast day is August 18
August 17
August 16
Other Sts whose feast day is August 16
August 15
Solemnity of Assumption of the Blessed Virgin Mary
Other Sts whose feast day is August 15
August 14
St Maximilian Mary Kolbe, Priest and Martyr
Other Sts whose feast day is August 14
August 13
Other Sts whose feast day is August 13
August 12
St Jane Frances de Chantal, Religious
Other Sts whose feast day is August 12
August 11
Other Sts whose feast day is August 11
August 10
St Lawrence, Deacon and Martyr
Other Sts whose feast day is August 10
August 9
St Teresa Benedicta of the Cross (Edith Stein), Virgin and Martyr
Other Sts whose feast day is August 9
August 8
Other Sts whose feast day is August 8
August 7
St Sixtus II, Pope and Martyr, and Companions, Martyrs
Other Sts whose feast day is August 7
August 6
The Feast of Transfiguration of the Lord
Other Sts whose feast day is August 6
August 5
Dedication of the Basilica of Saint Mary Major
Other Sts whose feast day is August 5
August 4
St John Mary Vianney (the Cure of Ars), Priest
Other Sts whose feast day is August 4
August 3
August 2
Other Sts whose feast day is August 2
August 1
St Alphonsus Maria de Liguori, Bishop and Doctor of the Church
Other Sts whose feast day is August 1
Saint of the Day for July 1 to July 31
July 31
Memorial of St Ignatius of Loyola, Priest
Other Sts whose feast day is July 31
July 30
Other Sts whose feast day is July 30
July 29
Memorial of Sts Martha, Mary, and Lazarus
Other Sts whose feast day is July 29
July 28
July 27
July 26
Other Sts whose feast day is July 26
July 25
Other Sts whose feast day is July 25
July 24
Other Sts whose feast day is July 24
July 23
Other Sts whose feast day is July 23
July 22
Other Sts whose feast day is July 22
July 21
St Lawrence of Brindisi, Priest and Doctor
Other Sts whose feast day is July 21
July 20
Other Sts whose feast day is July 20
July 19
July 18
St Camillus de Lellis, Priest – (US Memorial)
Other Sts whose feast day is July 18
July 17
July 16
Other Sts whose feast day is July 16
July 15
St Bonaventure, Bishop and Doctor
Other Sts whose feast day is July 15
July 14
Other Sts whose feast day is July 14
July 13
Other Sts whose feast day is July 13
July 12
July 11
Other Sts whose feast day is July 11
July 10
July 9
St Augustine Zhao Rong and Companions (Martyr Sts of China)
Other Sts whose feast day is July 9
July 8
July 7
July 6
St Maria Goretti, Virgin and Martyr
Other Sts whose feast day is July 6
July 5
Other Sts whose feast day is July 5
July 4
Other Sts whose feast day is July 4
July 3
Feast of St Thomas the Apostle
Other Sts whose feast day is July 3
July 2
July 1
Other Sts whose feast day is July 1
Saint of the Day for June 1 to June 30
June 30
First Martyrs of the Church of Rome
Other Sts whose feast day is June 30
June 29
Other Sts whose feast day is June 29
June 28
St Irenaeus of Lyons, Bishop and Martyr
Other Sts whose feast day is June 28
June 27
St Cyril of Alexandria, Bishop and Doctor of the Church
Other Sts whose feast day is June 27
June 26
Other Sts whose feast day is June 26
June 25
The Immaculate Heart of the Blessed Virgin Mary
Other Sts whose feast day is June 25
June 24
Solemnity of the Nativity of St John the Baptist
Other Sts whose feast day is June 24
June 23
June 22
St John Fisher, Bishop and Martyr
Other Sts whose feast day is June 22
June 21
St Aloysius Gonzaga, Religious
Other Sts whose feast day is June 21
June 20
June 19
Other Sts whose feast day is June 19
June 18
June 17
June 16
June 15
June 14
June 13
Memorial of St Anthony of Padua, Priest and Doctor
Other Sts whose feast day is June 13
June 12
June 11
Other Sts whose feast day is June 11
June 10
June 9
St Ephrem of Syria, Deacon and Doctor of the Church
Other Sts whose feast day is June 9
June 8
June 7
June 6
Other Sts whose feast day is June 6
June 5
St Boniface, Bishop and Martyr
June 4
June 3
Memorial of St Charles Lwanga and Companions, Martyrs
Other Sts whose feast day is June 3
June 2
Sts Marcellinus and Peter, Martyrs
Other Sts whose feast day is June 2
June 1
Other Sts whose feast day is June 1
Saint of the Day for May 1 to May 31
May 31
Feast of the Visitation of the Blessed Virgin Mary
Other Sts whose feast day is May 31
May 30
May 29
Memorial of the Blessed Virgin Mary, Mother of the Church
Other Sts whose feast day is May 29
Pentecost Sunday – May 28
May 27
St Augustine of Canterbury, Bishop
Other Sts whose feast day is May 27
May 26
Memorial of St Philip Neri, Priest
Other Sts whose feast day is May 26
May 25
Other Sts whose feast day is May 25
May 24
May 23
May 22
Other Sts whose feast day is May 22
May 21
St Christopher Magallanes Jara, Priest and Martyr and Companions, Martyrs
Other Sts whose feast day is May 21
May 20
Other Sts whose feast day is May 20
May 19
May 18
Other Sts whose feast day is May 18
May 17
May 16
May 15
Other Sts whose feast day is May 15
May 14
Other Sts whose feast day is May 14
May 13
Other Sts whose feast day is May 13
May 12
St Nereus and Achilleus of Terracina, Martyrs and St Pancras of Rome, Martyr
Other Sts whose feast day is May 12
May 11
May 10
St Damien de Veuster of Moloka'i, Priest
Other Sts whose feast day is May 10
May 9
May 8
May 7
May 6
May 5
May 4
May 3
Sts Philip and James, Apostles
Other Sts whose feast day is May 3
May 2
St Athanasius, Bishop and Doctor
Other Sts whose feast day is May 2
May 1
Other Sts whose feast day is May 1
Saint of the Day for April 1 to April 30
April 30
Other Sts whose feast day is April 30
April 29
St Catherine of Siena, Virgin and Doctor of the Church
Other Sts whose feast day is April 29
April 28
St Peter Chanel, Priest and Martyr
St Louis Grignon de Montfort, Priest
Other Sts whose feast day is April 28
April 27
April 26
April 25
Other Sts whose feast day is April 25
April 24
St Fidelis of Sigmaringen, Priest and Martyr
Other Sts whose feast day is April 24
April 23
St Adalbert of Prague, Bishop and Martyr
Other Sts whose feast day is April 23
April 22
April 21
St Anselm of Canterbury, Bishop and Doctor of the Church
Other Sts whose feast day is April 21
April 20
April 19
April 18
April 17
April 16
April 15
April 14
April 13
Other Sts whose feast day is April 13
April 12
April 11
St Stanislaus, Bishop and Martyr
Other Sts whose feast day is April 11
April 10
Easter Sunday – April 9
April 8
Good Friday – April 7
Saint John Baptist de la Salle, Priest
Other Saints whose feast day is April 7
Holy thursday – April 6
April 5
Other Saints whose feast day is April 5
April 4
Other Saints whose feast day is April 4
April 3
Palm Sunday – April 2
Other Saints whose feast day is April 2
April 1
Saint of the Day for March 1 to March 31
March 31
March 30
March 29
March 28
March 27
March 26
March 25
Solemnity of the Annunciation of the Lord
Other Saints whose feast day is March 25
March 24
March 23
Other Saints whose feast day is March 23
March 22
March 21
March 20
March 19
St Joseph, husband of the Blessed Virgin Mary. He is the Patron Saint of (St Joseph Patronage)
Other Saints whose feast day is March 19
March 18
St Cyril, the Bishop of Jerusalem
Other Saints whose feast day is March 18
March 17
Other Saints whose feast day is March 17
March 16
March 15
March 14
March 13
March 12
March 11
March 10
March 9
Other Saints whose feast day is March 9
March 8
Other Saints whose feast day is March 8
March 7
Saints Perpetua and Felicity, Martyrs
Other Saints whose feast day is March 7
March 6
March 5
March 4
Other Saints whose feast day is March 4
March 3
Other Saints whose feast day is March 3
March 2
March 1
Saint of the Day for February 1 to February 28
February 28
February 27
Other Saints whose feast day is February 27
February 26
February 25
February 24
February 23
Saint Polycarp Bishop and Martyr
Other Saints whose feast day is February 23
Ash Wednesday – February 22
Feast of Chair of Saint Peter Apostle
Other Saints whose feast day is February 22
February 21
Other Saints whose feast day is February 21
February 20
February 19
February 18
February 17
Seven Holy Founders of the Servite Order
Other Saints whose feast day is February 17
February 16
February 15
February 14
Other Saints whose feast day is February 14
February 13
February 12
February 11
Other Saints whose feast day is February 11
February 10
Other Saints whose feast day is February 10
February 9
February 8
Other Saints whose feast day is February 8
February 7
February 6
Saints Paul Miki and Companions, Martyrs
Other Saints whose feast day is February 6
February 5
St Agatha of Sicily, Virgin and Martyr
Other Saints whose feast day is February 5
February 4
February 3
Other Saints whose feast day is February 3
February 2
Feast of the Presentation of the Lord
February 1
Saint of the Day for January 1 to January 31
January 31
Other Saints whose feast day is January 31
January 30
January 29
January 28
Other Saints whose feast day is January 28
January 27
Other Saints whose feast day is January 27
January 26
Other Saints whose feast day is January 26
January 25
Other Saints whose feast day is January 25
January 24
Other Saints whose feast day is January 24
January 23
Other Saints whose feast day is January 23
January 22
Day of Prayer for Legal Protection of Unborn Children
St Vincent of Saragossa Deacon and Martyr
Other Saints whose feast day is January 22
January 21
St Agnes of Rome, Virgin and Martyr
Other Saints whose feast day is January 21
January 20
Other Saints whose feast day is January 20
January 19
January 18
January 17
Other Saints whose feast day is January 17
January 16
January 15
January 14
January 13
Other Saints whose feast day is January 13
January 12
January 11
January 10
January 9
January 8
January 7
Other Saints whose feast day is January 7
January 6
Other Saints whose feast day is January 6
January 5
Other Saints whose feast day is January 5
January 4
Other Saints whose feast day is January 4
January 3
Feast of the Most Holy Name of Jesus
January 2
January 1
Solemnity of Mary, The Holy Mother of God
Other Sts whose feast day is January 1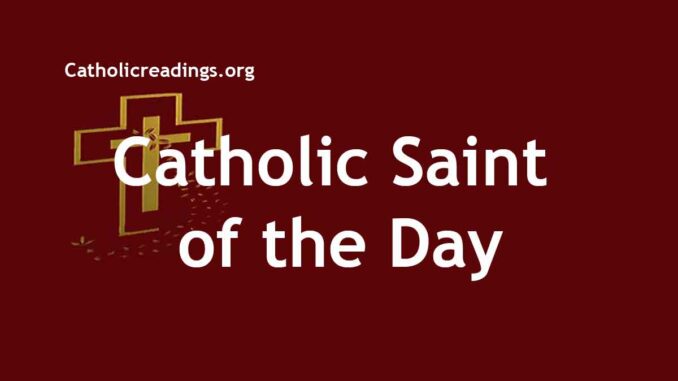 Powered By SEO Experts
Follow @ReadingCatholic