Today is
Saturday, September 30, 2023
You can also play the Catholic Crossword Puzzle Game
This is a Roman Catholic Trivia Quiz for Christmas, Lent, Holy Week, Easter, Advent, Prayers, Bible Gospel readings, Catholic Liturgy, Faith, Saints, and others.
They are good for Youth, Adults, kids, and school-going Children.
Welcome to the Catholic Trivia Quiz! This quiz is designed to test your knowledge of the Catholic faith and our spiritual and liturgical teachings.
Catholic Trivia Quiz Play Guidelines
👉Choose the set of Questions from the "Trivia Category".
Click the Start button to start the quizzes.
The Reset button resets the Trivia.
Mode
👉Consecutive – The questions start from the quiz with index number added into a text field, and are added in their order till the last quiz.
👉Random – The quizzes are chosen randomly, till the last quiz, without repeat.
👉Countdown Timer – If that button is checked, you have 15 seconds to answer till the correct answer is added automatically.
It's a fun and engaging way to learn more about the Catholic Church and its traditions. Trivia quizzes are an important tool for education because they can help people retain information by presenting it in a fun and memorable way.
So, put on your thinking cap and get ready to test your knowledge of the Catholic faith!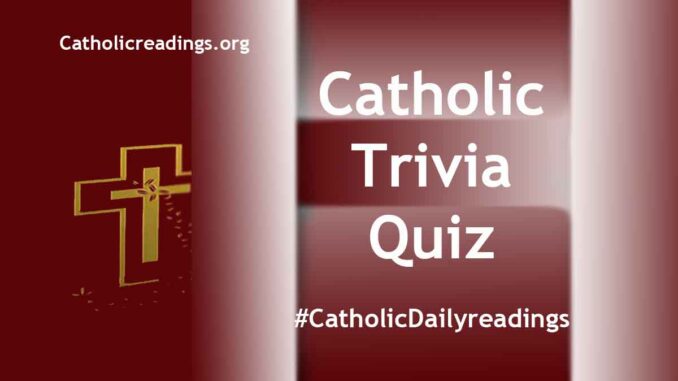 Related Links
Powered By SEO Experts
Follow @ReadingCatholic