Today is
Wednesday, May 31, 2023
Bl. Gandulphus of Binasco Biography
Bl. Gandulphus of Binasco Profile. Born: 1200 AD in Italy, Europe. Worked in Italy. Died: April 3 1260 in Polizzi Generosa, Sicily, Italy. Feast Day is celebrated on April 3.
The Memorial of Bl. Gandulphus of Binasco – Saint of the Day

Bl. Gandulphus of Binasco Biography, Feast Day, Date of Birth, Country of Birth, Profession, Place of Work, Date of Death, Place of Death, Beatification Date, Canonization Date

Date of Birth
1200 AD
Country of Birth
Italy of Europe
Matrimony/Holy Orders
Blesseds who were Priests
Profession
Priest
Place of Work
Italy
Date of Death
April 3 1260
Place of Death
Polizzi Generosa, Sicily, Italy
Feast Day
April 3
Beatification
Beatified by Pope Leo XIII on March 10 1881
Canonization
Canonized by Pre-Congregation
Patron Saint of
Polizzi Generosa
Italy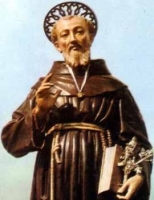 Blessed's Biography
Bl. Gandulphus Sacchi was born around 1200 in northern Italy. He comes from a rich and powerful family of Sacchi. He joined the Franciscan Order while Saint Francis of Assisi was still alive. Gandulphus lived a remarkable ascetic life. In 1256 he established the Franciscan convent in Italy.

Miracles
He healed a young boy outside Polizzi Generosa, Italy in 1260 which led to local people following his preaching.

Bl. Gandulphus of Binasco Death
He died on April 3 1260 at San Nicolò Hospital in Italy of natural causes.
Follow @ReadingCatholic