Today is
Wednesday, May 31, 2023
Bl. Piotr Edward Dankowski Dankowski Biography
Bl. Piotr Edward Dankowski Profile. Born: June 21 1908 in Poland, Europe. Worked in Malopolskie, Poland. Died: April 3 1942 in Malopolskie, Poland. Feast Day is celebrated on April 3.
The Memorial of Bl. Piotr Edward Dankowski – Saint of the Day

Bl. Piotr Edward Dankowski Biography, Feast Day, Date of Birth, Country of Birth, Profession, Place of Work, Date of Death, Place of Death, Beatification Date, Canonization Date

Date of Birth
June 21 1908
Country of Birth
Poland of Europe
Matrimony/Holy Orders
Blesseds who were Priests
Profession
priest
Place of Work
Malopolskie, Poland
Date of Death
April 3 1942
Place of Death
Malopolskie, Poland
Feast Day
April 3
Beatification
Beatified by Pope John Paul II on June 13 1999 in Warsaw, Poland
Canonization
 
Patron Saint of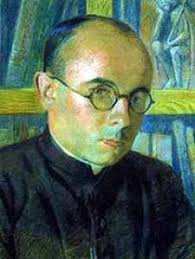 Blessed's Biography
Blessed Peter Edward Dankowski was born in 1908 and was a priest in the Archdiocese of Krakow Poland. He was known for his great service to the people, especially the poor. 
Death and Arrest
He was arrested by police on May 1941 and sentenced to the extermination camp in Oswiecim (Auschwitz). Peter died on Good Friday on April 3, 1942, he suffered abuse because he was a Catholic priest.
Quote
"We are seen in the kingdom of God!"
by Peter Edward Dankowski


Follow @ReadingCatholic