Today is
Friday, September 29, 2023
St Angelus of Jerusalemi s the Patron Saint of
Licata, Italy
Palermo
Sant'Angelo Muxaro
St Angelus of Jerusalem brief life History

Date of Birth
1185 AD
Country of Birth
Israel in Asia
Profession
Israeli Roman Catholic convert from Judaism and a professed priest from the Carmelites
Place of Work
Sicily, Italy
Date of Death
5 May 1220 (aged 35)
Place of Death
Licata, Kingdom of Sicily
Feast Day
May 5
Beatification
 
Canonization
By Pope Pius II in 1459 in Rome, Papal States
Patron Saint of
Licata, Italy
Palermo
Sant'Angelo Muxaro
Saint Angelus of Jerusalem Short life History
Saint Angelus of Jerusalem is also known as Angelus of Sicily
• Angelus' parents were 12th century Jewish converts.
• At age 18, Angelus and his twin brother joined a group of hermits who formed the first Carmelite house.
• Angelo was sent to evangelize in Sicily, met with great success in converting some Sicilian Jews, and great hatred from others, especially around Palermo and Leocata.
• Murdered by thugs in the employ of Count Berengarius, a man whose incestuous relationship Angelus had denounced.
Today's Catholic Quote:
Saint Angelus of Jerusalem was born in 1145 at Jerusalem and died by being stabbed to death in 1220 at Licata, Sicily, Italy. His relics transferred in to the Carmelite church at Licata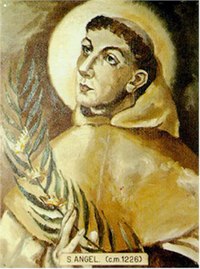 Powered By SEO Experts
Follow @ReadingCatholic