Today is
Friday, February 3, 2023
St David Galván-Bermúdez was a Catholic priest born on January 29 1881 at Guadalajara, Jalisco, Mexico. He was shot dead by a firing squad and died as a martyr on January 30 1915 at Guadalajara, Jalisco, Mexico during the Cristeros rebellion in Mexico. He is one of the martyrs of Cristero War. We celebrate his feast day on May 21 every year in the Catholic Church
The Memorial of Saint David Galván-Bermúdez – Feast Day

Saint David Galván-Bermúdez Biography

Date of Birth
January 29 1881
Country/Place of Birth
Guadalajara, Jalisco, Mexico
Matrimony/Holy Orders
Saints who were Priests
Profession
Priest
Place of Work
Mexico
Date of Death
January 30 1915
Place of Death
Guadalajara, Jalisco, Mexico
Feast Day
May 21
Beatification
Beatified by Pope John Paul II on November 22 1992
Canonization
Canonized by Pope John Paul II on May 21 2000 during the Jubilee of Mexico
Patron Saint of
 
Saint David Galvan-Bermudez Biography
St David Galván-Bermúdez joined the seminary in Guadalajara, Mexico at age 14 but left for three years to reflect on whether priesthood was his vocation.
After living a sinful life he came back to his senses and realized his call to priesthood was real. He went back to the seminary and was ordained on May 20 1909.
During the Cristeros rebellion in Mexico, he was arrested for the crime of priesthood. On his way to Guadalajara to help victims of armed street fighting, he was arrested shot dead by a firing squad and died as a martyr on January 30 1915 at Guadalajara, Jalisco, Mexico.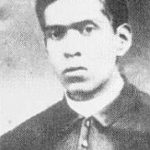 Powered By SEO Experts
Follow @ReadingCatholic