Today is
Friday, February 3, 2023
St Justino Orona Madrigal was a Catholic Priest born on April 14 1877 in Cuyucapán, Atoyac, Jalisco, Mexico. He was shot and died as a martyr on July 1 1928 in Las Cruces, Cuquío, Jalisco, Mexico during the Cristeros rebellion in Mexico. He is one of the martyrs of the Cristero War. We celebrate his feast day on May 21 every year in the Catholic Church.
St Justino Orona Madrigal – Feast Day

St Justino Orona Biography

Date of Birth
April 14 1877
Country/Place of Birth
Cuyucapán, Atoyac, Jalisco, Mexico
Matrimony/Holy Orders
Saints who were Priests
Profession
Priest
Place of Work
Archdiocese of Guadalajara, Mexico.
Date of Death
July 1 1928
Place of Death
Las Cruces, Cuquío, Jalisco, Mexico
Feast Day
May 21
Beatification
Beatified by Pope John Paul II on November 22 1992
Canonization
Canonized by Pope John Paul II on May 21 2000 during the Jubilee of Mexico
Patron Saint of
 
Biography
St. Justino was born in Atoyac, Jalisco, Mexico on April 14, 1877. He founded the Religious Congregation of the Poor Clares Sisters of the Sacred Heart. He was one of the victims of the Mexican revolution.
St. Justino was born into a very poor family. He finished his early studies at Zapotlán. He then joined Guadalajara's seminary in 1894.
After he was ordained in 1904, he was a parish priest at Jalisco, Encarnación, Cuquío, and Poncitlán. This was despite an atmosphere of anticlericalism and religious persecutions.
St. Justino remained an inspiring priest through it all. St. Justino was a priest at Cuquío, he established the Congregation of Claretian Brothers of the Sacred Heart. Their job was to care for orphans and poor children.
Even as the persecution increased, he and his companion priest, Saint Atilano cruz, decided to remain with their congregation.
This was despite the risk, they hid in a nearby ranch of Las Cruces. With them was St. Justino's brother José María and Toribio Ayala.
On June 28, 1928, Federal forces arrived there at dawn with the mayor of Cuquío. St. Justino opened the door, yelled "Viva Cristo Rey!," and was then shot.
St. Justino's body was left in Cuquío's town square. His corporeal remains were moved to San Felipe Church in Cuquío.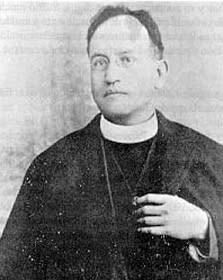 Powered By SEO Experts
Follow @ReadingCatholic