Today is
Tuesday, May 30, 2023
 St. Nicetas of Medicion Biography
St. Nicetas of Medicion Profile. Born: 7 century in Turkey, Europe. Worked in Turkey. Died: 824 AD in Turkey. Feast Day is celebrated on April 3.
The Memorial of St. Nicetas of Medicion – Saint of the Day

St. Nicetas of Medicion Biography, Feast Day, Date of Birth, Country of Birth, Profession, Place of Work, Date of Death, Place of Death, Beatification Date, Canonization Date

Date of Birth
7 century
Country of Birth
Turkey of Europe
Matrimony/Holy Orders
Saints who were Monks
Profession
monk
Place of Work
Turkey
Date of Death
824 AD
Place of Death
Turkey
Feast Day
April 3
Beatification
Beatified by Pre-Congregation
Canonization
Canonized by Pre-Congregation
Patron Saint of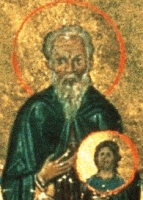 Saint's Biography
St. Nicetas was born around 760 in Caesarea in Turkey. He was only eight days old when his mother died. A few years later his father Filaretos went to the monastery and devoted his son to God.  
He left Nicetas with a grandmother. In his youth, he got attracted to a lonely life. 
Saint Nicetas of Medicion Education
At 12-year-old he was already a lecturer for the bishop of Caesarea. As a teenager, he sent to Medikion Monastery.
St. Nicetas ordained in 790 by the St. patriarch Tarasios (784-806). Tarasios appointed him his assistant and recommended him as his successor. His rigorous life and humility led the monks to choose him to the monastery's abbot after his founder's death in 813. He expanded the monastery.
St. Nicetas of Medicion Death
He died in 824 of natural causes while in exile.
Follow @ReadingCatholic