Today is
Sunday, June 4, 2023
Catholic Daily Reflections – Fourth Sunday in Ordinary Time Year C, Fourteenth Sunday in Ordinary Time Year B, Wednesday of the Fourth Week in Ordinary Time, Friday of the Seventeenth Week in Ordinary Time, Monday of the Twenty-second Week in Ordinary Time
He said to them, "Surely you will quote me this proverb, 'Physician, cure yourself,' and say, 'Do here in your native place the things that we heard were done in Capernaum.'"
And he said, "Amen, I say to you, A Prophet is Not Without Honor Except in His Native Place.

Luke 4:16-30, Matthew 13:54-58, Mark 6:1-6
Catholic Readings for Today
Fourth Sunday in Ordinary Time, Year C
Fourteenth Sunday in Ordinary Time, Year B
Wednesday of the Fourth Week in Ordinary Time, Year 1
Wednesday of the Fourth Week in Ordinary Time, Year 2
Monday of the Twenty-second Week in Ordinary Time Year 1
Monday of the Twenty-second Week in Ordinary Time Year 2
Friday of the Seventeenth Week in Ordinary Time Year 1
Friday of the Seventeenth Week in Ordinary Time Year 2
Today's Catholic Daily Reflections
Jesus today is teaching us about the need to always not discriminate a person from his external looks. The people of Jesus' native area in Nazareth missed out on the great things He would have done, because of their lack of faith that a person they have known all the time could be their saviour.
It is our human nature to look down upon others especially when, from our human perspective, we think nothing much can come from them.
It may not be a sin per se, but you tend to miss out on the good things that God had created the person to do for you.
Each and every person here on earth has a purpose to fulfill regardless of how they look or how we know them and therefore we should accord them the chance to do just that.
Jesus Had lived all His life in Nazareth. The people there had seen Jesus grow up as a humble son of a carpenter.
He had lived very normal life just like all the other kids of His age, so the residents of that area didn't expect anything much from a son of a carpenter. But how wrong they were, they missed the best of what anyone could ever wish to get on earth.
This means that good things from God will not come on a silver platter. They will come wrapped in the humblest way possible. This is also similar to the statement from Jesus that on the last day he will come unexpectedly like a thief.
Let us therefore respect every person who brings the Good News, about the Kingdom of Heaven, to us even though they are wearing the worst of clothes or living in the humblest of houses.
This is the case because God does not look at the external looks of a person but the internal cleanliness and fidelity of a person to become His messanger.
Prayer: Lord Jesus Christ, we know that You are the Saviour of the world. We know that You were born and brought up in a very humble and meek family. We accept and believe in the Good News that You teach us from the Bible. Be with us always and never forsake us. Amen.
Catholic Daily Reflections in Pictures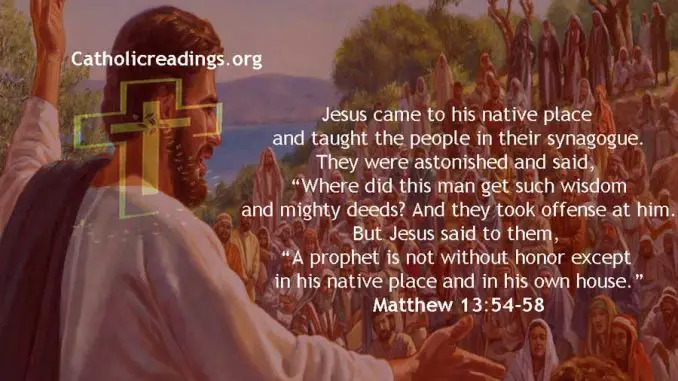 Related Links
Powered By SEO Experts
Follow @ReadingCatholic