Today is
Friday, September 22, 2023
September 16 2023: Bible Verse of the Day – Saturday of the Twenty-third Week in Ordinary Time – Building Life on Solid Rock Foundation – Luke 6:43-49
I will show you what someone is like who comes to me, listens to my words, and acts on them.
That one is like a man building a house, who dug deeply and laid the foundation on rock; when the flood came, the river burst against that house but could not shake it because it had been well built.
But the one who listens and does not act is like a person who built a house on the ground without a foundation. When the river burst against it, it collapsed at once and was completely destroyed." – Luke 6:43-49
Catholic Readings For Today
Saturday of the Twenty-third Week in Ordinary Time, Year 1
Saturday of the Twenty-third Week in Ordinary Time, Year 2
Bible Verse of the Day Reflections
Let us ask ourselves, "What will my foundation look like? Is it solid rock? Or is it sand?" This Gospel passage today shows us the importance of always building our lives on a solid rock foundation.
A foundation isn't typically thought of or distressed about unless it's weak and collapses. This is something very important to think about.
If a foundation is strong and robust it typically goes unnoticed and people rarely worry about it when storms come by.
The same can be said of our spiritual foundation. The spiritual foundation we are supposed to have is one that is rooted in deep faith and prayer.
We shall build our solid rock foundation when we communicate daily with Jesus Christ through prayer and, therefore, Jesus will become the solid foundation in our lives.
We will forever be safe from any storm that hits us at any time of our life as we continue doing the will of God.
In contrast, a weak foundation is one that depends on its own strength and stability in stormy and turbulent times. It doesn't have anything else to fortress it.
However, the reality is that no one is strong and robust enough to be their own foundation. Anyone who tries this is a fool who is taught later by life that they can't endure any turbulence, hardship, and storms that life throws at them.
Therefore, let us today, examine ourselves and see whether we have built our lives on the Solid Rock Foundation of Jesus Christ.
If you have, continue with your communion with Christ through prayer and living according to the teachings of the Holy Gospel.
If you have not built your foundation on Christ, then know you have a weak foundation, and any slight storm in life will always torment you.
Recommit yourself to a lifetime of deep prayer in order that Jesus Christ our Saviour becomes the Solid Rock Foundation of your life.
Prayer: Dear Lord, I want You to continue being my rock and my strength always. You are my provider, protector and refuge. Give me the grace to always depend on You as I accomplish my God-given tasks and assignments here on earth. Amen.
Bible Verse of the Day in Pictures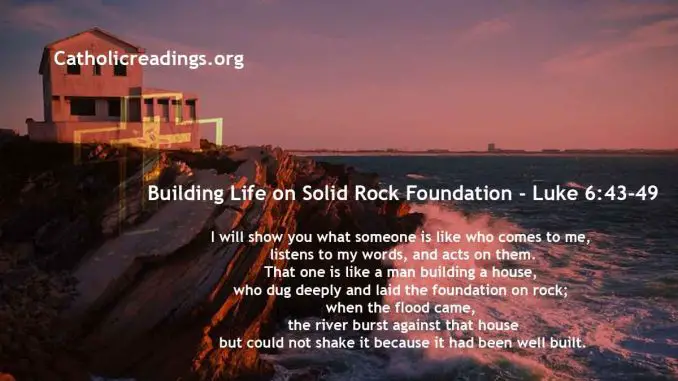 Related Links
Powered By SEO Experts
Follow @ReadingCatholic