Enjoy Christmas Carols and Songs 2021 with Lyrics
Feast of the Dedication of the Basilica of Saint John Lateran, Rome Brief History

Built on
Groundbreaking started in the 4th century AD
Domicile
Italy in Europe
Use
Major Papal, Patriarchal and Roman Archbasilica Cathedral of the Most Holy Savior and Saints John the Baptist and the Evangelist in Lateran, Mother and Head of All Churches in Rome and in the World
Feast Day
November 9
Feast of the Dedication of the Basilica of Saint John Lateran, Rome
Feast of the Dedication of the Basilica of Saint John Lateran, Rome Short life History
The Papal Archbasilica of St. John in Lateran (Italian: Arcibasilica Papale di San Giovanni in Laterano), commonly known as St. John Lateran Archbasilica, St. John Lateran Basilica, St. John Lateran, or simply the Lateran Basilica, is the cathedral church of Rome, Italy and therefore houses the cathedra, or ecclesiastical seat, of the Roman Pontiff (Pope).
It is the oldest of and has precedence among the four papal major basilicas, all of which are in Rome, because it is the oldest church in the West and houses the cathedra of the Roman Pontiff. It has the title of the ecumenical mother church of the Roman Catholic faithful.
Its annual celebration throughout the Latin Church is a sign of love and unity with the Papacy and Pope.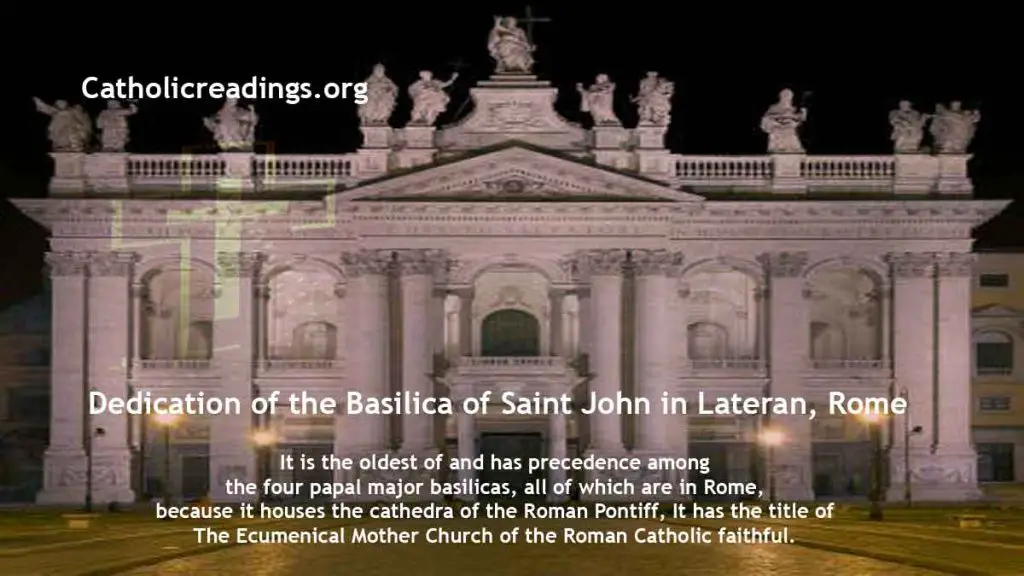 Powered By SEO Experts