Today is
Monday, March 20, 2023
Bible Verse of the Day – Tuesday of the First Week of Advent, Wednesday of the Fifteenth Week in Ordinary Time, Saturday of the Twenty-sixth Week in Ordinary Time, Solemnity of Most Sacred Heart of Jesus
25 At that time Jesus exclaimed: "I give praise to you, Father, God of heaven and earth, for although you have hidden these things from the wise and the learned you have revealed them to the childlike.
26 Yes, Father, such has been your gracious will.

Matthew 11:25-27 and Luke 10:17-24
Catholic Readings For Today
Solemnity of Most Sacred Heart of Jesus
Tuesday of the First Week of Advent
Wednesday of the Fifteenth Week in Ordinary Time Year 1
Wednesday of the Fifteenth Week in Ordinary Time Year 2
Saturday of the Twenty-sixth Week in Ordinary Time Year 1
Saturday of the Twenty-sixth Week in Ordinary Time Year 2
Today's Bible Verse of the Day Reflections
Well, well! Jesus says that God has hidden the details about the Kingdom of Heaven from the wise and the learned but revealed the same to the childlike. This can be a bit confusing and mind-boggling but let's get the sense and the meaning of this statement from Jesus.
Why would Jesus give praise to God for hiding information about His Kingdom from the wise and the learned? Well, in this context, Jesus is referring the wise and the learned as those people who boast and Self-aggrandize themselves because they think they know so much about earthly things. The meek, humble and the childlike are those who know more about the heavenly things.
When you think you know so much more than others, you tend to start belittling and looking down on them. This breeds pride and obstinacy. When you become obstinate, you will never repent and change your bad ways and go back to God. You will also tend to blasphemy the Holy Trinity because you will start questioning the presence or existence of God. To avoid exhibiting His Name to ridicule, God Hides the truth froth the pseudo-learned and wise.
For you to know and understand God, you must become humble and meek. You must become childlike for the power of God to be manifested in You. God cannot manifest Himself in a person full of pride and self-worth. Jesus said, blessed are the meek, for they will inherit the earth.
Therefore let us today, yearn to be meek and humble before God and other people and also become childlike so that we can receive and understand the Good News. By doing this, God will let us know everything He wants us to know.
Prayer: Dear God, help us to become meek, humble and childlike so that we may not miss out on the joy, blessings and goodness that comes from knowing, loving, serving, praising and glorifying You. Amen
Bible Verse of the Day in Pictures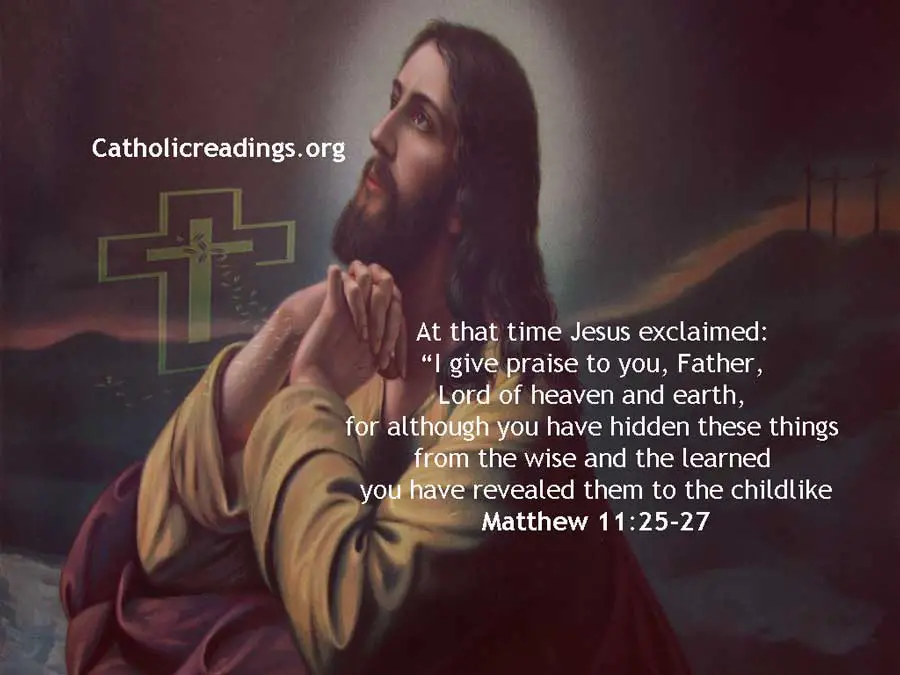 Powered By SEO Experts
Follow @ReadingCatholic