Today is
Thursday, June 8, 2023
Bible Verse of the Day – Nativity of Saint John the Baptist, Catholic Daily Mass Readings for December 23
59When they came on the eighth day to circumcise the child, they were going to call him Zechariah after his father,
60but his mother said in reply, "No. He will be called John."
61But they answered her, "There is no one among your relatives who has this name."
62So they made signs, asking his father what he wished him to be called.
63He asked for a tablet and wrote, "John is his name," and all were amazed.
64Immediately his mouth was opened, his tongue freed, and he spoke blessing God.

Luke 1:57-66
Catholic Readings For Today
Nativity of Saint John the Baptist
Catholic Daily Mass Readings for December 23
Today's Bible Verse of the Day Reflections
The birth of John the Baptist was also an act of God as was the Birth of Jesus Christ. This is because the events surrounding their births were similar, especially the visit by The Angel Gabriel to deliver the Good News.
John the Baptist was poised to become the person to prepare the pathway for our Lord Jesus Christ to start His mission on earth for which He was sent by God.
Some of the ways that John the Baptist prepared the way was
1. Preaching in the wilderness about the coming of our saviour, Jesus Christ
2. Baptizing Jesus Christ in River Jordan
Today, we see how God influenced the birth and his naming too. He was chosen by God. His father Zachariah had doubted God's Word by Angel Gabriel that his aged wife Elizabeth, who was barren, could bear a child. He was struck mute until then when during John's circumcision he acknowledged God's word and named his son John as God had instructed.
So, today, let us celebrate the Solemnity of the Nativity of Saint John the Baptist and aspire to make way in our hearts so that our Lord Jesus Christ can pass through.
Just like John the Baptist who said that he is not fit to untie the laces of Jesus' sandals, let us humble ourselves before our Lord, Love Him, glorify Him and praise Him because He is our Saviour.
Prayer: Lord Jesus Christ, we love You and we praise You. We make the way for You to pass to our hearts. Strengthen us with Your Word which is Spirit, Truth, and Life and we shall inherit the Kingdom of God on the last day. Amen
Bible Verse of the Day in Pictures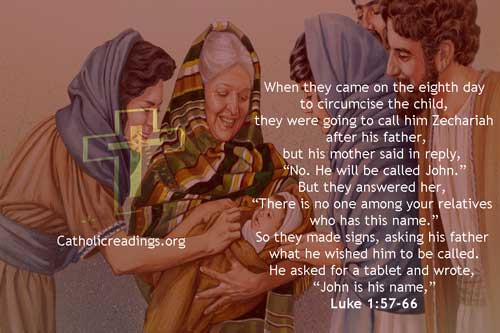 Powered By SEO Experts
Follow @ReadingCatholic