Today is
Tuesday, March 21, 2023
Catholic Daily Reflections – Sixth Sunday in Ordinary Time Year A, Wednesday of the Third Week of Lent and Wednesday of the Tenth Week in Ordinary Time
17 Jesus said to his disciples: "Do not think that I have come to abolish the law or the prophets. I have come not to abolish but to fulfil.
19 Therefore, whoever breaks one of the least of these commandments and teaches others to do so will be called least in the Kingdom of heaven. But whoever obeys and teaches these commandments will be called greatest in the Kingdom of heaven."

Matthew 5:17-19
Catholic Readings for Today
Sixth Sunday in Ordinary Time, Year A
Wednesday of the Third Week of Lent
Wednesday of the Tenth Week in Ordinary Time, Year 1
Wednesday of the Tenth Week in Ordinary Time, Year 2
Today's Catholic Daily Reflections
During the time of Jesus, most of the disciples who had begun to follow Jesus thought that He was the ruler who would come and abolish the punitive Laws of Moses and bring about a new world order.
Others thought that Jesus would come to negate most of the things that had been prophesied before. But alas! Jesus clarifies with His statement 'I have Come not to Abolish but to Fulfil the Law' that He was not on an earthly mission but on a Godly and Heavenly mission
This was a revelation that the God-sent prophets who had prophesied about Jesus were actually right, and all that they had proclaimed would come to pass.
Now, Jesus simplifies all these commandments and prophecies into two commandments namely; 1. You shall Love the Lord Your God with all Your Heart, Soul and Mind and 2. You shall Love your Neighbour as Yourself.
After these commandments have been condensed into two, we can now confidently understand what Jesus means.
That if you break these commandment or teach others to disobey them too then you will not see the Kingdom of God. But if you obey, follow and teach these commandments to others, you will see the Kingdom of God and moreso be regarded very highly.
Lets heed to Jesus' call to be obedient to the first and foremost the two greatest commandments and also the teachings of Christ so that we can have a high place reserved for us in Heaven.
Prayer: Lord Jesus Christ, give us the passion to obey Your commandments and teach them to others. Help us to continually become the salt and the Light of the World so that our actions and deeds may become good examples that glorify the Name of our Lord. Amen.
Catholic Daily Reflections in Pictures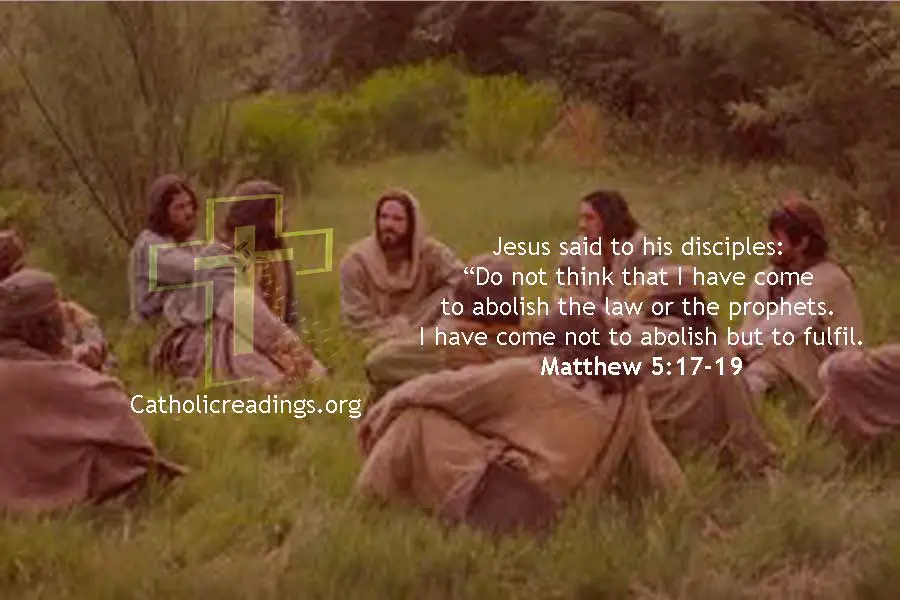 Related Links
Powered By SEO Experts
Follow @ReadingCatholic