Today is
Tuesday, June 6, 2023
Bible Verse of the Day – Thursday of the Eleventh Week in Ordinary Time and Tuesday of the First Week of Lent, Seventeenth Sunday in Ordinary Time Year C, Wednesday of the Twenty-seventh Week in Ordinary Time
14"If you forgive others their transgressions, your heavenly Father will forgive you.
15But if you do not forgive others, neither will your Father forgive your transgressions."

Matthew 6:7-15, Luke 11:1-4
Catholic Readings For Today
Tuesday of the First Week of Lent
Seventeenth Sunday in Ordinary Time, Year C
Thursday of the Eleventh Week in Ordinary Time, Year 1
Thursday of the Eleventh Week in Ordinary Time, Year 2
Wednesday of the Twenty-seventh Week in Ordinary Time, Year 1
Wednesday of the Twenty-seventh Week in Ordinary Time, Year 2
Today's Bible Verse of the Day Reflections 
Today Jesus is teaching us about prayer and forgiveness. In The Lord's Prayer we ask God to forgive us our sins with the same measure that we use to forgive others.
The Lord's Prayer, is a prayer that was given to us by Jesus as a perfect example of how to pray to God. Jesus Christ insists on the virtue of forgiveness because it is through forgiveness that strong bonds of love are nurtured among us.
Due to our human weakness, we tend to think that we deserve or it is our right to be forgiven by others who we have wronged. We forget that others too want to be forgiven by us.
In order to balance this situation, Jesus gives us a caveat that when we seek forgiveness from God, we will only be forgiven if we have forgiven others who have sought for our forgiveness.
But there are others who do not seek forgiveness from us! What about them? Should we forgive them? Yes we should. We should forgive them so that we can offload that burden of hatred from ourselves and place it in the hands of Jesus.
When we fail to forgive others, whether they seek forgiveness of not, that hatred in our hearts becomes like a wound with pus which, if it remains untreated over time, becomes bigger and bigger, smellier and smellier and more painful. It incapacitates you from doing so many things and people avoid you.
Jesus tells us to forgive unconditionally the same way our Heavenly Father will forgive us unconditionally. The one person God loves most is a repentant sinner.
Let us today embrace love and forgiveness within ourselves, families and community so that so that evil can begin to diminish as good triumphs.
Prayer: Lord Jesus Christ, You have taught us how to pray and why we should forgive others. Continue to manifest Yourself in our hearts so that we can unconditionally forgive others their transgressions and therefore begin to make good triumph over evil. Amen
Bible Verse of the Day in Pictures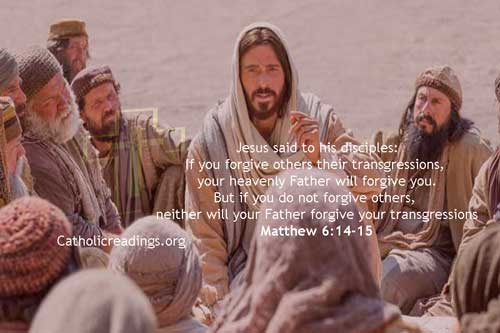 Powered By SEO Experts
Follow @ReadingCatholic