Today is
Friday, September 22, 2023
September 15 2023: Bible Verse of the Day – Memorial of Our Lady of Sorrows, Memorial of the Blessed Virgin Mary, Mother of the Church – Jesus to Mary: Woman behold your son – John 19:25-34
26 When Jesus saw his mother and the disciple there whom he loved, he said to his mother, "Woman behold your son."
27 Then he said to the disciple, "Behold, your mother." And from that hour the disciple took her into his home.

John 19:25-34
Catholic Readings For Today
Memorial of Our Lady of Sorrows
Memorial of the Blessed Virgin Mary, Mother of the Church
Today's Bible Verse of the Day Reflections – John 19:25-34
Jesus said to his mother, "Woman behold your son." Then he said to the disciple, "Behold, your mother."
These were among the final wishes Jesus had for humanity just before He died on the Cross. That Mother Mary becomes our Mother forever and that we become her children forever.
When John heard the Words of Jesus, he invited Mary to always be his mother forever. What a great privilege John had to have the Mother of our Lord by his side.
Today, being the Memorial of the Blessed Virgin Mary, Mother of the Church, we honour and cherish our Blessed Mother for taking up the role of being the Mother of all Christian Faithfuls and Pastors too.
We are being advised by Jesus, in His last wish to accept the Blessed Virgin Mary as our mother. With Virgin Mary on our side, nothing can go wrong.
But sometimes while we are in bad situations we may think that we have been abandoned by God but be assured that Our Mother Mary cannot forsake those who run to her for Help.
Prayer: Oh, Kind and Loving Virgin Mary, never has it been heard that you have abandoned those who have sought your help and your Prayers. With the same hope we run to you Oh, Virgin of Virgins, we submit to you we sinners, we ask that you accept our prayers and intercede for us to Your Son our Lord Jesus Christ. Amen.
Bible Verse of the Day in Pictures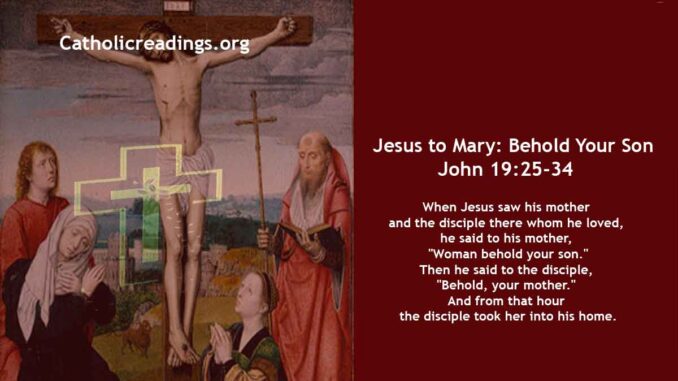 Related Links
Follow @ReadingCatholic