Today is
Thursday, March 23, 2023
Bible Verse of the Day – Twelfth Sunday in Ordinary Time Year B, Tuesday of the Thirteenth Week in Ordinary Time, Saturday of the Second Week of Easter, Saturday of the Third Week in Ordinary Time
Suddenly a violent storm came upon the sea so that the boat was being swamped by waves, but he was asleep.
They came and woke him, saying, "Lord, save us! We are perishing!"
He said to them, "Why are you terrified, O you of little faith?" Then Jesus got up, rebuked the storm and the sea, and there was a great calm.

Matthew 8:24-34, Mark 4:35-41, John 6:16-21
Catholic Readings For Today
Twelfth Sunday in Ordinary Time, Year B
Saturday of the Second Week of Easter
Tuesday of the Thirteenth Week in Ordinary Time, Year 1
Tuesday of the Thirteenth Week in Ordinary Time, Year 2
Saturday of the Third Week in Ordinary Time, Year 1
Saturday of the Third Week in Ordinary Time, Year 2
Today's Bible Verse of the Day Reflections
Today, Jesus is teaching us about the need and importance of always having faith in Him and also trusting in Him during good times and bad times.
The disciples of Jesus knew exactly who to contact when the storm in the sea became violent. They cried to him saying, "Lord, save us, we are perishing!"
This was one of the surest ways the disciples exhibited their faith by putting all their hopes on Jesus. This was even though Jesus said to them, "Oh, you of little faith," But the reason why Jesus said this to them was that they became terrified and Jesus was right there with them in the boat.
When we are in this boat of life and we encounter difficulties, we should not be terrified because Jesus is right here with us. We can smile in the storm. Jesus today tells us to have faith in Him and always seek His help when we are faced with violent storms of life.
Jesus is our saviour from turbulent storms in our life. When all things go south, when our hearts get troubled, during sickness, during financial difficulties, our refuge is Jesus Christ.
Let us know today that Jesus is our protector and our refuge in times of sorrows and difficulties. He is assuring us that when we seek His help, we will surely get help and the answer we need.
Prayer: Dear Jesus, we know that You are our protector and our refuge always. Increase our faith in You so that we may never get terrified again when in problems when we know too well that You are always right here with us. Amen
Bible Verse of the Day in Pictures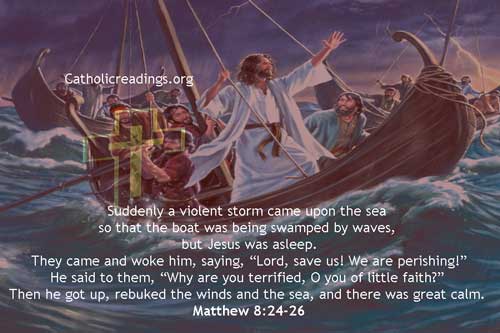 Powered By SEO Experts
Follow @ReadingCatholic