Today is
Thursday, June 8, 2023
April 3 2023: Bible Verse of the Day – Monday of the Holy Week: Mary Anoints Jesus' Feet With Costly Perfumed Oil – John 12:1-11
Bible Verse of the Day
3 Mary took a liter of costly perfumed oil made from genuine aromatic nard and anointed the feet of Jesus and dried them with her hair; the house was filled with the fragrance of the oil.
4 Then Judas the Iscariot, one of his disciples, and the one who would betray him, said,
5 "Why was this oil not sold for three hundred days' wages and given to the poor?"

John 12:1-11
Let us pray: Dear Lord, I ask for your guidance in following the example of Mary, a woman of great faith and humility.
Please help me to humble myself before You and offer You my entire being in worship. Lord, You are the most essential aspect of my life, and I offer myself to You with complete adoration.
May Your glory draw me closer to You, and may my heart overflow with love and worship towards You. Amen.
Catholic Readings for Today
Bible Verse of the Day for April 3 2023 Reflections
In John 12:1-11, we see a story about Jesus visiting the house of his friends Mary, Martha, and Lazarus, who he had raised from the dead. Here are some of the salient teachings we can learn from this passage:
Jesus valued personal relationships: Jesus' visit to the house of his friends shows the importance he placed on building and maintaining personal relationships.
He enjoyed spending time with people and getting to know them, which is an important lesson for us today in building strong, meaningful relationships.
Jesus demonstrated humility: When Mary anointed Jesus' feet with expensive perfume, Judas complained that the money could have been used to help the poor.
But Jesus defended Mary, saying that she had done a beautiful thing for him. This shows that Jesus valued acts of love and devotion, even if they didn't serve an obvious practical purpose.
He also demonstrated humility by allowing Mary to anoint his feet, which was a task usually reserved for servants.
Jesus showed us how to love sacrificially: Mary's act of anointing Jesus' feet with expensive perfume was a sacrificial act of love.
She was willing to give up something valuable to show her love and devotion to Jesus. In the same way, Jesus demonstrated his sacrificial love for us by dying on the cross for our sins.
This teaches us the importance of loving others sacrificially, putting their needs ahead of our own.
Jesus emphasized the importance of being present in the moment: When Jesus said, "You will always have the poor among you, but you will not always have me," he was emphasizing the importance of being present in the heat of the moment and not taking people or experiences for granted.
We should appreciate the people and opportunities in our lives while we have them, instead of always looking ahead to what's next.
If someone else had said the same thing, it might have sounded like they were being self-centered. However, Jesus, who loved selflessly, said it.
The reason behind this was that Jesus knew what Mary needed, and by saying what he did, he showed us what we all need.
It is crucial that we worship and honor Jesus and make Him the focal point of our lives. We must humble ourselves and serve Him, not because He requires us to, but because we require it for our own well-being.
By humbling ourselves and demonstrating love, we will achieve holiness and happiness. Jesus recognized this and praised Mary for her loving gesture.
This story encourages us to follow Mary's example and focus our adoration and love on Jesus. It invites us to be willing to offer everything we have for Him, just as Mary poured out the expensive perfume worth 300 days' wages.
We should not consider anything too costly to give to Jesus, as nothing is more valuable than an act of our worship towards Him.
Worshiping God is not only the right thing to do, but it can also transform us into the individuals we were created to be.
We were designed for the purpose of worshiping and adoring God, and this can be achieved by humbly honoring Him with our entire selves.
Take a moment to reflect on the depth of your own worship and adoration towards Jesus. Are you willing to offer everything you have for Him, just as Mary did with her expensive perfume?
Is He the central focus of your life, worth more to you than any material possession? Do you humble yourself before Him daily and pour out your heart to Him in prayer?
Consider Mary's humble act of worship towards Jesus and strive to follow her example.
Short Story About a Woman Who Served God With All the Wealth She Had
There was once a married lady named Sarah who lived in a small town. She was known to be a devout Christian who dedicated her life to serving Jesus by taking care of the poor, hungry, and the sick on the streets.
She believed in the teachings of Jesus that "Whatsoever you do to the least of my brothers and sisters, you do unto me."
Sarah's husband, John, was an average farmer but did not share her passion for serving others. He often argued with her, claiming that she was wasting the family's resources and fortunes.
But Sarah did not let her husband's disapproval discourage her. With the very little she could manage to salvage from her meager monthly allowance, she continued to help those in need, relying on her faith to guide her actions.
Despite her husband's objections, Sarah's pious and austere life gained the admiration and respect of many in the community.
She was always willing to lend a helping hand, regardless of the cost. Her kindness and love for others were truly inspiring.
Sadly, Sarah's life was cut short when she fell ill and died. But her legacy lived on. Her acts of selflessness had touched the lives of so many that her name was forwarded to the Dicastery for the Causes of Saints for consideration for sainthood.
Years later, Sarah was officially recognized as a servant of God by the Catholic Church, this being a significant step on the journey to sainthood.
Her devotion to serving others and her unwavering faith in Jesus had made her an inspiration to all who knew her.
Her husband, who had once been critical of her actions, came to realize the importance of her work and was proud to have been a part of her life.
Bible Verse of the Day in Pictures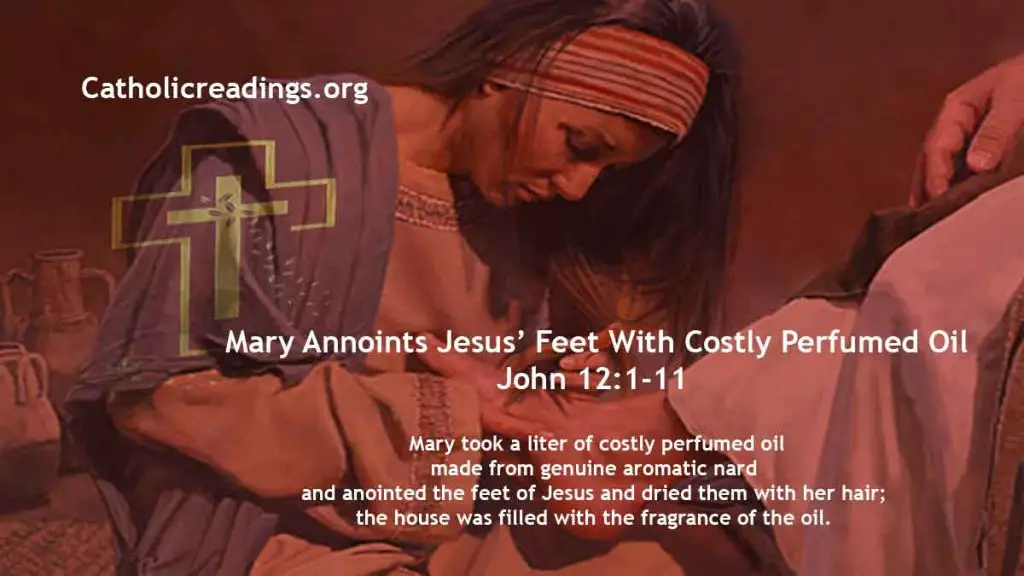 Powered By SEO Experts
Follow @ReadingCatholic