Today is
Tuesday, January 31, 2023
Jesus said to his disciples: "Whoever loves me will keep my word, and my Father will love him, and we will come to him and make our dwelling with him. – John 14:23
Today's Bible Quote of the Day Inspiration – John 14:23
When we love God the Father, Son and Holy Spirit and they make a dwelling within us, there are so many benefits we will derive from that.
The following three statements are some of the pronouncements that have been made about such benefits;
# If God is for us who can be against us?
# If we Love God and keep his commandments, He will raise us on the last day.
# If we remain attached to Jesus, the True Vine, and be pruned by His Words, we will never lack and we will always bear good fruits as is the wish of God the Father, the Vineyard Owner.
Let us always strive to maintain love for The Lord our God and for our neighbours so that God may see it fit to make a dwelling with us.
when we lack love for others, others will also lack love for us. This breeds hatred in our society. God does not dwell in a place where there is no love. Let us embrace love for all, so that God may dwell with us and as a result, no one will be against us.
Prayer: Lord, we seek for your love. Let the love You have for us overflow to us then from us to our neighbours and from our neighbours to the rest of the world. May Your make a dwelling among us so that we can have the strength to fight the evil that surrounds us in our everyday life. Jesus, we trust in You. Amen.
Bible Verse of the Day in Pictures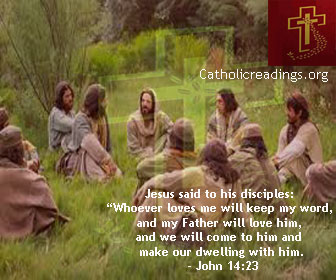 Follow @ReadingCatholic