Today is
Sunday, June 4, 2023
May 19 2023: Bible Verse of the Day – Friday of the Sixth Week of Easter – No One Will Take Your Joy Away From You – John 16:20-23
21 When a woman is in labor, she is in anguish because her hour has arrived; but when she has given birth to a child, she no longer remembers the pain because of her joy that a child has been born into the world.
22 So you also are now in anguish. But I will see you again, and your hearts will rejoice, and no one will take your joy away from you.

John 16:20-23
Catholic Readings For Today
Friday of the Sixth Week of Easter
Bible Verse of the Day for May 19 2023 Reflections
It is a regular occurrence to encounter distress in life. On a daily basis, we will encounter minor moments of anguish.
Additionally, there will be occasions when we face the immense weight of specific and profound sources of pain.
Does the presence of anguish imply that you are devoid of God's grace? Does it indicate that God has abandoned you? Or does it suggest that you are committing some wrongdoing? Absolutely not.
In reality, we need only observe the life of Jesus to understand that this is not true. He endured perpetual anguish throughout His time on Earth, as He progressively immersed Himself in His Father's mission.
Before embarking on His public ministry, He experienced a period of forty days of anguish in the desert.
Throughout His public ministry He experienced the anguish and exhaustion of His earthly life. He experienced the criticism of others, misunderstanding, ridicule, rejection, harsh treatment, and so much more. In the end, we know His fate on the Cross.
Our Blessed Mother had the "sword of sorrow" pierce her heart. She was misunderstood and ridiculed from the beginning as a result of her mysterious pregnancy out of wedlock. She carried a perfect love of her Son and anguished over His future as He grew. She watched many love Him and others harass Him. She watched His mockery of a trial and His Crucifixion.
But think of their lives now. They now reign from Heaven as the glorious Queen of All Saints and the King of the Universe. They live in glory now for eternity. Their anguish has turned to perfect joy.
Take a moment to contemplate your personal challenges in life. The passage from Scripture mentioned above unveils the assurance that God offers to those who endure such trials with faith.
If you find yourself believing that you have faced unjust circumstances or have been treated unfairly, be assured that you are not alone in this experience.
The essential aspect is to navigate through life with grace and self-respect. Refuse to allow the trials and pains of this journey to discourage you.
Understand that as you stay steadfast and follow the path set by God, the ultimate outcome will be one of joy.
This is an undeniable truth. Cling to that hope and keep your focus on reaching the destination. The reward at the end is truly worthwhile.
Prayer: Dear Lord, I offer up my pain and heavy loads, relinquishing them to Your care. I connect them to Your Cross and have faith that You will accompany me through every aspect of my journey.
May I remain focused on my ultimate objective and find joy in Your unwavering affection. Jesus, I love you. Amen.
Bible Verse of the Day in Pictures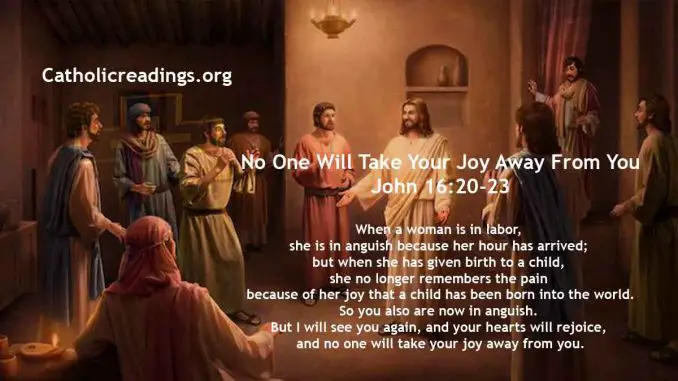 Related Links
Powered By SEO Experts
Follow @ReadingCatholic