Today is
Thursday, June 8, 2023
Catholic Daily Reflections – Matthew 18:21-35 – Tuesday of the Third Week of Lent, Thursday of the Nineteenth Week in Ordinary Time, Twenty-fourth Sunday in Ordinary Time Year A
25 Since he had no way of paying it back, his master ordered him to be sold, along with his wife, his children, and all his property, in payment of the debt.
26 At that, the servant fell down, did him homage, and said, 'Be patient with me, and I will pay you back in full.'
27 Moved with compassion the master of that servant let him go and forgave him the loan.

Matthew 18:21-35
Catholic Readings For Today
Twenty-fourth Sunday in Ordinary Time, Year A
Tuesday of the Third Week of Lent
Thursday of the Nineteenth Week in Ordinary Time Year 1
Thursday of the Nineteenth Week in Ordinary Time Year 2
Today's Catholic Daily Reflections
Have you ever realized that it is easier to forgive than to ask for forgiveness? That is very interesting! This is because in forgiving, you have the control of the outcome but when asking for forgiveness you are at the mercy of the forgiver. The forgiver has to feel convinced that you are truly sorry for your mistake.
In this Parable of the Unforgiving Servant, the first debtor, at first, appeared to be sincere. He even fell down to his knees and pleaded with his master for leniency to be allowed more time to repay. The master out of mercy and compassion went an extra mile and forgave him the whole debt.
It happened that the same debtor whose debt was waived in full was also owed some very small amount of money by another person. He met this person on the way, contrary to expectations and instead of showing the same forgiveness, he seized and choked him demanding to be paid what he was owed.
This servant was not truly sincere with his quest for forgiveness. This is because even after he was forgiven a huge debt, he couldn't find it in his heart to forgive a small debt.
If forgiveness is real, it should have a complete and real effect on us. It should make us ask for forgiveness from others, forgive others, receive forgiveness and repeat the same again and again.
These are some salient points to ponder on regarding forgiveness:
Can you identify your sins, be sorrowful about them and finally seek forgiveness from whoever you have wronged?
When you have received forgiveness, does that trigger you to be more lenient and merciful towards others?
Can you replicate to others the same forgiveness you have received or hope to be receiving from God and others?
If you do not have a definite 'YES' answer to any of the above questions, then know that Jesus is speaking to you today.
He has given this parable to assist you to gain more mercy and forgiveness. Ask yourself, again and again, these hard questions and slowly by slowly God will free yourself from the burdens of resentment and anger.
Therefore, let us ponder on the above questions and examine our actions prayerfully. If you find some form of resistance to any resistance of these questions, pray over them and let God's grace guide you in getting the desired conversion in that area of your life.
Prayer: Dear Lord, give me the grace to acknowledge my sins. Grant me mercy in life and help me to become just, merciful and forgiving toward others without holding back any misgivings. Amen.
Catholic Daily Reflections in Pictures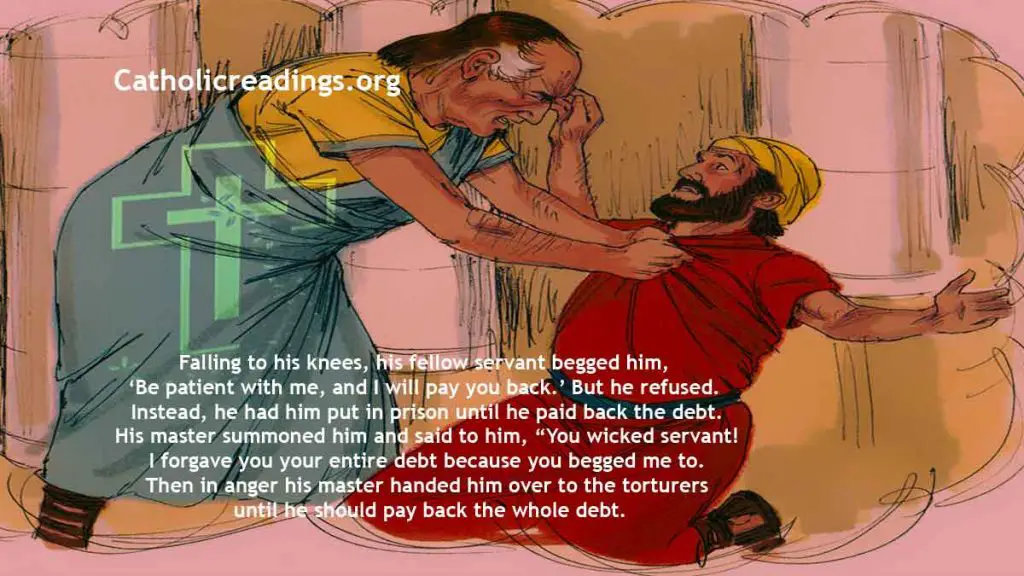 Related Links
Powered By SEO Experts
Follow @ReadingCatholic