Today is
Saturday, April 1, 2023
Bible Verse of the Day – Catholic Readings For Thursday of the Twentieth Week in Ordinary Time, Twenty-eighth Sunday in Ordinary Time, Year A
11 But when the king came in to meet the guests he saw a man there not dressed in a wedding garment.
12 He said to him, 'My friend, how is it that you came in here without a wedding garment?' But he was reduced to silence.
13 Then the king said to his attendants, 'Bind his hands and feet, and cast him into the darkness outside, where there will be wailing and grinding of teeth.'
14 Many are invited, but few are chosen."

Matthew 22:1-14
Catholic Readings For Today
Twenty-eighth Sunday in Ordinary Time, Year A
Thursday of the Twentieth Week in Ordinary Time, Year 1
Thursday of the Twentieth Week in Ordinary Time, Year 2
Today's Bible Quote of the Day Reflections
In this parable of the wedding feast, the banquet is the Kingdom of Heaven where there is God who is the King, the attendants are the righteous people who have prepared themselves to be in the presence of God and the man without the wedding garment symbolizes the sinners.
In the earlier verses, we see how Jesus explains how God sent his prophets to preach to the people of Israel but they were mistreated and killed. God got angry and burnt their towns and their cities.
God then decided to also invite to the Kingdom of Heaven all the other nations besides the people of Israel. These other nations are, in this parable, the people on the main roads. These are the Christians who have heard about the Kingdom of Heaven.
Now, the main focus comes to this man without a wedding garment. What is the wedding garment? The wedding garment symbolizes the state of being prepared in our hearts to know, love, serve, praise and glorify God all the days of our lives. It is being a repentant sinner who is ready to be in the holy presence of God.
On the last day, we will be assembled in front of God and He will pinpoint all those who are not prepared to be in His presence, those who have not repented their sins, those who do not even know Him or those who are just luke-warm Christians and throw them into the fiery Gehennah where there will be weeping and grinding of teeth.
Let us, therefore, be prepared always for the last day when Jesus Christ the King will come to gather those of us who are worthy of His presence and join Him in the Kingdom of Heaven, while those who do not have the 'wedding garment' will be thrown into the fires of Hell.
Prayer: Lord Jesus Christ, thank you for always reminding us of our destiny and fate here on earth. Help us to always stick to our core mandate which is to know, love, serve, praise and glorify the Lord all the days of our lives. Amen.
Bible Verse of the Day in Pictures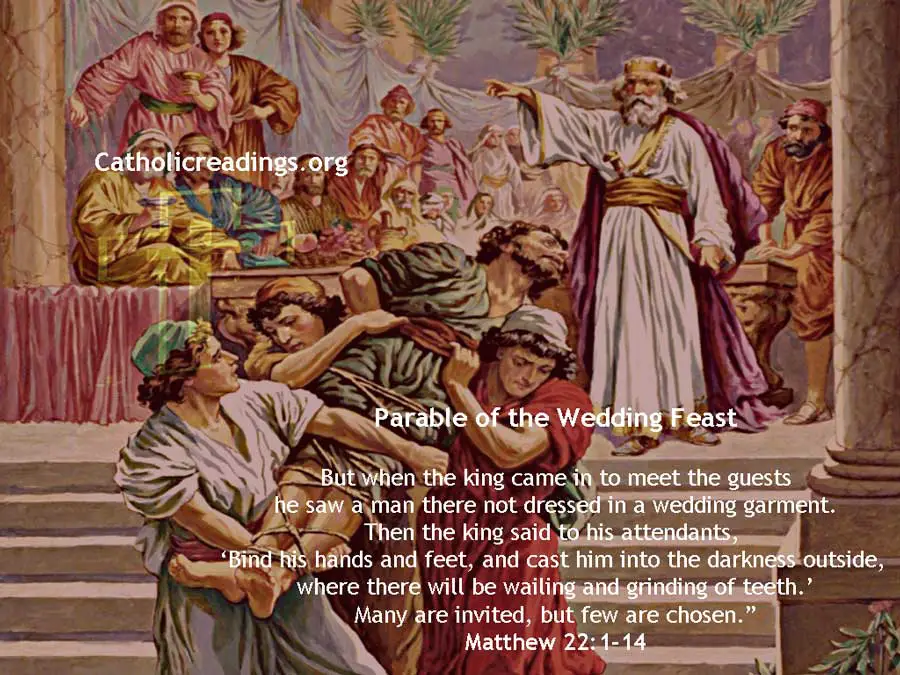 Powered By SEO Experts
Follow @ReadingCatholic