Today is
Friday, June 2, 2023
April 19 2023: Bible Verse of the Day – Wednesday of the Second Week of Easter – People Preferred Darkness To Light Because Their Works Were Evil – John 3:16-21
19 And this is the verdict, that the light came into the world, but people preferred darkness to light, because their works were evil.
20 For everyone who does wicked things hates the light and does not come toward the light, so that his works might not be exposed.
21 But whoever lives the truth comes to the light, so that his works may be clearly seen as done in God.

John 3:16-21
Let us Pray: Dear Lord, please guide me to lead a life illuminated by Your divine light. Help me to remain fixated on the magnificence of Your Resurrection and let the happiness that emanates from this contemplation guard me against the many temptations of wickedness that surround me. Amen.
Catholic Readings for Today
Wednesday of the Second Week of Easter
Bible Verse of the Day for April 19 2023 Reflections
It is remarkable that the truth is so perplexing. The Father sent the Son to the world to serve as a beacon of hope for all of us. He is the illuminating force that eradicates all shadows.
However, as stated in the aforementioned Gospel, individuals chose to favor darkness over light. They favored their transgressions over liberation from wrongdoing. What could be the reason for this decision?
To illustrate this fact, one need only observe the news or peruse the newspaper. It appears that the vast majority, approximately 90%, of what is conveyed through the media is a sensationalized depiction of negativity.
We are constantly bombarded with accounts of numerous homicides, scandals, and other calamities.
Why does the media prioritize such stories? Simply put, it is because they generate profit. And why do they generate profit? Because regrettably, we as a society are often more attracted to darkness than to light.
Undoubtedly, this does not apply to everyone, as many people are uninterested in the wickedness that surrounds us and the sensational sins that are prevalent in our world.
However, the constant prominence of evil and darkness should serve as a cautionary reminder of our flawed human nature.
We are prone to being attracted to immorality and are susceptible to getting stuck in a quagmire.
During Easter, it is an opportune moment to reflect on what it is that captures your attention.
Do you allow yourself to be enticed by the light? Are you attracted to things that bring positivity to your life? Are you drawn to the various ways that God manifests and operates in the world that surrounds you?
Hopefully, this is the case. Nonetheless, it is probable that there is some level of temptation towards chaos, sin, and darkness.
Every person undergoes an inner conflict. It is beneficial to acknowledge this conflict as a natural inclination of our flawed human nature and make a conscious effort to renounce any attraction towards the turmoil and wickedness that surrounds us.
As a disciple of Christ, our duty is to fix our gaze solely on Him. We are summoned to pierce through the darkness with our faith and to allow our entire being to be enticed and directed towards Christ Jesus.
True perfection implies that our aspirations and longings are ultimately captivated by Christ as the guiding light of our existence.
Today, take some time to ponder on what you are most attracted to. This Easter Season, make a commitment to follow the light.
Redirect your focus from the temptation to be captivated and engrossed by the malevolence that surrounds us to the delightful sight of our Resurrected Lord, present and active in our midst.
Allow this light to illuminate your daily existence.
Bible Verse of the Day in Pictures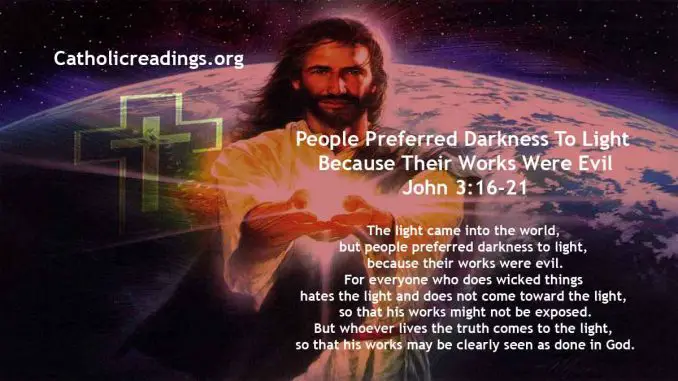 Related Links
Powered By SEO Experts
Follow @ReadingCatholic