Today is
Tuesday, November 28, 2023
In moments of financial hardship, we turn to prayer, seeking divine intervention for help and breakthrough.
Recognizing our limitations, we approach our Creator with humility, acknowledging our need for assistance.
Through this prayer, we express our gratitude for past blessings and appeal for guidance in our current financial struggles.
With faith and trust, we seek a financial breakthrough, asking for wisdom, provision, and divine favor to overcome our challenges and experience a positive transformation in our financial circumstances.
Prayer For A Breakthrough
Heavenly Father, we come to you in prayer asking for a breakthrough in our lives. Help us to find clarity of mind, the strength of spirit, and courage of heart to seek out, work towards and realize our goals.
As we explore new paths and possibilities, may we feel your guiding touch. Instill in us, faith that no matter what lies ahead, we will be able to overcome any obstacle.
Give us the insight to discover the best ways to achieve success and to make the most of every opportunity.
We thank you, Lord, for your guidance and protection. Amen.
Prayer For Financial Breakthrough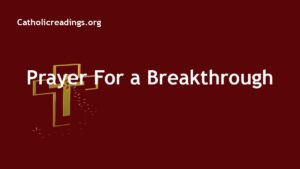 Almighty God, thank You for Your many blessings and Your providence in our lives. We come to You today, humbly asking for a financial breakthrough.
Help us to overcome our debts and worries, and break free of the financial chains that hinder us. Guide us in wisely managing our resources, making well-thought-out decisions and wise investments.
Give us insight, wisdom and knowledge so we can make the right choices. Bless our hard work and investments with success, and provide us with the strength and motivation to continue the long journey towards financial freedom. Amen.
Prayer for Financial Help
Dear Lord Jesus Christ, I come before you seeking guidance and resolution for my financial struggles. Please hear my heartfelt prayers for assistance in my financial matters.
I am grateful for all the blessings you have bestowed upon me, especially during my most challenging times.
Today, as I face financial challenges, I humbly ask for your help in avoiding unnecessary expenses and finding the means to support myself despite the hardships I am facing.
Grant me the strength to achieve financial freedom and protect the resources I possess, both materially and spiritually.
Help me cultivate a spirit of gratitude for what I currently have. Enable me to discover new avenues of financial opportunities and guide me in managing my finances with wisdom and discipline.
I pray that I will not be overwhelmed by the circumstances that surround me. With your heavenly grace, grant me a breakthrough in my financial situation and shield me from the burdens that seek to weigh me down.
Grant me the wisdom to make sound financial decisions and to prioritize matters that bring glory and honor to your name. In the name of Jesus, I offer this prayer. Amen.
Related Links
Powered By SEO Experts
Follow @ReadingCatholic