Today is
Saturday, January 28, 2023
Dear loving Lord, during the feast of Passover, you said to your disciples, "Amen, amen, I say to you, one of you will betray me." They looked at each other and asked, "Lord, is it me?" O my Jesus, I pray, that You grant me so strong a love that I will never betray You. Amen.
Prayer for Brotherly Love
Dear God, we thank You for Your abounding love towards us that You sent Your only begotten Son, our Lord, and Savior Jesus Christ to suffer and die on the cross so that we may be saved from our horrible sins. I is Your desire that at the end of our lives here on earth we may live with You forever, in Your heavenly Kingdom.
Dear God, despite the many times I have let You down through my sins and transgressions, You have continued to shower me with Your unconditional graces and love.
Lord God, You have also commanded us to love our neighbours and friends the same way we love ourselves. Sometimes I feel that my love for others is poor, weak and far less than desirable. Dear Lord, fill me with the love of Christ so that I may reciprocate that by loving my friends and neighbours in the same way that Christ loved me.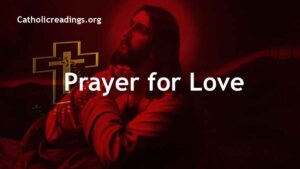 May Your love that is in me, spread to others around me. Use me as a channel of Your love to other people I come into contact with. Help me to show love to everyone especially those who with a temper, lash out at me through anger or pain, loss or disappointment.
May the love of Jesus Christ radiate from me and be distributed, through my actions and faith to all I meet every day of my life. I pray all these, in Jesus' name. Amen.
Powered By SEO Experts
Follow @ReadingCatholic