Today is
Tuesday, November 28, 2023
Prayer for love is a powerful tool that connects us with the divine and opens our hearts to the love of God and others.
It is through prayer that we express our deepest longings for love and seek divine intervention in our relationships.
Whether it is seeking God's unconditional love and guidance in our lives or praying for love and harmony among people, prayer serves as a pathway to experience the transformative power of love.
In times of loneliness, brokenness, or when we simply desire to cultivate deeper connections with those around us, a prayer for love from God and people can bring comfort, healing, and a renewed sense of hope.
Prayer for God's Love
Beloved Lord, as we reflect on the solemn occasion of Passover when You revealed that one of Your disciples would betray You, we are reminded of the importance of unwavering love and loyalty.
Just as Your disciples questioned their own hearts, I humbly come before You and ask for the gift of a steadfast love that will never falter.
May my love for You be so deeply rooted that I will always remain faithful and true. Grant me the strength to resist temptation and remain committed to Your teachings.
With a sincere heart, I offer this prayer, seeking Your grace and guidance to uphold the bond of love between us. Amen.
Prayer for Brotherly Love
Dear God, we thank You for Your abounding love towards us that You sent Your only begotten Son, our Lord, and Savior Jesus Christ to suffer and die on the cross so that we may be saved from our horrible sins. I is Your desire that at the end of our lives here on earth we may live with You forever, in Your heavenly Kingdom.
Dear God, despite the many times I have let You down through my sins and transgressions, You have continued to shower me with Your unconditional graces and love.
Lord God, You have also commanded us to love our neighbours and friends the same way we love ourselves. Sometimes I feel that my love for others is poor, weak and far less than desirable. Dear Lord, fill me with the love of Christ so that I may reciprocate that by loving my friends and neighbours in the same way that Christ loved me.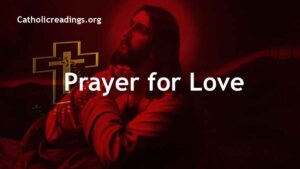 May Your love that is in me, spread to others around me. Use me as a channel of Your love to other people I come into contact with. Help me to show love to everyone especially those who with a temper, lash out at me through anger or pain, loss or disappointment.
May the love of Jesus Christ radiate from me and be distributed, through my actions and faith to all I meet every day of my life. I pray all these, in Jesus' name. Amen.
Powered By SEO Experts
Follow @ReadingCatholic