👉 Our Heavenly Father, today I am undergoing surgery and therefore, I pray and commit my physical body to You.
👉 I pray that You strengthen and Guide the hands of my surgeons as well as those of the nurses.
👉 Dear Father, rejuvenate their skills, talents and professionalism so that with the knowledge they have, they may conduct a successful surgery. May they use the same skills and talents that You have given them, to treat other sick people needing surgery.
👉 Even after I become unconscious from anesthesia and as the surgeons incise my body parts, may You continue watching over me with Your merciful and loving eyes and touching me with Your compassionate and healing hands.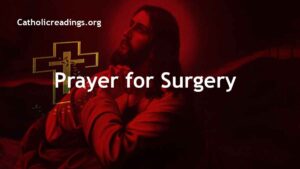 👉 Lord God, I know You are my provider, protector, refuge and my healer. It is only You who can remove this pain and affliction I have. You have utmost power above any disease and I cast away this disease I have in Jesus' Name.
👉 I thank You beforehand for the successful surgery because I know You will restore my health and strength to continue serving You. May my recovery be a testament that You are the true and living God who heals those who trust You and call on You for help.
👉 In the life I will live after my surgery, let me become the salt and light of the world. May my testimonies, words, and actions testify to Your greatness and I will always praise and glorify You all the days of my life.
👉 Therefore, Dear God I surrender my body and soul to You during this operation. Steer the physicians to do Your will for me which I pray is a quick recovery.
👉 Always enable me to live in accordance with Your Holy will. I pray all these in the name of Jesus Christ our Lord and saviour. Amen.
Powered By SEO Experts