Psalm 4 is a prayer requesting God for deliverance from past distresses. This message emphasizes that the victories of sinners are short-lived and meaningless and true happiness can only be got after repentance.
2 Answer me when I call, my saving God. When troubles hem me in, set me free; take pity on me, hear my prayer.
3 How long, O people, will you be hard of heart? Why do you love what is worthless, chase after lies?
4 Know that the Lord works wonders for his faithful one; the Lord hears when I call out to him.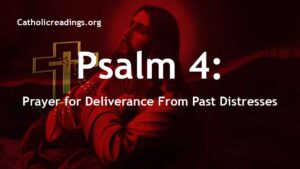 5 Tremble and sin no more; weep bitterly within your hearts, wail upon your beds,
6 Offer fitting sacrifices and trust in the Lord.
7 Many say, "May we see better times! Lord, show us the light of your face!"
8 But you have given my heart more joy than they have when grain and wine abound.
9 In peace I will lie down and fall asleep, for you alone, Lord, make me secure.
Powered By SEO Experts
Follow @ReadingCatholic