Today is
Thursday, June 8, 2023
Bible Verse of the Day – Thursday of the Thirteenth Week in Ordinary Time, Monday of the Second Week of Advent, Seventh Sunday in Ordinary Time, Year B
Which is easier, to say, 'Your sins are forgiven,' or to say, 'Rise and walk'?
But that you may know that the Son of Man has authority on earth to forgive sins" he then said to the paralytic, "Rise, pick up your stretcher and go home." He rose and went home.

Matthew 9:1-8, Luke 5:17-26
Catholic Readings for Today
Seventh Sunday in Ordinary Time, Year B
Monday of the Second Week of Advent
Thursday of the Thirteenth Week in Ordinary Time Year 1
Thursday of the Thirteenth Week in Ordinary Time Year 2
Today's Bible Verse of the Day Reflections
People brought a paralytic man to Jesus from the roof so that he could be healed of his paralysis. It was with much faith that anybody could do such a thing.
It is the same faith that grove Jesus to first of all notice them and thereafter have mercy on the paralytic.
One of the lessons today we learn is that sin can cause our sickness, ailments, injuries or incapacity. The paralytic man was cured by Jesus forgiving him his sins.
Another lesson we can learn from this miracle is that when we have faith in God, we can get anything we need, want or desire from Him. So, let us know from today that Jesus Christ has authority on earth to forgive sins.
Therefore when we find ourselves in difficulties, let us not shy away from seeking help and forgiveness from Jesus. When in sickness, financial difficulty, academic problems and other life-threatening situations let us seek a solution from Jesus because Jesus is the answer.
Prayer: Lord Jesus Christ, You are the answer to all our problems. Forgive us our sins and heal us from all our pains and sickness. We beg You to always have pity on us and come to our rescue when we seek Your help. Amen
Bible Verse of the Day in Pictures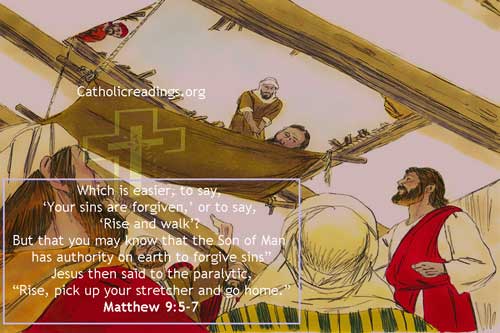 Powered By SEO Experts
Follow @ReadingCatholic