Today is
Wednesday, March 22, 2023
St. Adjutor of Vernon Biography
St. Adjutor of Vernon Profile. Born: 11th century in France, Europe. Worked in France. Died: 30 April 1131 in France. Feast Day is celebrated on April 30.
The Memorial of St. Adjutor of Vernon – Saint of the Day

St. Adjutor of Vernon Biography, Feast Day, Date of Birth, Country of Birth, Profession, Place of Work, Date of Death, Place of Death, Beatification Date, Canonization Date

Date of Birth
11th century
Country of Birth
France in Europe
Matrimony/Holy Orders
Saints who were Monks
Profession
knight, Monk
Place of Work
France
Date of Death
30 April 1131
Place of Death
France
Feast Day
April 30
Beatification
Beatified by N/A
Canonization
Canonized by N/A
Patron Saint of
1 Against drowning
2 Drowning victims
3 Sailors
4 Swimmers
5 Yachtsmen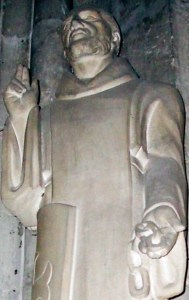 Saint's Biography
Saint Adjutor of Vernon was the Lord of Vernon-sur-Seine and Norman knight in the First Crusade in 1095. Captured by Muslims who tried to force him to abandon his faith. He escaped, by swimming to freedom, returned to France. There he became a Benedictine monk at Tiron, France and later hermit in his later years. He died on April 30, 1131, at Tiron, France.
Follow @ReadingCatholic