Today is
Thursday, February 2, 2023
St Gabriel Gowdel Profile. Born: 22 March 1684 in Poland, Europe. Worked in Poland. Died: 11 April 1690 in Poland. Feast Day is celebrated on May 3.
The Memorial of St. Gabriel Gowdel – Saint of the Day

St Gabriel Gowdel Biography

Date of Birth
22 March 1684
Country of Birth
Poland in Europe
Matrimony/Holy Orders
Saints who were Not Married
Profession
missionary
Place of Work
Poland
Date of Death
11 April 1690
Place of Death
Poland
Feast Day
May 3
Patron Saint of
Children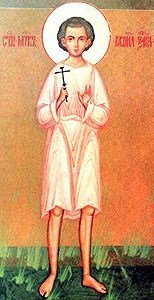 Saint's Biography
Saint Gabriel Gowdel was a child of Peter and Anastasia Gowdel who were devout Orthodox Christians. Gabriel was noted for his devotion and prayer from a very early age. He was a murder victim and was considered a martyr. Gabriel attacker buried the body in a wooded area near the village where stray dogs guarded it until it was discovered by the villagers nine days after the crime; the body was incorrupt.
In 1720 during epidemic children were buried near him and their families considering the ground around a martyr to be especially hallowed. His body was accidentally exhumed and found to be incorrupt. There were many miraculous cures after the incident, and the end of the epidemic followed soon after.
Death
Murdered on April 11, 1690, and his body transferred to the church at Zwierki, Poland in 1746. Gabriel's relics translated to Saint Nicola's Cathedral, Bialystok in 1922
Powered By SEO Experts
Follow @ReadingCatholic