Today is
Sunday, October 1, 2023
Saint Gabriel of Our Lady of Sorrows Biography
Saint Gabriel of Our Lady of Sorrows Profile. Born: 1 March 1838 in Italy, Europe. Worked in Italy. Died: 27 February 1862 in Abruzzi, Italy. Feast Day is celebrated on February 27.
The Memorial of Saint Gabriel of Our Lady of Sorrows – Saint of the Day

Saint Gabriel of Our Lady of Sorrows Biography, Feast Day, Date of Birth, Country of Birth, Profession, Place of Work, Date of Death, Place of Death, Beatification Date, Canonization Date

Date of Birth
1 March 1838
Country of Birth
Italy in Europe
Matrimony/Holy Orders
Saints who were Not Married
Profession
Missionary
Place of Work
Italy
Date of Death
27 February 1862
Place of Death
Abruzzi, Italy
Feast Day
February 27
Beatification
Beatified by Pope Pius X on 31 May 1908
Canonization
Canonized by Pope Benedict XV on 13 May 1920
Patron Saint of
N/A
Biography
St. Gabriel of Our Lady of Sorrows was born to a family of thirteen children. After a youth devoted to the world and society attending the theatre, chasing women and the hunt, he was led to the Passionist Order by Our Lady making his profession on 22 September 1857. His life was not marked by great events or controversy but given to prayer, sacrifice, and devotion to Our Lady and the contemplation of her sorrows over the suffering of Jesus.
Many miracles are attributed to him after his death. He cured Saint Gemma Galgani when she prayed for his intervention. Pope Benedict XV gave him a pattern for young people.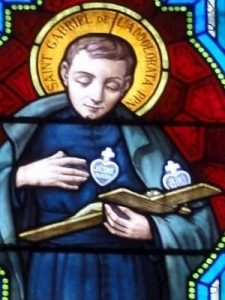 Follow @ReadingCatholic