Today is
Saturday, January 28, 2023
St José María Rubio y Peralta Profile. Born: July 22 1864 in Spain, Europe. Worked in Spain. Died: May 2 1929 in Spain. Feast Day is celebrated on May 2.
St José María Rubio y Peralta Biography

 
Date of Birth
July 22 1864
Place of Birth
Spain in Europe
Matrimony/Holy Orders
Saints who were Priests
Profession
Priest
Place of Work
Spain
Date of Death
May 2 1929
Place of Death
Spain
Feast Day
May 2
Beatification
Beatified by Pope John Paul II on October 6 1985
Canonization
Canonized by y Pope John Paul II on 4 May 2003
Patron Saint of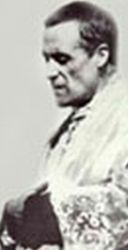 St José María Rubio y Peralta Life History
Saint José María Rubio y Peralta was born on July 22, 1864, in Dalías, in the province of Almería, in southern Spain. He came from a religious family where six of his siblings died in childhood. He received a Christian education joining the middle school in the provincial capital of Almería in 1875. In 1876, age 12 José María Rubio entered the diocesan seminary and the Granada seminary in 1878. There he studied two years of philosophy, four years of theology and then two years of church law.
Priesthood
José María Rubio completed his studies in 1887 with a license degree in theology and a doctorate in church law. Ordained in Madrid on September 24, 1887. First, he was the chapel of Chinchón from 1887 to 1889, then José María was a parish administrator in Estremera. Later in 1890, he was called back to Madrid to teach Latin, metaphysics, and pastoral theology at the seminar next to being a synodalist and notary in the diocese curry.
St José María Rubio Experiences
José María Rubio wanted to be a Jesuit, but he took care of an elderly priest Torres, who now lived with him. In 1893 José María Rubio became the chaplain of the Cistercian sisters of St. Bernhard, and in the center of Madrid, he began his unique pastoral ministry. He made a Pilgrim to the Holy Land in 1905. One year later his dream to be Jesuit came true as José María Rubio entered the Jesuit noviate in Granada.
He was then a 42-year-old priest with much experience. There he made his first religious profession on October 12, 1908. After another year of study to refresh theology and business at the Jesuits' residence in Seville, José María Rubio spent his third trial or tertiary in Manresa. Then in 1911, he was transferred to the Jesuits' house in Madrid, where he remained until his death.
Role model
José María Rubio was an exemplary priest with a deep spiritual life built around devotion to the Holy Eucharist and the Holy Heart of Jesus. He practiced two significant apostolate in Madrid, namely in the scripture and the pulpit. To be sure to talk to him, many went to church doors opened.
The residents found a friend in him, and it did not go a week without his request for help, whether it was someone who lacked a place to sleep or there was a young girl who was missing the dowry. Everyone came to him because they knew he would help them.
The last ten years of his life he made several extraordinary events thus gaining a reputation as a subordinate. He was called "Madrid's Apostle" by the city's then bishop.
Powered By SEO Experts
Follow @ReadingCatholic