Today is
Wednesday, May 31, 2023
St. Marie of the Incarnation Guyart Biography
St. Marie of the Incarnation Guyart Profile. Born: 28 October 1599 in France, Europe. Worked in France, Canada. Died: 30 April 1672 in Quebec, Canada. Feast Day is celebrated on April 30.
The Memorial of St. Marie of the Incarnation Guyart – Saint of the Day

St. Marie of the Incarnation Guyart Biography, Feast Day, Date of Birth, Country of Birth, Profession, Place of Work, Date of Death, Place of Death, Beatification Date, Canonization Date

Date of Birth
28 October 1599
Country of Birth
France in Europe
Matrimony/Holy Orders
Saints who were Nuns/Sisters
Profession
Nuns
Place of Work
France, Canada
Date of Death
30 April 1672
Place of Death
Quebec, Canada
Feast Day
April 30
Beatification
Beatified by Pope John Paul II on 22 June 1980
Canonization
Canonized by Pope Francis (equipollent canonization) on 3 April 2014
Patron Saint of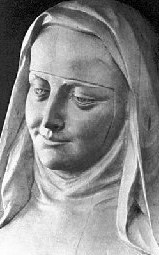 Saint's Biography
Saint Marie of the Incarnation Guyart was an Ursuline nun of the French order. She was sent to France to establish the Ursuline Order, and Marie was ready to spread the gospel of Catholicism in France. Marie has been credited with founding the first girls' school in the New World. Because of Marie's work, the Catholic Church declared her a saint. The Anglican Church of Canada celebrates her with a feast day.
Childhood
Saint Marie of the Incarnation Guyart was born Marie Guyart in Tours, France. Her father was a silk merchant and was the fourth of Florent Guyart and Jeanne Michelet's eight children and from an early age, she was drawn to religious. At age seven Marie experienced her first mystical encounter with Jesus Christ as told in her book in 1654.
At aged fourteen Marie proposed to her parents, she enters religious life with the Benedictines of Beaumont Abbey but her parents disregarded her desire. Instead, Marie was married off to Claude Martin, a master silk worker in 1617.
Marie enjoyed a happy–although brief–marriage and within two years she had a son, also named Claude. Marie's husband died only months after the birth of their son, leaving Marie a widow at nineteen. She inherited her husband's failing business, which she then lost. She was forced to move into her parents' home.
Marie pursued a deepening of her commitment to spiritual growth. After a year with her parents, she was invited to move in with her sister- and brother-in-law, Paul Buisson, who owned a successful transportation business. Marie accepted and helped in managing their house and kitchen. Over time, her love toward a religious life only grew and eventually led her to enter the Ursuline convent on 25 January 1631.
Religious Beginnings
on January 25, 1631, Marie joined the Ursulines at Tours, France. Her son gathered a group of his friends, all 12 or 13 years old, and tried to free his mother. They were enabled to enter the covenant, with time Claude understood his mother and himself became a Benedictine priest in 1641, the assistant to his Order' superior general, and his mother' biographer.
In 1633 Marie took her final as Marie de l'Incarnation. She was an assistant mistress of novices for the Order in Tours, and after two years she received another vision that would change her life. This time it was a huge country of mountains and forests, and the message it was Canada, and that she must go there to build a house for Christ. Marie worked for years to collect the money and support for her mission, and on April 3, 1639, she sailed from Dieppe with Marie-Madeleine de la Peltrie, one of her primary supporters.
Marie laid the first stone of the convent in 1641, and took it over in 1642. It formed the base for her work, and when it burned on 29 December 1650, she supervised its reconstruction, finishing construction on 29 May 1651. Ever strong-willed, she opposed bishop Blessed Francis de Montmorency Laval's attempt to control the Quebec Ursulines. A prolific correspondent, over 12,000 of her letters have survived.
Death
She died on April 30 1672 of hepatitis in Quebec, Canada.
Follow @ReadingCatholic