Enjoy Christmas Carols and Songs 2021 with Lyrics
The Memorial of St. Martin de Porres, Religious
St. Martin de Porres, Religious is the Patron Saint of
1. Diocese of Biloxi
2. Vietnam
3. Mississippi
4. Black people
5. Hair stylists
6. Innkeepers
7. Lottery
8. Lottery winners
9. Mixed-race people
10. Peru
11. Poor people
12. Public education
13. Public health
14. Public schools
15. Race relations
16. Social justice
17. State schools
18. Television
19. Mexico
20. Peruvian Naval Aviators
St. Martin de Porres Feast Day, Date of Birth, Country of Birth, Profession, Place of Work, Date of Death, Place of Death, Feast Day, Beatification Date, Canonization Date, Matrimony/Holy Orders, Brothers who became Saints
St. Martin de Porres, Religious brief life History

Date of Birth
December 9, 1579
Country of Birth
Peru in South America
Profession
Lay brother of the Dominican Order
Place of Work
Lima, Peru
Date of Death
November 3, 1639 (aged 59)
Place of Death
Lima, Viceroyalty of Peru (modern-day Peru)
St. Martin de Porres Feast Day
November 3
Beatification
By Pope Gregory XVI in 1837
Canonization
By Pope John XXIII on May 6, 1962
Patron Saint of
1. Diocese of Biloxi
2. Vietnam
3. Mississippi
4. Black people
5. Hair stylists
6. Innkeepers
7. Lottery
8. Lottery winners
9. Mixed-race people
10. Peru
11. Poor people
12. Public education
13. Public health
14. Public schools
15. Race relations
16. Social justice
17. State schools
18. Television
19. Mexico
20. Peruvian Naval Aviators
St. Martin de Porres, Religious Short life History
Juan Martin de Porres Velázquez was born in the city of Lima, in the Viceroyalty of Peru, on December 9, 1579. He was the illegitimate son of a Spanish nobleman, Don Juan de Porres, and Ana Velázquez, a freed slave from Panama, of African or possibly part Native American descent.
As a boy he studied medicine which later, as a member of the Order, he put to good use in helping the poor.
Martin was received as a servant at the priory of the Holy Rosary in Lima where he was finally admitted to profession as a cooperator brother in 1603. In his life of prayer Martin was especially devoted to the Blessed Sacrament and to the Passion of Our Lord. He was noted for his care of the poor and the sick. He died at Lima on November 3, 1639.
Today's St. Martin de Porres Feast Day Quote:
One day an aged beggar, covered with ulcers and almost naked, stretched out his hand, and Martin took him to his own bed. One of his brethren reproved him. Martin replied: "Compassion, my dear Brother, is preferable to cleanliness."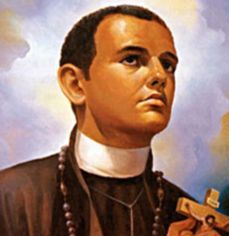 Powered By SEO Experts