Today is
Wednesday, March 22, 2023
St. Mercurialis of Forli Biography
St. Mercurialis of Forli Profile. Born: 3rd century in Italy, Europe. Worked in Italy. Died: 406 AD in Italy. Feast Day is celebrated on April 30, May 23, October 26.
The Memorial of St. Mercurialis of Forli – Saint of the Day

St. Mercurialis of Forli Biography, Feast Day, Date of Birth, Country of Birth, Profession, Place of Work, Date of Death, Place of Death, Beatification Date, Canonization Date

Date of Birth
3rd century
Country of Birth
Italy in Europe
Matrimony/Holy Orders
Saints who were Bishops
Profession
Bishop
Place of Work
Italy
Date of Death
406 AD
Place of Death
Italy
Feast Day
April 30, May 23, October 26
Beatification
 
Canonization
Canonized by Pre-Congregation
Patron Saint of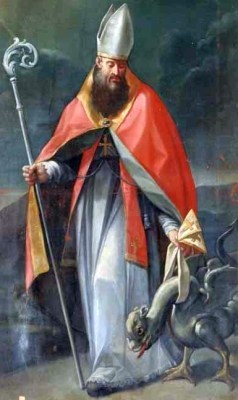 Saint's Biography
Saint Mercurialis of Forli was the first bishop of Forli, Italy and Worked to convert pagans and suppress Arianism, which led to him being depicted in art as killing a dragon. He attended the Council of Rimini in 359. He died in 406 AD of natural causes.
Follow @ReadingCatholic