This is the Saint of the Day list of Saints and Blesseds whose feast day falls on April 16 every year.
Saint Bernadette of Lourdes
Saint Fructuosus of Braga
Saint Drogo
Saint Benedict Joseph Labre
Saint Magnus of Orkney
Blessed Joachim Piccolomini
Blessed Contardo d'Este
Blessed Mikel Suma
Blessed Arcangelo Canetoli
Saint Turibius of Astorga
Saint Lambert of Saragossa
Saint Herveus of Tours
St. Herveus of Tours was born at Touraine, France. He was also known as Herve. He was a monk and treasurer of the St. Martin of Tours Abbey and despite being one of the brothers, he lived as a hermit. He died in the year 1021.
Saint William Gnoffi
St. William Gnoffi was born at Polizzi, Italy. He was also known as Guglielmo Gnoffi. He was atoned for a sinful youth by living as an extremely austere and penitential hermit. In 1317AD, he died due to natural causes.
Saint Vaise
St. Vaise was also known as Vasius or Vaize. He was a wealthy citizen of Saintes, France who was imprisoned and murdered by his relatives for giving his property to the poor. He died as a martyr in 500AD.
Saint Elias
St. Elias was born in Ireland. He was a monk and an abbot of the St. Martin the Great Abbey in Ireland in 1020. He was also an abbot of St. Panteleon Abbey in Cologne, Germany. He died in 1042.
Martyrs of Avrillé
The martyrs of Avrillé have an additional Memorial on 2nd January as one of the Martyrs of Anjou. They were a group of lay people who were executed together for their faith during the anti-Christian persecutions of the French Revolution. They died on 16th April, 1794 at Avrillé, Maine-et-Loire, France. Pope John Paul II beatified them on 19th February, 1984 at Rome, Italy.
Their names are;
Renée Sechet veuve Davy
Renée Rigault épouse Papin
Renée Bourgeais veuve Juret
Pierre Delépine
Perrine Pottier épouse Turpault
Perrine Laurent
Perrine Bourigault
Marthe Poulain de la Forestrie
Marie-Genevieve Poulain de la Forestrie
Marie Roger veuve Chartier
Marie Rechard
Marie Piou épouse Supiot
Marie Lardeux
Marie Gingueneau veuve Coiffard
Marie Forestier
Marguerite Robin
Madeleine Sallé épouse Havard
Madeleine Cady épouse Desvignes
Jeanne Thomas veuve Delaunay
Jeanne Onillon veuve Onillon
Jeanne Leduc épouse Paquier
Jeanne Gourdon veuve Moreau
Jean Ménard
François Suhard veuve Ménard
François Micheneau veuve Gillot
Anne Maugrain
Martyrs of Corinth
The martyrs of Corinth were a group of eight Christians who were tortured and martyred together in the persecutions of Decius. They were thrown into the sea at Corinth, Greece in 250AD.
Their names are;
Teodora
Nunencia
Nica
Leonide
Galina
Charisius
Callistus
Basilisa
Martyrs of Saragossa
The Martyrs of Saragossa were a group of eighteen martyrs murdered in 304 in Saragossa, Spain in the persecutions of Diocletian and the prefect Dacean. Their graves were re-discovered in 1389 in the crypt under the church of San Encrazia in Saragossa.
Their names are;
Urban
Succesus
Saturnius (4 men of this name)
Quintilian
Publius
Primitivus
Optatus
Martial
Lupercus
Lambert
Julia
Gaius
Fronto
Felix
Eventius
Engratia
Crementius
Caius
Caecilian
Apodemus
Other Saints Celebrated Today
Hugh de Mataplana
Tetgaill of Lann-Ela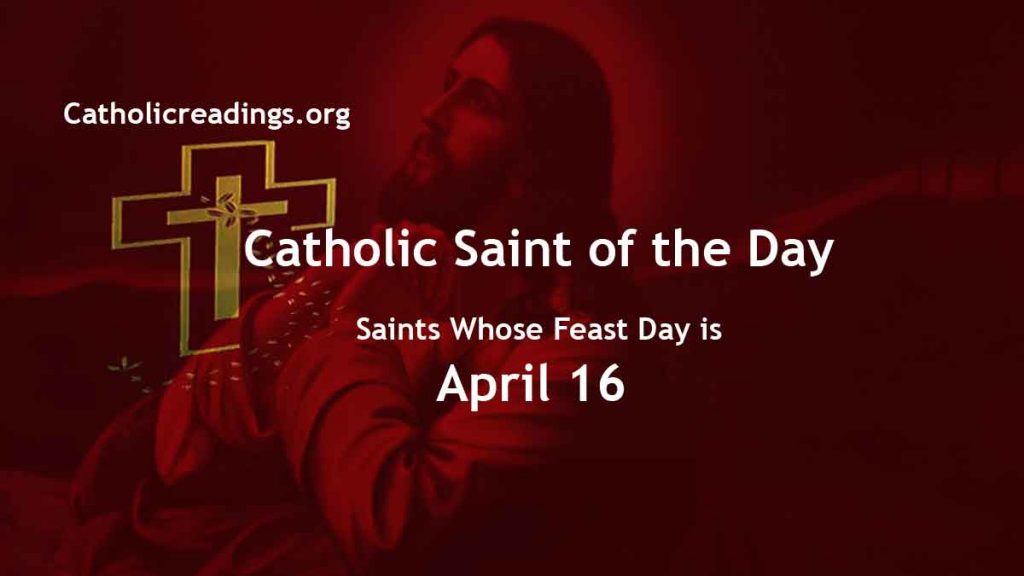 Powered By SEO Experts
Follow @ReadingCatholic