Today is
Thursday, June 8, 2023
This is the Saint of the Day list of Saints and Blesseds whose feast day is April 27 2023.
Saint Zita of Lucca
Blessed Hosanna of Cattaro
Blessed Jakov Varingez
Blessed Peter Armengol
Blessed Nicolas Roland
Saint John of Kathara
Saint Adelelmus of Le Mans
Saint Maughold
Saint Liberalis of Treviso
Saint Laurensô Nguyen Van Huong
Saint Asicus of Elphin
Saint Theodore of Tabenna
Saint Floribert of Liège
Blessed Joseph Outhay Phongphumi
Saint Pollio of Cybalae
Blessed Noel Tenaud
Saint Simeon of Jerusalem
St. Simeon of Jerusalem, also referred to as Simon, was related to Jesus as the son of Cleophas.
He became the second bishop of Jerusalem and suffered torture and execution during the persecutions of Trajan. He was crucified and died as a martyr in 107 AD.
Saint Enoder
St. Enoder, also called Cynidr, Keneder, Kenedr, or Quidic, was the descendant of St. Brychan of Brecknock and is known by several names.
He is celebrated as the patron saint of Llangynidr in Wales, Saint Enoder in Cornwall, and Kenderchurch in England. He lived in the 6th century and died during that time.
Saint Tertullian of Bologna
St. Tertullian of Bologna served as the eighth bishop of Bologna, Italy during the period when the Western Roman Empire was crumbling. He died in the year 490 AD.
Saint Stephen of Tarsus
St. Stephen of Tarsus was put to death for his faith in one of the early persecutions that took place in Asia Minor. He died in Tarsus, which is located in the region of Cilicia in Asia Minor.
Saint Castor of Tarsus
St. Castor of Tarsus was martyred in one of the early persecutions in Asia Minor. He died at Tarsus, Cilicia, Asia Minor.
Saint Winewald of Beverley
St. Winewald of Beverley was an abbot of Beverley Abbey in England. He died in 731 AD.
Saint Theophilus of Brescia
St. Theophilus of Brescia was a bishop of Brescia, Italy. He died in 427 AD.
Martyrs of Nicomedia
They are a cluster of Christians who were killed for their religious beliefs and are referred to as the martyrs of Nicomedia. Their deaths occurred in Nicomedia, Bithynia, which is now modern-day Izmit in Turkey.
Their names are;
Victorinus
Serapion
Papias
Nikeforus
Laetissima
Julius
Johannes
Germelina
Germana
Felix
Felicia
Evanthia
Dioscurus
Other Saints Celebrated Today
Umberto of Miribel
Our Lady of Montserrat
Maria Antonia Bandrés y Elósegui
Damaride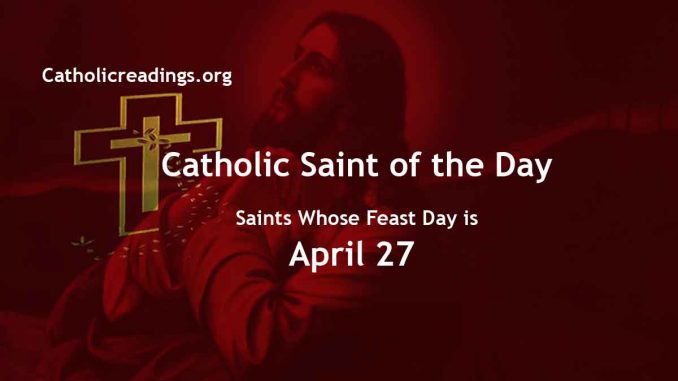 Related Links
Powered By SEO Experts
Follow @ReadingCatholic