Today is
Thursday, June 8, 2023
This is the Saint of the Day list of Saints and Blesseds whose feast day falls on August 8 every year.
👉 Saint Dominic de Guzman, Priest
Saint Mary MacKillop
Saint Cyriacus the Martyr
Saint Altman of Passau
Blessed John Felton
Blessed Antonio Silvestre Moya
Saint Myron the Wonder Worker
Saint Famianus of Compostela
Saint Paulus Ge Tingzhu
Blessed Antero Mateo García
Saint Marinus of Anzarba
Blessed Wlodzimierz Laskowski
Blessed Maria Anna Rosa Caiani
Saint Smaragdus
Saint Hormisdas of Persia
Blessed William of Castellammare di Stabia
Saint Largus
Blessed John Fingley
Saint Bonifacia Rodriguez Castro
Saint Mummolus of Fleury
Saint Eusebius of Milan
Saint Aemilian of Cyzicus
St Aemilian was also known as Emilian or Emiliano. He was the ninth-century bishop of Cyzicus, Greece.
Emperor Leo the Armenian exiled him in 820 AD for fighting Iconoclasm.
Saint Leobald of Fleury
St Leobald was also known as Leodebod. He was a Benedictine monk who, in 640 AD, founded Fleury Abbey near Orleans, France and served as its first abbot. In modern-day it is called Fleury-Saint-Benoît-sur-Loire.
He died of natural causes in 650 AD.
Saint Ultan of Crayke
St Ultan was an Irish born Priest at the monastery of Saint Peter in Crayke, Yorkshire, England. He was known as a master of book illumination. He died in the 7th century AD.
Saint Ellidius
St Ellidius was also known as Illod or Illog. He was Welsh-born. He died in the 7th century AD and is the patron saint of Hirnant, Powys, Wales.
Saint Sigrada
St Sigrada was once married before she became a widow. She was the mother of Saint Leodegarius and Saint Warinus. After she became a widow she became a nun at the convent in Soissons, France.
She died in 678 AD but had lived to see the martyrdom of her sons.
Saint Eleutherius of Constantinople
St Eleutherius was a martyr who was burned to death in Constantinople on an unknown date.
Saint Ternatius of Besançon
St Ternatius was also known as Terniscus. He was the Bishop of Besançon, France and died in 680 AD.
Saint Leonidas of Constantinople
Saint Leonidas was a martyr who was burned to death in Constantinople on an unknown date.
Saint Rathard of Diessen
St Rathard was a priest who had been born to the nobility. He built a church and monastery in Diessen, Germany. He died in 815 AD.
Saint Gedeon of Besancon
St Gedeon was the Bishop of Besancon, France from 790 AD to 796 AD. He died of natural causes in 796 AD.
Saint Severus of Vienne
St Severus was a priest and a missionary to the area of Vienne, France. He died in 455 AD.
Martyrs of Albano
The Martyrs of Albano were four Christians who were martyred together in Albano, Italy. They were interred in the San Senator cemetery, on the Appian Way, 15 miles from Rome, Italy
Their names are
Carpóforo
Secondo
Severiano
Vittorino
Martyrs of El Saler
The Martyrs of El Saler are five nuns, all of them teachers and members of the Sisters of the Pious Schools. They were all martyred together on August 8 1936, in El Saler, Valencia, Spain during the Spanish Civil War.
On March 11 2001, they were beatified by Pope John Paul II.
Their names are
Pascuala Gallén Martí
Nazaria Gómez Lezaun
María Luisa Girón Romera
Maria Baldillou Bullit
Antonia Riba Mestres
Martyrs of Rome
The Martyrs of Rome were five Christians martyred together at the 7-mile marker, on the Via Ostia, Rome, Italy.
Their names are
Ciriaco
Crescenziano
Giuliana
Largo
Memmia
Smaragdus.
Martyrs of the Spanish Civil War
These are the names of some of the thousands of people were murdered from 1934 to 1939, during the anti-Catholic persecutions of the Spanish Civil War.
Their names are;
Blessed Cruz Laplana Laguna
Blessed Fernando Español Berdie
Blessed Leoncio López Ramos
Blessed Manuel Aranda Espejo
Blessed Mariano Pina Turón
Pedro Álvarez Pérez
Other Saints Celebrated Today
Creswell of Città di Castello
Dionysius Rabinis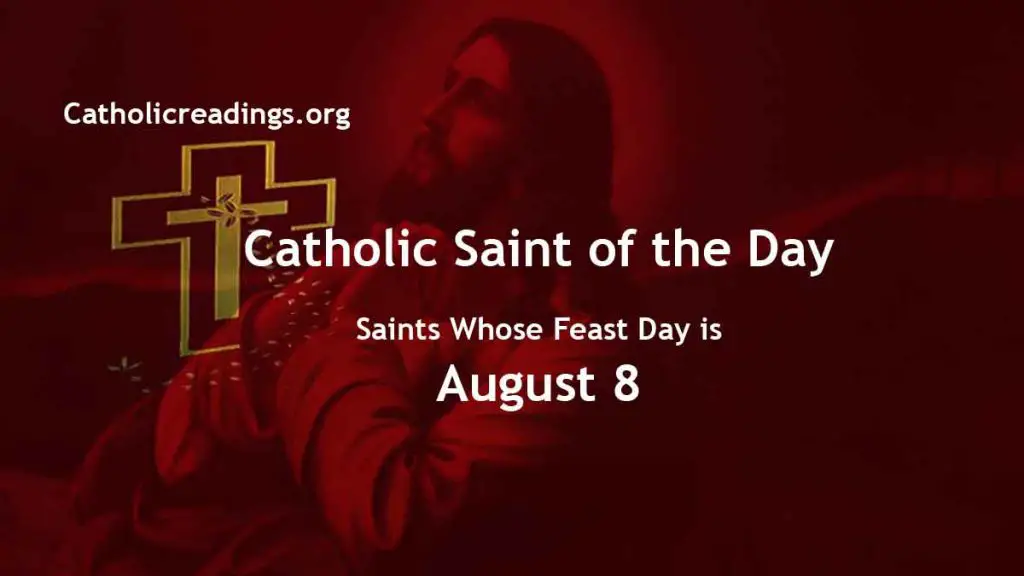 Powered By SEO Experts
Follow @ReadingCatholic