This is the Saint of the Day list of Saints and Blesseds whose feast day falls on December 11 every year.
Saint María Maravillas de Jesús
Blessed Arthur Bell
Saint Daniel the Stylite
Blessed David of Himmerod
Blessed Franco of Siena
Blessed Jerome Ranuzzi
Blessed Severin Ott
Blessed Jean Laurens
Blessed Pilar Villalonga Villalba
Saint Sabinus of Piacenza
Blessed Hugolinus Magalotti
Saint Cian of Wales
Blessed Martín Lumbreras Peralta
Blessed Melchor Sánchez Pérez
Saint Pens
St. Pens was also known as Peris. He was a cairn on the top of the Llanberis Pass in Wales is known as Corffwysfa Pens (the Resting-Place of Saint Pens), and there are traditions of pilgrimage to the hill to pray for the intercession of Saint Pens. He is the patron St of Llanberis, Wales
Blessed Martino de Melgar
Blessed Martino de Melgar was a commander of the Mercedarian convent of Santa Maria in Burgos, Spain. He was noted for his personal piety and his support of the spiritual growth of the friars in his house.
Saint Aithalas of Arbela
St Aithalas of Arbela was also known as Aithelas. He died in 354 AD at Arbela, Persia. He was a pagan priest who was healed from a serious disease by the prayers of Christians; convert. Additionally he was martyred in the persecutions of Shapur II.
Saint Eutychius the Martyr
St Eutychius the Martyr was also known as Eutychius of Spain, Eutychius of Cadiz, Eutuchius of Merida or Oye. In the 4th century he died as a martyr in Spain.
Saint Barsabas
St Barsabas, also known as Barsabbas, was born in Persian and was martyred in 342 AD. He was an abbot known as a miracle worker. He was martyred with twelve of his monks in the persecutions of the Sassanid King Shapur II.
Saint Fidweten
Saint Fidweten was also known as Fivetein or Fidivitanus. He was Benedictine monk at Saint Saviour Abbey in Redon, Brittany (in modern France) and also a spiritual student of Saint Convoyon of Redon. He died of natural cause in 888 AD.
Blessed Dominic Yanez
Blessed Dominic Yanez was a Mercedarian friar in the convent of Santa Caterina in Toledo, Spain.
Saint Apseus of Arbela
St Apseus of Arbela was also known as Acepsius He was a Christian deacon and was Martyred in the persecutions of Shapur II. He died on 354 AD in Arbela, Persia.
Martyrs of Saint Aux-Bois
Martyrs of Saint Aux-Bois were two Christian missionaries and one of their local defenders who were beheaded in 287 in Saint Aux-Bois, Gaul (in modern France) because of their faith in the persecutions of governor Rictiovarus – Fuscian, Gentian and Victoricus.
Martyrs of Rome
Martyrs of Rome are the three Christians murdered in the persecutions of Diocletian for giving aid to Christian prisoners. They were imperial Roman citizens born and died in 303 AD in Rome, Italy.
Their names are;
Pontian
Practextatus
Trason
Other Saints Celebrated Today
Wilbirg
Tassilo III
Pablo di Merida
Masona di Merida
Maria Piedal
Luke of Chalcedon
Ludolf van Craeywinckel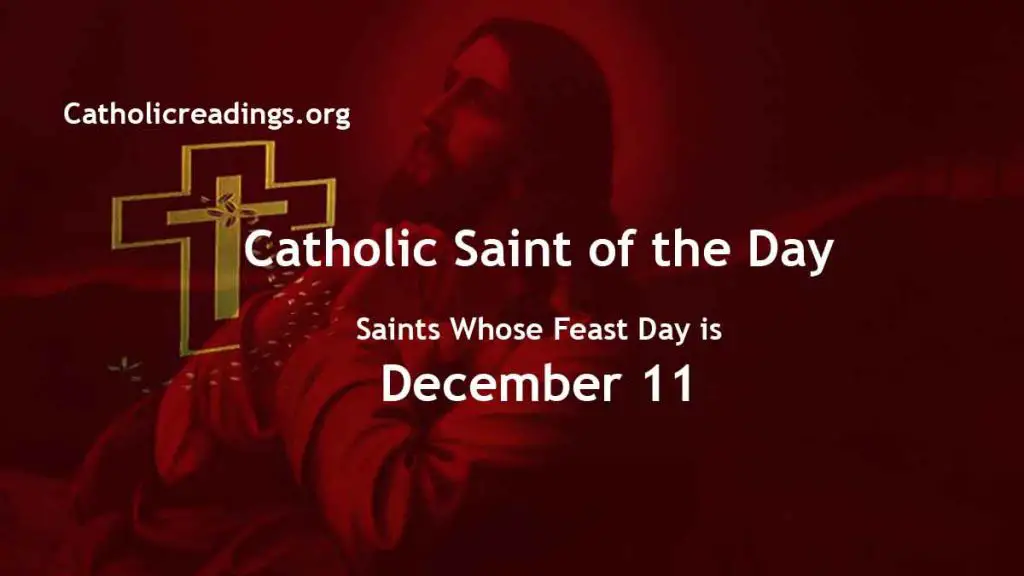 Powered By SEO Experts
Follow @ReadingCatholic