Today is
Thursday, June 1, 2023
This is the Saint of the Day list of Saints and Blesseds whose feast day falls on February 14 every year.
👉 Saint Cyril, Monk and Saint Methodius, Bishop
Saint Valentine of Terni
Saint Modestinus of Avellino
Saint Juan García López-Rico
Saint Flavianus of Avellino
Saint Nostrianus of Naples
Blessed Vicente Vilar David
Saint Derien of Brittany
Saint Fiorentinus of Avellino
Saint Fortunata of Baucina
Saint Auxentius of Bithynia
Saint Abraham of Harran
Saint Antoninus of Sorrento
Saint Alexandra of Egypt
Saint Eleuchadius
Saint Louans of Chinon
St. Louans of Chinon was also known as Lupance or Lupantius. He was a seventh century monk at the Abbey of St. Mesmin near Orleans, France. Feeling a need for solitude with God, he retired to live as a hermit on the banks of the river Vienne near Chinon, France. He was reported to have the gift of healing by prayer. A 12th century abbey dedicated to him was built on the site of his hermitage.
Saint Felicula of Rome
St. Felicula of Rome was also known as Felicola. She was a sanctified virgin who was imprisoned and martyred in the persecution of Domitian. Felicula was left for a fortnight in prison without food or drink, then thrown into a ditch to die in the late 1st century in Rome, Italy. Her body was recovered for burial by St. Nicomedes.
Saint Zeno of Rome
St. Zeno of Rome was also known as Zenone. He died as a martyr in Rome, Italy. He was laid to rest at the cemetery of Praetextatus on the Appian Way outside Rome
Saint Vitale of Spoleto
St. Vitale of Spoleto died as a martyr in Spoleto, Umbria, Italy.
Saint Vitalis of Rome
St. Vitalis of Rome died as a martyr in Rome, Italy.
Saint Theodosius of Vaison
St. Theodosius of Vaison was a bishop of Vaison, France. He died in 554.
Saint Conran of Orkney
St. Conran of Orkney was a bishop of the Orkney Islands, Scotland.
Twenty Mercedarians of Palermo
The twenty Mercedarians of Palermo were a group of twenty Mercedarians who, when an unspecified plague struck Palermo, Italy, volunteered to nurse the sick. They contracted the plague themselves, and died as martyrs of charity.
Their names are;
Vincenzo Salanitro
Vincenzo Carrenzo
Vincenzo Calderon
Vincenzo Bonello
Stefano Marchesi
Pietro Salino
Pietro Salanitro
Pietro Nolasco
Michele de la Rosa
Giuseppe Latona
Giovanni Zorita
Giovanni Ruiz
Giovanni Battista Mansa
Giovanni Battista de Sartis
Gaspare Fajolo
Gaspare de Ortega
Bonaventura Palmerio
Batilani Marsalio
Andrea Schiafino
Adriano Calabrò
Martyrs of Alexandria
The Martyrs of Alexandria were a group of Christians murdered in various ways for their faith in Alexandria, Egypt.
Their names are;
Tonione
Proto
Moses
Lucio
Dionysius
Cyrio
Cirione
Bassianus
Bassiano
Antonius
Ammonius
Ammonio
Agatone
Agatho
Martyrs of Terni
The Martyrs of Terni were three Christians who gave proper burial to St. Valentine of Terni. They were martyred in the persecutions of Aurelius and died in 273 in Terni, Italy.
Their names are;
Apollonius
Ephebus
Proculus
Other Saints Celebrated Today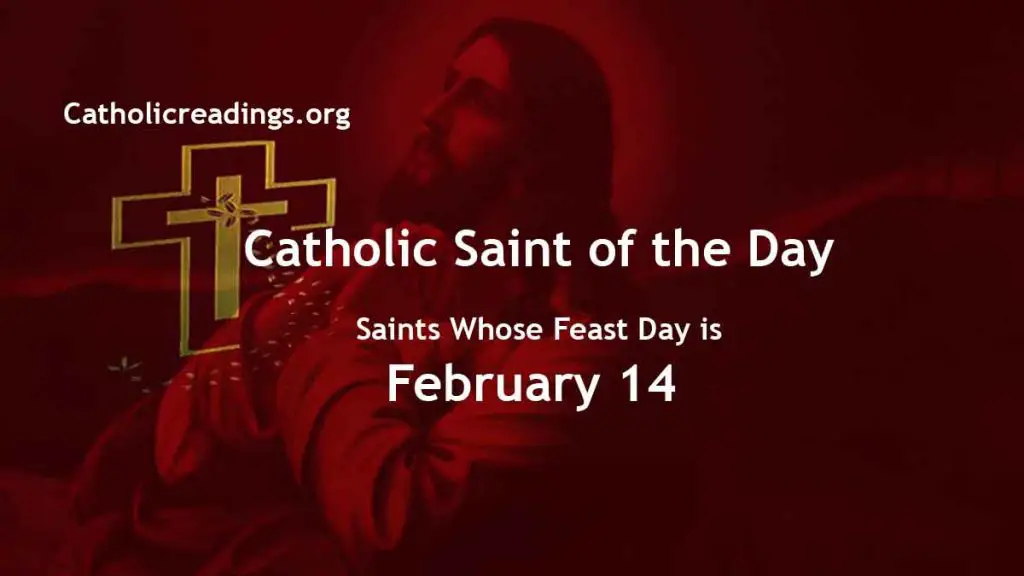 Powered By SEO Experts
Follow @ReadingCatholic