This is the Saint of the Day list of Saints and Blesseds whose feast day falls on July 17 every year
Blessed Pavol Gojdic
Saint Alexius of Rome
Blessed Benigno of Vallumbrosa
Saint Colman of Stockerau
Saint Hedwig, Queen of Poland
Saint Clement of Ohrid
Saint Ennodius of Pavia
Saint Andrew Zorard
Saint Kenelm
Saint Marcellina
Pope Saint Leo IV
Saints Justina and Rufina of Seville
Saint Petrus Liu Zeyu
Saint Frédégand of Kerkelodor
St Frédégand of Kerkelodor was also known as Fregaut, Fridigand or Frégaud. He was born in Ireland.
He was a spiritual student of St Foillan of Fosses. He later became a Missionary monk and then abbot at Kerkelodor Abbey near Antwerp, Belgium.
In 740 AD, he died at Deurne, near Antwerp, Brabant in modern Belgium
Saint Nerses Lambronazi
St Nerses Lambronazi was born in 1153 AD. He was the nephew of St Nerses Glaietsi. He became a Bishop and later the Archbishop of Tarsus.
He helped reunify Armenia with the Church of Rome in 1198 AD. He translated into Armenian, many vital Church documents including Saint Gregory's Dialogues and the Rule of Saint Benedict.
In 1198 AD, he died of natural causes
Blessed Sebastian of the Holy Spirit
Blessed Sebastian of the Holy Spirit was a Mercedarian lay brother at the convent of the Holy Spirit in Lima, Peru. He was a miracle worker who would heal the sick by singing the Magnificat.
He died of natural causes in 1721 AD in Lima, Peru.
Saint Theodota of Constantinople
St Theodota of Constantinople was born in a noble family in Constantinople. In 735 AD in Constantinople in modern-day Istanbul, Turkey, he was martyred in the iconoclast persecutions of Emperor Leo the Isaurian.
Blessed Biagio of the Incarnation
Blessed Biagio was a Mercedarian deacon at the Incarnation convent in Valdonquillo, Spain. He died of natural causes in 1612 AD.
Blessed Arnold of Himmerod
Blessed Arnold of Himmerod was also known as Arnoldus. He was a Cistercian monk, renowned for his personal piety, at Himmerod monastery in Trier, Germany.
Saint Hyacinth of Amastris
St Hyacinth of Amastris was a Christian who cut down a tree dedicated to a pagan god. He died as a martyr in Amastris, Paphlagonia in modern-day Turkey.
Saint Theodosius of Auxerre
St Theodosius was the Bishop of Auxerre, France from 507 AD to 516 AD. He attended the Council of Orleans in 511 AD. He died in 516 AD.
Saint Turninus
St Turninus was an Irish Priest and a Missionary who worked with St Foillan of Fosses in the Netherlands and near Antwerp, Belgium. He died in the 8th century.
Saint Cynllo
St Cynllo was also known as Cynlio. In Wales, several churches are dedicated to him but no much information about him is available. He died in the 5th century AD.
Saint Generosus
St Generosus died as a martyr. His relics are enshrined under the high altar of the cathedral of Tivoli, Italy.
Saint Gorazd
St Gorazd was one of the Seven Apostles of Bulgaria.
Carmelite Martyrs of Compiegne
Martyrs of Scillium
Other Saints Celebrated Today
The Humility of Mary
Costanza of Aragon
Livier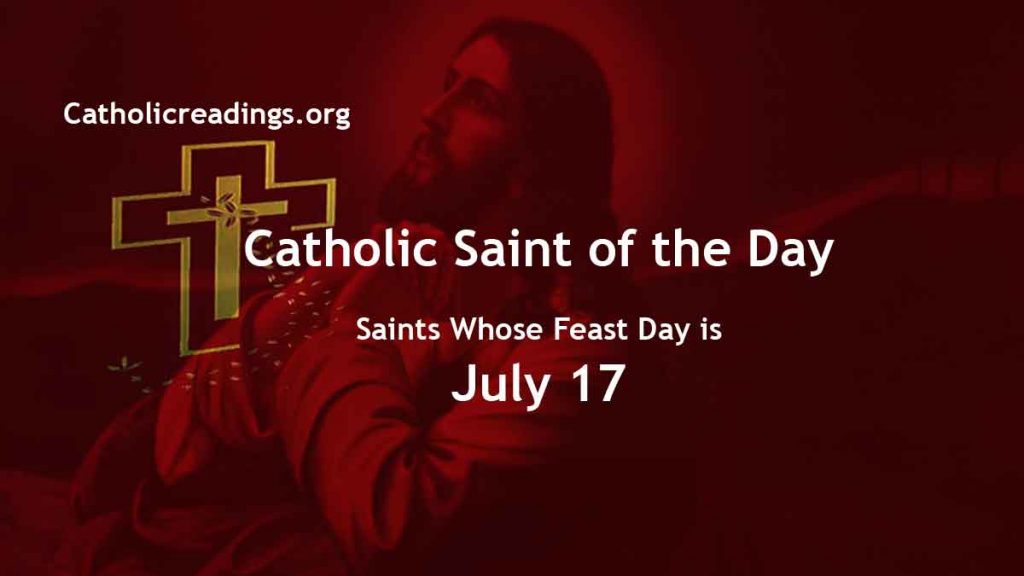 Powered By SEO Experts