Today is
Wednesday, May 31, 2023
This is the Saint of the Day list of Saints and Blesseds whose feast day falls on July 7 every year
Blessed Maria Romero Meneses
Saint Willibald of Eichstätt
Blessed Pope Benedict XI
Blessed Peter To Rot
Blessed Ralph Milner
Blessed Juan Antonio Pérez Mayo
Saint Marcus Ji Tianxiang
Blessed Marie-Gabrielle-Françoise-Suzanne de Gaillard de Lavaldène
Saint Ethelburga of Faremoutier
Saint Antonino Fantosati
Saint Maelruan
Blessed Joseph Juge de Saint-Martin
Blessed Oddino Barrotti
Blessed Juan Pedro del Cotillo Fernández
Saint Apollonius of Brescia
Blessed Francisco Polvorinos Gómez
Blessed Manuel Gutiérrez Martín
Blessed Justo González Lorente
Saint Odo of Urgell
Blessed María Del Consuelo Ramiñán Carracedo
Blessed Pascual Aláez Medina
Saint Alexander – Martyr
Saint Partinimus – Martyr
Saint Hedda of Wessex
St Hedda of Wessex was also known as Hedda of Dorchester or Hedda of Winchester.
He was a Benedictine monk and Abbot at Whitby, Yorkshire, England.
In 676, he became the Bishop of the Wessex, England region where he served for almost 40 years. He established his see at Dorchester, then later in Winchester. He was also an adviser to King Ina. in 705 AD he died of natural causes
Saint Pantaenus of Alexandria
St Pantaenus of Alexandria was also known as Sicilian Bee. He was born in Sicily. He was known and praised by many writers including Saint Jerome, for his learning, wisdom and holiness.
He was the head of the Orthodox School in Alexandria, Egypt where Origen became a great teacher. He died in 190 AD.
Saint Syrus of Genoa
St Syrus of Genoa was also known as Siro. He was a parish priest and later the bishop of Genoa, Italy.
St Syrus died in 380 AD of natural causes and was buried in the Basilica of the Twelve Apostles. He is the patron saint of Genoa, Italy.
Blessed Bodard of Poitiers
Blessed Bodard of Poitiers was born in the late 7th century near Poitiers, France and became a Hermit.
He died of natural causes in 740 AD near Poitiers, France. His relics were translated in the 9th century to the Hornback monastery at Zweibrücken, Germany.
Saint Carissima of Rauzeille
St Carissima of Rauzeille was also known as Careme. She was born to the Gallic nobility in the 7th century in Limousin, France.
She was married and became a mother but was later Widowed. She helped found the abbey of Saint-Martin in Rauzeille near Aubusson, Creuse, Gaul in modern France.
Saint Hesychius
St Hesychius was born in Italy. To escape the persecutions in Italy, he fled to Macedonia but unfortunately, he was martyred en route. He was drowned to death in 117 AD by being loaded with chains and thrown overboard.
Saint They
Saint They was also known as Dei, Dey, Tei or Tey. He was a fifth-century spiritual student of Saint Guénolé at Landévennec abbey in Brittany. He is the patron saint of Lothey, France.
Saint Bonitus of Monte Cassino
St Bonitus of Monte Cassino was the Abbot of Monte Cassino when the monastery was plundered and destroyed by the invading Lombards. He died in 582 AD.
Saint Angelelmus of Auxerre
St Angelelmus was an Abbot of the monastery of Saint Gervase and Protase in Auxerre, France. He later became the Bishop of Auxerre. He died in 828 AD.
Saint Eoaldus of Vienne
St Eoaldus of Vienne was also known as Eoalde. He was related to the Gallic royalty. He became the Bishop of Vienne, France. He died of natural causes in 716 AD.
Saint Prosper of Aquitaine
St Prosper of Aquitaine was born in 390 AD in Aquitaine, France. He was a married layman who devoted himself to theology. He died in 436 AD.
Saint Odran
St Odran was the brother of Saint Medran and disciple of Saint Kieran of Saghir.
Saint Merryn
St Merryn is venerated in Cornwall, England, but no information about his profile has been recorded.
Saint Medran
Saint Medran was a brother of Saint Odran and a disciple of Saint Kieran of Saghir.
Martyrs of Durres
These martyrs of Durres are also known as Martyrs of Dyrrachium or Martyrs of Durazzo.
They were a group of seven Italian Christians who fled to Dyrrachium, Macedonia from Italy to escape the persecutions of emperor Hadrian.
When they arrived in Dyrrachium, Macedonia they found Saint Astius being tortured. He had been tied to a cross, covered in honey, laid in the sun, and left to be tortured by biting and stinging insects.
When they expressed sympathy for St Astius, they were immediately accused of being Christians. In 117 AD, they were arrested, chained, weighted down and drowned to death off the coast of Dyrrachium (Durazzo), Macedonia (modern Durres, Albania) and became martyrs.
Their names are
Germaus
Hesychius
Lucian
Papius
Peregrinus
Pompeius
Saturninus
Also Celebrated Today
Our Lady of Soviore
Theodoric Balat
Roger Dickinson
Maria Guo Lizhi
Lawrence Humphrey
Kyriaki
Joseph Maria Gambaro
Boswell of Melrose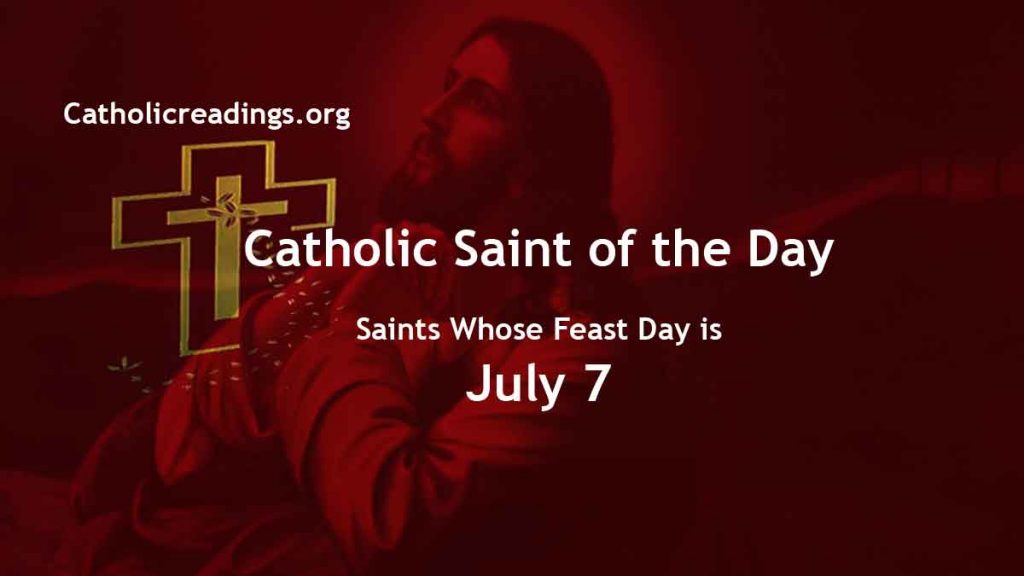 Powered By SEO Experts
Follow @ReadingCatholic