This is the Saint of the Day list of Saints and Blesseds whose feast day falls on March 12 every year.
Saint Luigi Orione
Martyrs of Nicomedia
Blessed Giustina Bezzoli Francucci
Saint Joseph Zhang Dapeng
Blessed Angela Salawa
Blessed Rutilio Grande García
Saint Seraphina
Saint Paul Aurelian
Saint Mura McFeredach
Saint Theophanes the Chronographer
Saint Maximilian of Thebeste
Blessed Girolamo da Recanati
Blessed Manuel Solórzano
Saint Bernard of Carinola
Blessed Beatrix of Engelport
Blessed Nelson Rutilio Lemus Chávez
Saint Alphege the Bald
Saint Almut of Wetter
St. Almut of Wetter was born in the 9th century in Germany to the royal family and was also known as Almud of Wetter. With her sister Digmund, she founded the convent of Wetter in Oberlahngau, Germany, and served as its first abbess. She died in the 10th century.
Saint Peter the Deacon
St. Peter the Deacon was born in the 6th century. He was a Benedictine monk. He was also a friend, spiritual student and secretary to Pope Saint Gregory the Great. Gregory dictated four books of the Dialogues to Peter. He died in early 605AD and is the patron of Salassola, Italy.
Saint Heiu of Hartlepool
St. Heiu of Hartlepool was the first nun to take vows in Northumbria (part of modern England) and get consecrated by St. Aiden of Lindisfarne. She founded a convent at Hartlepool, Northumbia, and later another at Healaugh, Northumbria. She died in the mid-7th century.
Saint Fechno
St. Fechno was born in northern Ireland and was also known as Fiachna. He was a spiritual student of St. Columbanus and went with him to evangelize in Scotland. In 580, he died of natural causes and miracles were reported at his tomb.
Saint Corman of Iona
St. Corman of Iona was born in Ireland and was also known as Coman. He was a seventh-century priest, monk at Iona Abbey and missionary to Northumbria in northern England. He may have been the first priest to evangelize the area.
Saint Egdunus
St. Egdunus was martyred in the persecutions of Diocletian with seven other Christians. He was hung by his feet over a fire to die of smoke inhalation in 303 in Nicomedia, Asia Minor.
Saint Indrecht of Iona
St. Indrecht of Iona was a monk and an abbot of Iona Abbey. He was martyred by Saxons while travelling to Rome, Italy and died in 854.
Blessed Claudius the Minor
Blessed Claudius the Minor was also known as Claude. He was a Franciscan monk.
Saint Basilissa of Asia
St. Basilissa of Asia was married to a man named Felicius. She was martyred at an unknown date.
Other Saints Celebrated Today
Brian Bòruimhe
Symeon the New Theologian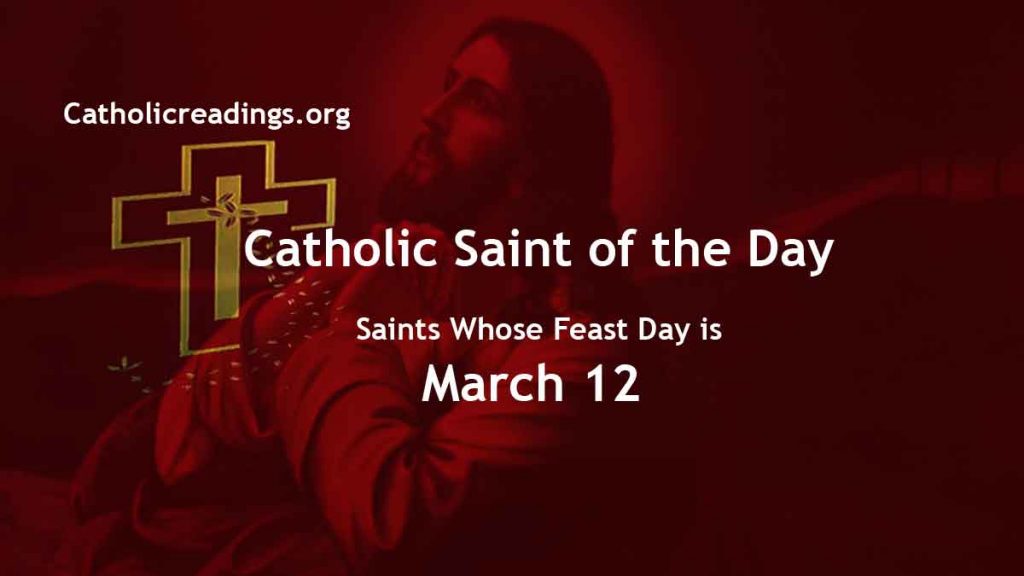 Powered By SEO Experts
Follow @ReadingCatholic