Today is
Tuesday, June 6, 2023
This is the Saint of the Day list of Saints and Blesseds whose feast day falls on March 21 every year.
Saint Benedicta Cambiagio Frassinello
Saint Nicholas of Flüe
Saint Serapion the Scholastic
Saint Enda of Arran
Blessed Thomas Pilcher
Blessed Mark Gjani
Saint Augustine Tchao
Blessed John of Valence
Blessed Lucia of Verona
Blessed Matthew Flathers
Blessed Santucci Terrebotti
Blessed William Pike
Saint Birillus of Catania
Blessed Alfonso de Rojas
Blessed Alfonso de Rojas, was also known as Alfonso of Coria, Alonso de Rojas or Alphonsus de Rojas. He was a professor in Salamanca, Spain, a tutor to the children of duke, a canon at Coria, Spain and also a Franciscan. He later died in 1617 AD and has an additional Memorial on 26 March in Coria, Spain.
Saint Christian of Cologne
St Christian of Cologne, also known as Christian of St-Pantaleon or Christianus of Cologne, died in 1002 AD. He was a monk in the monastery of Fulda, Germany and also a first abbot of the St-Pantaleon Abbey in Cologen, Germany. He wrote works on theology that were widely read in his time.
Martyrs of Alexandria
Martyrs of Alexandria died on a Good Friday 342 in Alexandria, Egypt. A large but unknown number of Catholics massacred in several churches during Good Friday services in Alexandria, Egypt by Arian heretics during the persecutions of Constantius and Philagrio.
Saint Lupicinus of Condat
St Lupicinus of Condat died on 480 AD. He was a brother of St Romanus of Condat, a monk and a founder of the abbeys of Condat and Leuconne together with Romanus.
Saint James the Confessor
St James the Confessor was martyred for opposing iconoclasm and died in 824 AD at Constantinople (modern Istanbul, Turkey).
Saint Isenger of Verdun
St Isenger of Verdun was a monk at the Anabaric monastery in Ireland, a priest and a ninth-century bishop of Verdun (in modern France).
Saint Domninus of Rome
St Domninus of Rome was a martyr born in Rone, Italy. He was a travelling preacher throughout Italy.
Saint Philemon of Rome
St Philemon of Rome was a martyr born in Rome, Italy. He was preached across Italy.
Other Saints Celebrated Today
Elias of Orta
Justinian of Vercelli
Michael Gomez Loza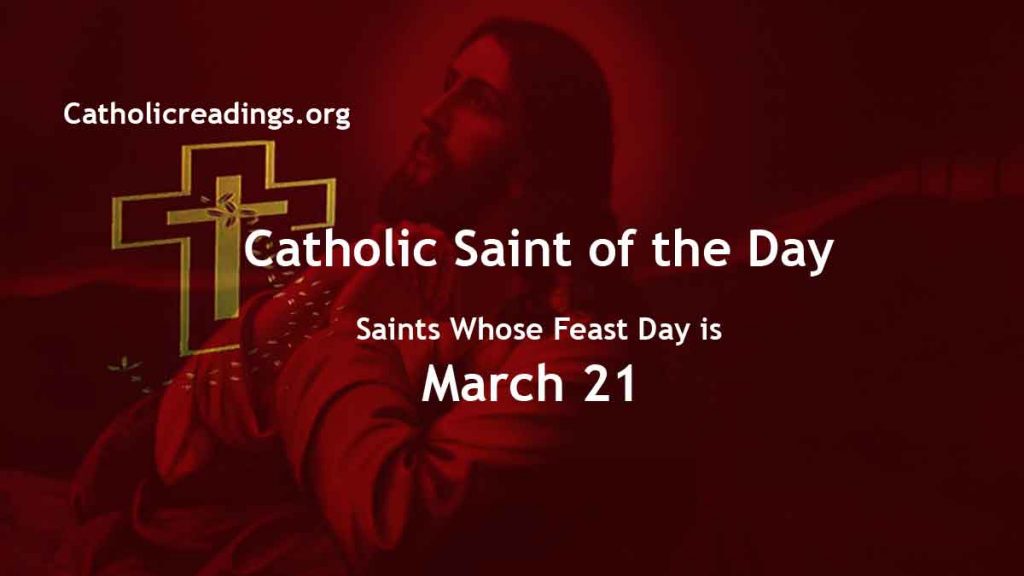 Powered By SEO Experts
Follow @ReadingCatholic